Kelly Clarkson Kicks off New Season of 'The Voice' with Sporting New Layered Bob Haircut
On Monday night, NBC's "The Voice" saw to a whole selection of new things as the talent show debuted the bold and the beautiful in what seems to be an action-packed season. 
The 18th season of "The Voice" kicked off on Monday night with a new coach, Nick Jones, and recurring coach Kelly Clarkson sporting a mini makeover.
Dressed in a black pantsuit that sparkled to match her silver hoop earrings, Kelly looked stunning with her updated hairstyle.
Much shorter than her previous long locks, fans of the show couldn't help but comment on Kelly's sassy new haircut as one approvingly said:

Ahead of the season premiere, NBC posted a teaser, wherein the judges all competed to become the coach of a woman with a fantastic voice.
With Kelly's new haircut in full display, other fans thought it's the country singer's best look yet, as another excitedly posted in the comment section: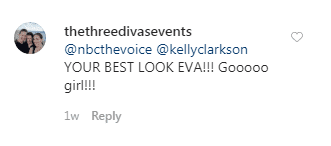 Since Kelly is the only rose between the metaphorical thorns, Blake Shelton, John Legend, and Nick Jonas, the boys decided to send her some on Valentine's Day as a surprise.
As the country singer got comfy on her chair, someone removed the black screen behind her revealing a massive pot filled with a variety of flowers, including roses.
Kelly didn't notice until "the very end" and couldn't believe that she is going to miss out.
Stunned at the beautiful display, Kelly found out that they are from her "The Voice boys" after reading the card wishing her a Happy Valentine's Day.
Nonetheless, Nick Jonas didn't spare Kelly during the premiere episode of the talent show. With blind auditions in full swing, a contestant named Arei Moon came out and wowed the coaches.
A few seconds into singing "Miss Independent," Arei had shown enough promise for Nick Jones to block Kelly Clarkson as he hit his buzzer.
A few seconds after Nick turned, Kelly slammed on her buzzer, only to reveal her status and inability to get the talented artist on her team.
However, Kelly didn't notice until "the very end" and couldn't believe that she is going to miss out on coaching Arei.
Friendly banter between the coaches ensued just long enough for the boys to rub it in before they got back to business.
What Kelly is not going to miss out on, is hosting this year's Billboard Music Awards. It will be the country singer's third year in a row taking up the hosting duties, and its set to air live on NBC from Las Vegas on April 29.
Known for changing up her look, Kelly Clarkson looked equally eye-catching when she attended the Hollywood Beauty Awards in Los Angeles recently.
The 37-year-old showed up on the red carpet in a tight-fitting black latex midi dress that shined by Alex Perry, and looked stunning as she strutted her stuff in matching black platform boots and tights.