Melania Trump Impresses Fans in Black Sleeveless Dress & High Heels While Entertaining White House Guests for Black History Month
Melania Trump joined her husband, President Donald Trump in playing host at the White House for a reception dinner in honor of Black History Month.
Only a day after Melania Trump and President Donald Trump returned from across the globe from their tour of India. The couple played host at a reception dinner in honor of Black History Month. In her caption, she wrote:
"@POTUS and I enjoyed welcoming guests to the @WhiteHouse this evening for our celebration of #BlackHistoryMonth."
Melania looked chic in an all-black ensemble. Foregoing a traditional gown for the White House event, she went for a more casual look by Tom Ford and wore a sleeveless button-down shirt dress.
Her dress was detailed with large pockets on the front. Showing off her more conservative look, it had a prominent collar which she buttoned up to the top.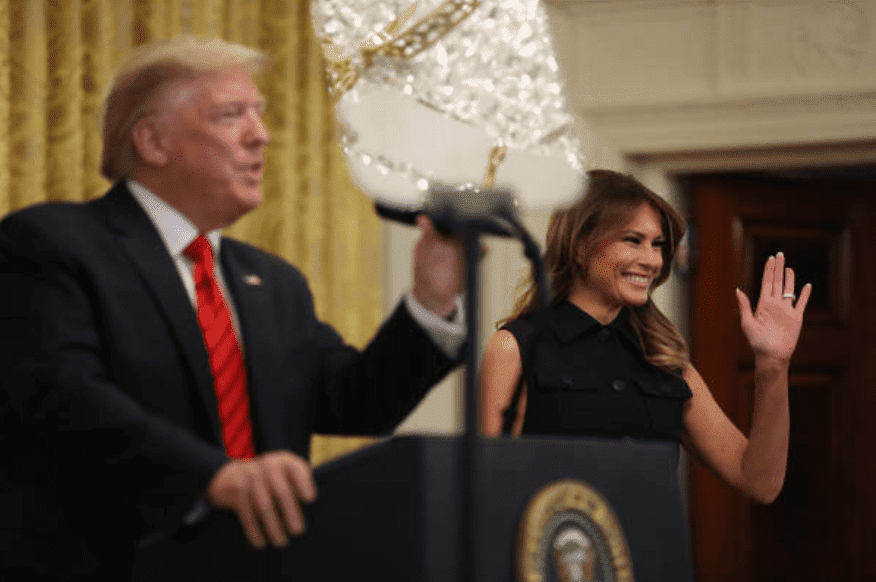 The large pockets and matching buttons didn't make her dress look bulky; in fact, the A-line silhouette perfectly showed off her figure, as she added a belt to accentuate her slim waist.
There was no glitz for the first lady that evening, she went jewelry-free to the dinner and only showed off her million-dollar engagement ring as she waved to her audience. One fan simply loved her outfit choice.

Her make-up was just as understated; she went for her usual smokey and prominent dark lashes. For her lips, she wore a glossy pink lip. She had her hair in waves, with a slight flick at the front.
After days of traveling around India, she was not about to put her feet up and retire her heels for a hosting event. Melania completed her look with an almost $600 pair of Manolo Blahnik BB pumps. Another fan gushed over her shoes.

When it comes to her shoes, Manolo Blahnik is her go-to pair to elevate any look she chooses. However, her style has made quite the turn around since Melania first made a name for herself as Donald's arm candy in the early 1990s.
According to Harper's Bazaar, her style has evolved from eye-catching sequence and fur pieces to more elegant and conservative pieces by designers such as Ralph Lauren, Michael Kors, and Ralph Lauren.
The dress Melania wore at the Black History Month reception dinner is something she has worn before.
In 2018, she wore that exact dress when she accompanied her husband to the United Nations General Assembly.