Getty Images
Todd Chrisley's Family and Some Scandals That Have Plagued Them over the Years
Todd and Julie Chrisley's large clan may seem the perfect family on screen, but the "Chrisley Knows Best" stars have gone through their share of scandals over the years.
For years, the Chrisleys have aired their daily adventures on the family reality show, "Chrisley Knows Best," from family dramas to parenting, and dealing with a mischievous teenage son, with grandma Faye always coming to the rescue.
Through it all, the hilarious clan has battled several scandals, more gruesome than the usual family dramas the Chriselys portray on their show, some of which have been leaked by the media in times past.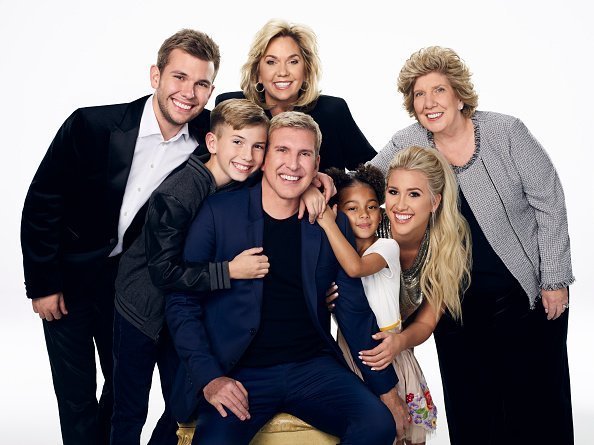 Chase Chrisley, Grayson Chrisley, Julie Chrisley, Todd Chrisley, Chloe Chrisley, Savannah Chrisley, Faye Chrisley on the set of "Chrisley Knows Best" | Photo: Getty Images
"CHRISLEY KNOWS BEST"
The USA network series, "Chrisley Knows Best," follows the lives of real estate mogul, Todd Chrisley, and his family as they go about their daily activities and battle real-life situations.
Since the premiere of the first season in 2014, fans have gotten captivated by the Georgian family, complete with a combination of mindblowing personalities. Todd Chrisley is a father of five adorable children, three of whom he shares with his wife of twenty years, Julie Chrisley.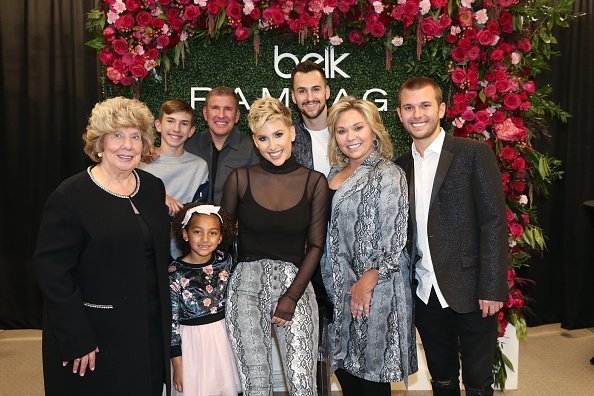 Faye Chrisley, Chloe Chrisley, Savannah Chrisley, Julie Chrisley, Chase Chrisley, Grayson Chrisley, Todd Chrisley and Nic Kerdiles at Belk at Cool Springs Galleria Mall on November 05, 2019 | Photo: Getty Images
While the couple's kids together, Chase, Savannah, and teenage son, Grayson are regulars on the series, Todd Chrisley's children, Kyle and Lindsie Chrisley, from his first marriage have become estranged from their dad, quitting the show in seasons one and five respectively.
Todd Chrisley's granddaughter, Chloe, from his estranged son, has also become a series regular since the real estate mogul gained custody of the toddler. He also has a grandson from his daughter, Lindsie, and her husband.
Completing the family is the comical Faye Chrisley, whom fans have grown to love for her gambling sprees and resulting hilarious feats.
THE CHRISLEY'S LEGAL FRAUD CASE
Recent revelations have confirmed that the USA network clan is far from being the typical 21st century financially secured Georgian family shown on TV.
August 2019 marked the beginning of the Chrisleys public scandal, which left many unanswered questions about their finances.
A federal grand jury reportedly indicted the father of five and his wife on counts of tax evasion, bank and wire fraud, and conspiracy as announced by the Northern District of Georgia's US attorney's office. The implicating statement read:
"Todd and Julie Chrisley are charged not only with defrauding a number of banks by fraudulently obtaining millions of dollars in loans, but also with allegedly cheating taxpayers by actively evading paying federal taxes on the money they earned."
The US attorney went on to note that being celebrities wouldn't exempt Todd and Julie from facing the due trial; hence, "they will have their day in court." The family's accountant was not excluded, as he landed his fair share of tax-related charges.
THE CHRISLEYS PLEAD NOT GUILTY
The celebrity couple made their court appearance on August 14, both pleading "not guilty" to the charges leveled against them.
Following the hearing, the stars were granted bail of $100,000 each in bonds on the condition that they restrict their travels between Georgia and Tennessee unless otherwise stated by their probation officers.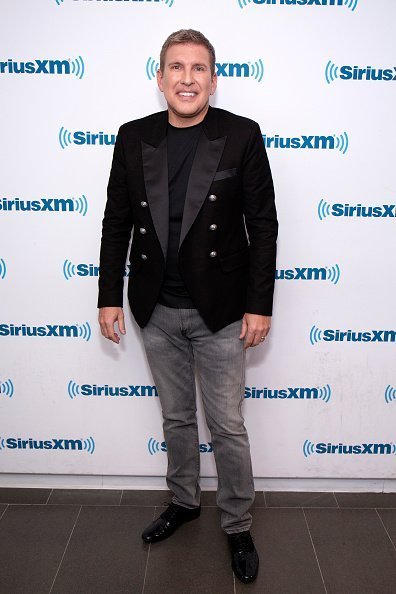 Todd Chrisley visits SiriusXM Studios in New York City | Photo: Getty Images
According to a statement released by the couple's lawyers, all the charges were based on complete falsehood, engineered by a scorned former employee seeking revenge.
The lawyers expressed their certainty that the wrongly-charged pair would no doubt be exonerated if the case was heard in a courtroom.
TODD'S "NOT GUILTY" MESSAGE TO FANS
Prior to their court appearance, the property millionaire released a message to fans on social media, alleging that he and his wife were not guilty.
The 50-year-old opened up in detail about the legal feud, admitting that although it only became public in 2019, it had been on for the past seven years, beginning 2012.
He also disclosed the nature of the charges and its origin, explaining how they discovered that a trusted employee had been stealing from them, bugged their home, and threatened the other employees to stay silent.
On discovering the staff's atrocities, they fired him. However, rather than take the fall for his faults, the said employee took the documents of his fraudulent activities against the family to the US attorney's office, claiming they were responsible for the illegal dealings.
The employee's alleged revenge plot has worked out so far, getting the Georgian family to the controversial legal situation they are faced with today.
He
concluded with words of thanks
to everyone who has extended their support over the years. More fans showed support to the reality star via comments, including his children, Chase and Savannah Chrisley, who together star in the 2019 spin-off of the USA network series, "Growing Up Chrisley."
DRAMA WITH HIS KIDS
Amid his legal fraud issues, the Chrisley clan has also dealt with internal crisis involving two of Todd Chrisley's kids.
Lindsie and Kyle, both from Todd Chrisley's first wife, Theresa, have fallen out with their dad on occasions. More recently, his daughter, Lindsie, claimed that her dad threatened to release a sex tape of her and American model, Robby Hayes if she failed to give a false statement in his defense.
While Todd was quick to label the allegations as false, while confirming his daughter's extramarital affair with the model, Robby has denied recording their bedroom activities.
He has also experienced a series of drama with his son, who previously accused his dad of bragging about evading taxes and using his granddaughter, Chloe, to evade taxes.
Although the father of one has stepped forward to set the record straight, admitting his allegations were all lies, brought about by his drug addiction.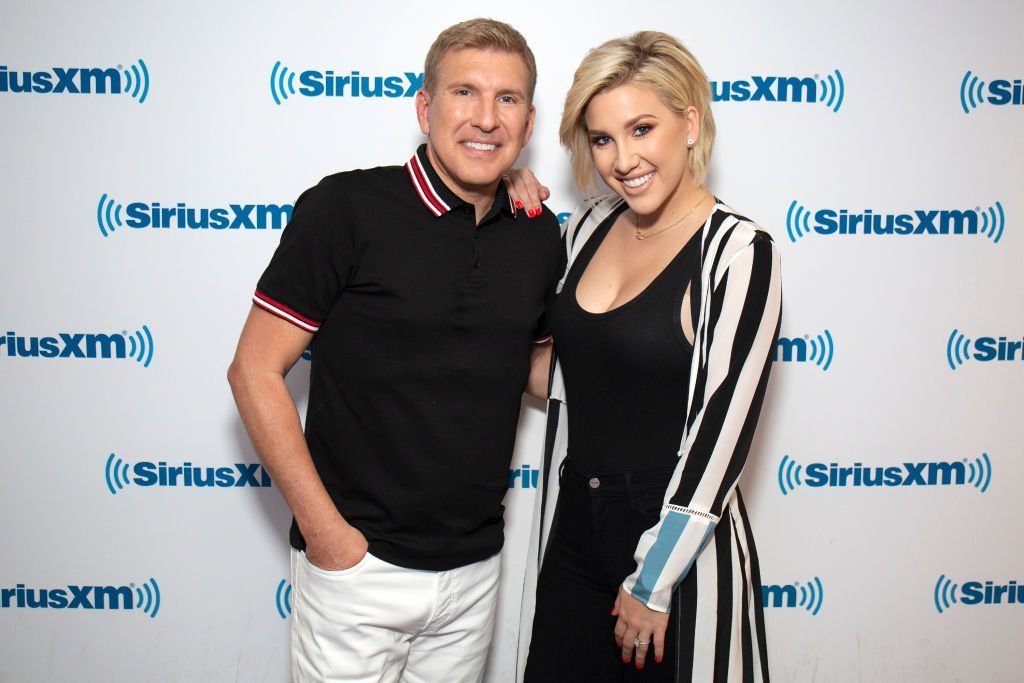 Todd and Savannah Chrisley visit SiriusXM Studios | Photo: Getty Images
THE CHRISLEYS HAVE REACHED A BETTER PLACE SINCE THEIR DRAMA
The television personality has made amends with his estranged son, and the two have started on a better note. Kyle has gone into rehab and has the support of his family.
The icon has also forgiven his daughter, Lindsie, although, the 29-year-old maintains that she was not ready to make amends, adding that she "will always love them" notwithstanding.
Amid the family feud, Todd, Julie, and the rest of the clan have turned to their faith and each other's love and support to stay strong in the face of their tough times.
Please fill in your e-mail so we can share with you our top stories!