Adam Busby from 'OutDaughtered' Shows off Major Cuteness in a New Photo of His Daughters in Identical Outfits
Reality star, Adam Busby flaunted his baby girls in a new photo, and the "Outdaughtered" girls looked enchanting as they matched in lovely dresses.
Adam Busby is the proud dad and patriarch of the "Outdaughtered" brood, and he never fails to impress fans with heartwarming photos of his famous daughters.
In a refreshing Instagram post, Busby sent the timeline brimming with pleasing images of his girls as they rocked matching outfits.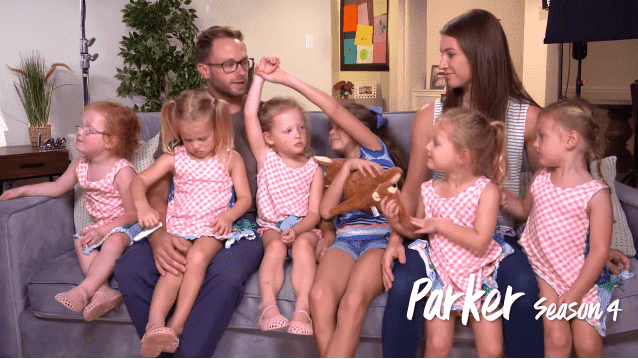 THE CUTE BUSBYS
The first snapshot shared was an outdoor shot where the girls stood in line as they rested on a white bus.
While the oldest sister, Blayke, rocked a white top and patterned bell-bottom pants, her quintuplet sisters were fully dressed in the same patterned fabric. Busby sweetly captioned the post:
"Too much cuteness today at church rocking their @khloejeanclothing outfits!"
FANS REACTION
The girls all looked pretty in their differently styled outfits. While some rocked cute playsuits, the others looked elegant in their dresses. The girls completed their look with white pairs of sandals.
The "Outdaughtered" fans felt blessed as they adored the child stars and gushed over them in the comments. An excited fan exclaimed: "OMG! I can't stand it! They are so adorable! I wish I could give them all a hug."
Once while speaking with KTRK, she revealed that doctors did not want her and her hubby to take all five kids.
THE "OUTDAUGHTERED" FAMILY
Adam and Danielle Busby first shot into limelight as the parents of the first set of surviving quintuplets in America. The family immediately gained fame and fans wanted to see them more.
This birthed the idea of a reality show, "Outdaughtered" produced by TLC. Adam and his wife showed fans how they get by every day with the demands of their babies.
After the girls were born, they were so frail they had to stay back at the hospital for a week. Danielle had them through C-section.
Once while speaking with KTRK, she revealed that doctors did not want her and her hubby to take all five kids.
This was due to many risks that came with multiple births. Adam suffered from postpartum depression. At first, he hid it from the public, but with time, he opened up to "People" in an interview.