Adam Busby from 'Outdaughtered' Explains Why Wednesday Is His Favorite Day of the Week in Date Night Post
Reality television personality, Adam Busby recently revealed his favorite day of the week as well as what made the mid-week day so special to him.
"Outdaughtered" star, Adam Busby had a fun date night on Wednesday, with his wife of thirteen years and mother of his children, Danielle Busby.
The father of six took to Instagram to share photos from their romantic night out while declaring Wednesday his favorite weekday, courtesy of his wife.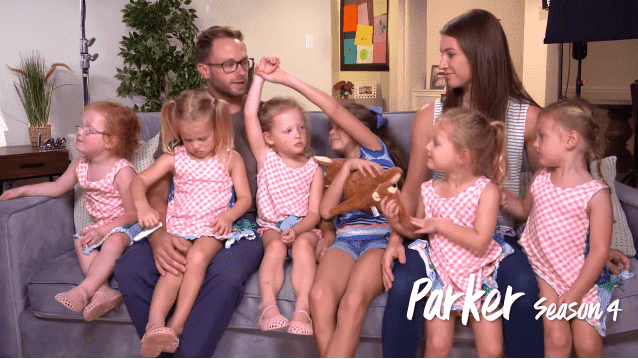 The pics showed the lovebirds cuddled up affectionately in a restaurant, all smiles, with two glasses of lemonade in front of them.
The first picture showed the duo with their heads sweetly joined together, while the other showed Danielle smiling with her head placed lovingly on her husband's shoulder. He captioned:
"She made Wednesday, my favorite day of the week. #datenight #dateyourspouse #outdaughtered #itsabuzzworld."
Fans took to the comment section to commend the couple's efforts in making out time to go on dates despite having a handful with the kids.
One noted that every couple needed to include date nights in their schedule for their relationship to work, while another wished it could be done "more often."
The show portrayed the 37-year-old father in a bad light.
The duo are parents to six children, including Quintuplet daughters, Riley Paige, Parker Kate, Ava Lane, Hazel Grace, Olivia Marie, and firstborn daughter, Blayke Louise.
For three years and six seasons, fans have watched the Busby's navigate through their life as parents of quintuplets on the TLC show, "Outdaughtered." The pair got married in 2006 like every other couple, welcoming their first child about five years later.
Although their relationship was not always rosy, with a failed first date, an unplanned family introduction, and regular jobs at the same department store, the mother of six soon found herself smitten by her "boy-turned-sexy man." She recalled,
"I started to fall in love with Adam when I realized how much joy he had for kids, just like I did."
It can be recalled that the couples' relationship raised brows last year, following the premiere of the sixth season of the TLC reality show.
Many fans were quick to point out that the show portrayed the 37-year-old father in a bad light, with Danielle manipulating her way through arguments and making her husband "look like an idiot."
However, the actor was not pleased with such speculations, coming to his wife's defense, saying the show was edited to look that way but was not reflective of their real relationship.
The pair have remained true to their relationship despite the stigma surrounding them as parents of six, building a happy family united in love.