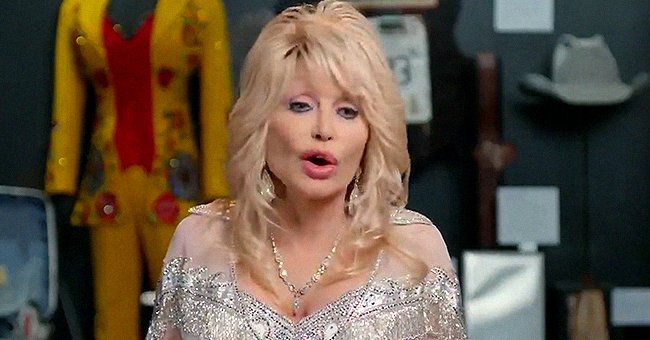 Twitter/DollyParton
Dolly Parton Shares Touching Video Showing Support for Tennessee Tornado Victims
Dolly Parton stopped her busy work schedule to send out out a personal message of support and well wishes to the victims affected by the tornado that struck Nashville, Tennessee.
Nashville's very own legendary country singer Dolly Parton joined her fellow celebrities in sending support and messages of encouragement to the victims, who were affected by the tornado that hit the city on Tuesday. She shared:
"Well I'm here on the job today, because as they say, the show must go on. But we had a lot of damage out in our area; I know a lot of Nashville was devastated with the storms."
Dressed in full costume wearing a white and silver embellished outfit, Parton looked angelic in soft pink inspired make-up. Her tone was cheerfully and bubbly as she said:
"Sorry that it all happened to all of us, but we're OK. To those that really lost family members, I'm sorry about that, and our prayers are with you. I just wanted to shout out and say, we're with you."
According to Washington Post the tornado has been one of the deadliest since 2011. With winds reaching up to 165 mph, at least 24 people have been killed and dozens are still missing.
It is reported, there are still ongoing efforts to find many people who have not been accounted for. Unfortunately, over 30 rescue workers have been injured during their search and rescue attempts.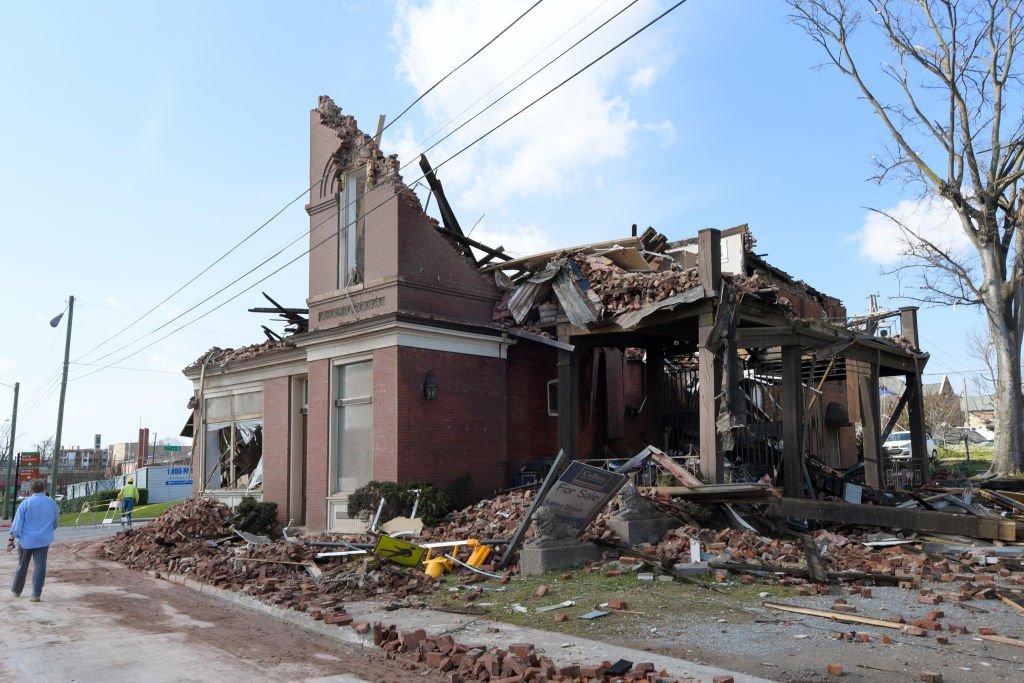 A building damaged by the tornado in the Germantown on March 03, 2020 in Nashville, Tennessee | Jason Kempin/Getty Images
Parton's
fellow 2019 Country Music Awards co-host,
Reba McEntire
, has been glued to her phone sending personal messages to the victims in Nashville.
After a lot of questions from fans, who were doubtful that it was actually her sending the messages, she shared a video of herself sending a message to a fan named Jessica.
McEntire, who revealed that she was "heartbroken over the tragedy in an earlier post, made a bold move in proving her commitment to her fans when she shared her cell phone in the number.
In her caption, she wrote, "Yes, it's really me seeing your texts," before sharing her cell phone number. She also encouraged her fans to text her and promised to respond to as many people as she could.
Another Nashville Native, Carrie Underwood, was off promoting her book, "Find Your Path," and left her husband Mike Fisher, and two children at home when the tornado struck their city.
She told Today, her family, and most of the people she knows are safe. She also said that Mike and her sons woke up at 2 am and managed to find shelter in a safe room they had built in their house.
Please fill in your e-mail so we can share with you our top stories!