Prince William and Kate Middleton Visited Several Charities during 2nd Day of Ireland Trip
Kate Middleton and her husband, Prince William are currently on a royal tour in Ireland. On Wednesday, the couple visited a few charity homes to show some support. 
The Cambridges started off the second day of their royal tour of Ireland, with a noble cause. With genuine love and passion for solving mental health issues, they paid a visit to a mental health charity home in the country. 
On Wednesday morning, William and Kate had a meeting with some young people who have gotten help from Jigsaw — a mental health charity in Ireland.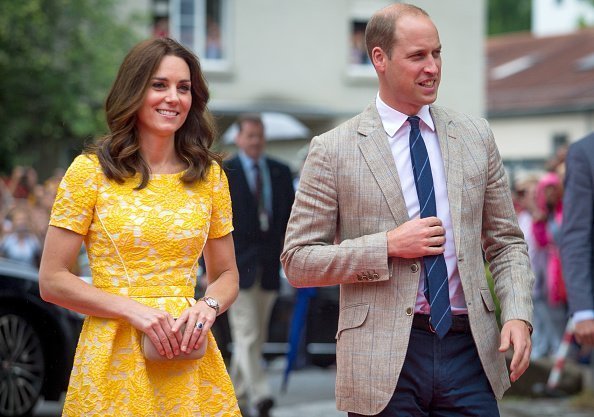 Talking about the couple's visit, Abigail McDonnell, a volunteer at the charity, described their interest in mental health issues as "genuine." She continued and explained that as soon as they started talking, one could tell they really cared.
Speaking further about the visit, Abigail said the couple was very appreciative of their efforts at the center. Another person present at the center talked about the couple's visit. Describing them, she said:
"They were amazing. So down to earth and really connected with what we were saying and the issues young people face."
After their visit to the mental health center, Kate and Williams made a trip to Savannah House in County Kildare, a residential facility run by the social justice charity, Extern. 
Every year, Extern speaks up for over 20,000 children and families across Ireland, helping young people with the life skills that they need to manage the issues facing them.
The royal couple closed up their visits for the day with a visit to the Irish President.
In conversation with community campaigners, teachers, parents and coaches on the impact of @JigsawYMH — which provides vital support to young people across a range of one-to-one, community, school and online services #RoyalVisitIreland pic.twitter.com/Ml4LgwjB74

— The Duke and Duchess of Cambridge (@KensingtonRoyal) March 4, 2020
The couple ended their afternoon visit with a trip to Howth Cliff, a spectacular cliff walk north of Dublin, with views out over the Irish Sea.
They held meetings with representatives from the Marine Institute, an agency responsible for marine research, technology development, and innovation in Ireland. 
Edward O'Riordan, an enterprise leader, explained that the two primary objectives of the center were to explore more sustainable beef farming and to study the molecular biology of the animals. He also talked about the royal couple saying:
'They showed a great depth of understanding of the subject. Very easy to talk to, very engaging, very related. You couldn't ask for a nicer couple.
William and Kate are now at Savannah House, a residential facility run by Extern, which provides a safe space to support vulnerable young people and familie #RoyalVisitIreland pic.twitter.com/XIg0TpkzY2

— Rebecca English (@RE_DailyMail) March 4, 2020
Prince William revealed that he had been inspired by his father, to get out and lay hedgerows to improve the farming conditions of the countryside. The couple checked a cattle field where there were several sets of young twins and a maternity shed.
The royal couple closed up their visits for the day with a visit to the Irish President Michael D Higgins at his official residence, Aras an Uachtarain. They discussed the implications of the Brexit and talked about fostering peace in Ireland.
The couple's three-day tour is focused on the subject of reconciliation, youth, culture, sustainability, and the environment, and will see them visit the counties of Meath, Kildare, and Galway.