Porsha Williams' Daughter Pilar Jhena Melts Hearts in Her Braids with Beads Hairstyle in New Photo
Porsha Williams is a doting mother of 11-month-old Pilar Jhena, and recently a post on her Instagram page revealed a captivating photo of the toddler in her "Big Girl Hairstyle."
Pilar is starting to build a reputation for herself, like most celebrity babies online. Porsha's constant show off of her daughter in mesmerizing looks and outfits is responsible for the popularity, which has continued to grow.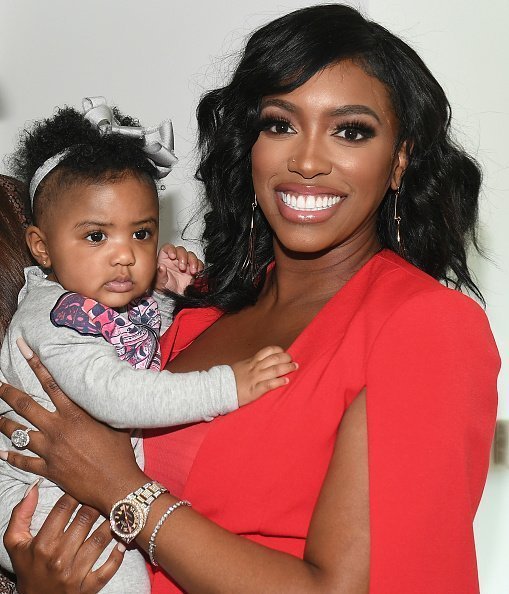 A newly updated post saw the toddler in adorable cornrows, which was beautifully beaded. Her eye-catching look caused an overwhelming reaction from her mother's fans, on Instagram.
The way she moved restlessly in her colorful sleep attire as she drank from an orange bottle made the short clip more fun to watch. As Pilar effortlessly showed off her hair, mommy's words were:
"Look at my big girl hairstyle."
As mentioned earlier, numerous fans gushed on the upload, and one fan went on to give some words of advice concerning the beaded hairdo.
The comment settled on the comfortability of the hairstyle, which could be disturbed due to the beads, the online user asked Porsha to "Be careful."
Chrissy Teigen bought a drum set for her 1-year-old son.
When Porsha isn't flaunting her daughter's hairdo, then she can be seen sharing the magical moments she shares with her little princess.
Shortly after she purchased a drum set for her daughter, the pair engaged in a musical class session that was posted on the TV personality's social media handle.
The soon to be 1-year-old seemed a bit interested in playing the instrument. Porsha could not curtail her excitement as she wrote on the post:
"Pj, I'm ready. Pilar's Jam session! @pilarjhena #MusicalSoulChild #BabySheilaE #obsessed #10months."
Porsha isn't the only celebrity who seemed compelled to introduce her toddler to music. John Legend's wife, Chrissy Teigen, bought a drum set for her 1-year-old son, a few months ago and shared how he committed to destroying the set instead.
Whether or not Pilar is a bit young to understand, the 38-year-old on-screen diva is all about being the best mom she can be by her standard.
Most times, she delights in twinning in matching outfits with her mini-me whom she described as her "love" following a photoshoot that marked her daughter turning 11-months old, a few days ago.
During the Christmas holidays, the duo engaged in another shoot, which saw them in white dresses. Porsha has proven beyond all doubt that she loves her new status as a mother.