Katy Perry Admits Being Terrified after 'American Idol' Judges Congratulate Her on Her Pregnancy
"American Idol" is getting ready for things to get "bigger and better," as judges Lionel Richie and Luke Bryan shared their excitement at Katy Perry's pregnancy.
Luke Bryan and Lionel Richie could hardly contain their excitement during Sunday's episode of "American Idol," when they announced that someone special would be joining their panel in a few months.
THE REVEAL ON 'AMERICAN IDOL'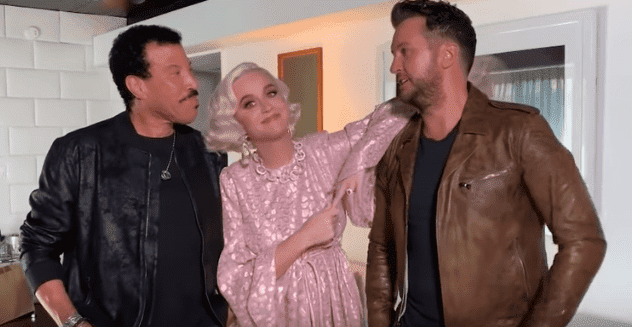 Dressed in a loose-fitting pale pink dress, Katy Perry stood in between her fellow judges as Lionel said with a big smile:
"I can't tell you how excited I am that we're going to have a fourth judge on the show this year."
Luke Bryan agreed that the fourth judge is going to be the "perfect addition" to their panel, and after some light prompting, Katy ran her hands over her baby bump and spilled the beans to their viewers as she said, "We're having a baby. I'm terrified!"
HOW KATY FIRST BROKE THE NEWS
Katy first creatively announced the news when she revealed her baby bump right at the end of the music video to her new song, "Never Worn White," on March 4. 
The couple is "thrilled" about the pregnancy, and according to an insider who spoke with PEOPLE, they wanted to keep it private for as long as possible so Katy could "enjoy her pregnancy in peace."
It's Katy and fiancé Orlando Bloom's first child together, and after receiving overwhelming support from her fans, Katy took to social media to thanks them as she wrote:
love u guys so much. was a bit nervous about sharing something so personal like the song n the bump n I hv never gotten this much love n support, it's overwhelmingly lovely. thank u 🥺♥️ #NeverWornWhite #babycat

— KATY PERRY (@katyperry) March 6, 2020
WEDDING POSTPONED
Orlando, who is father to his 9-year-old son Flynn with ex-wife Miranda Kerr, popped the big question to Katy on Valentine's day last year, and it seems their wedding might be postponed.
According to a source that spoke with PEOPLE, Orlando and Katy planned to have their wedding in Japan early this summer, but due to the spread of the coronavirus, they decided to put their plans on hold.
Apparently, the couple had their 150 guest wedding all set for the big day, and Katy felt "excited" about walking down the aisle pregnant.
KATY'S MOM RUINED HER REVEAL TO THE FAMILY
Since sharing the "longest secret" she'd ever kept, Katy Perry also opened up about the big reveal to her family, which didn't turn out as planned thanks to her mom.
The singer wanted to share the news with her family by gifting them wine - having replaced the original labels with a custom message about her pregnancy. 
But the plan went pear-shaped when her mom came over for a visit and looked at her wine, which the star said she never does, and spotted the custom labels before Katy could give it to them.