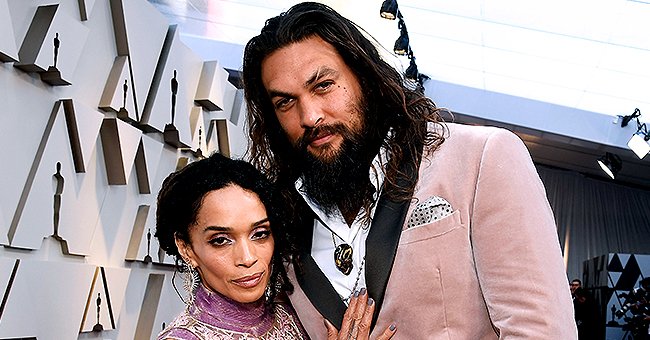 Getty Images
Jason Momoa and Lisa Bonet's 14-Year Romance That Began with a Childhood Crush — inside Their Love Story
The couple has been together for more than a decade and a half showing that true love does exist in Hollywood. Perhaps the secret of their solid relationship is that each one devoutly loves the other.
Jason Momoa, 40, gained worldwide fame with his Khal Drogo character on "Game of Thrones" on 2011. This character gave him the opportunity to play the DC superhero, Aquaman, in the movie "Justice League" and in the first solo film by the ecological watchman.
But although his image is of a man of action, rough and strong, in real life Momoa is a devoted father and a loving husband for his two children and his wife, also actress Lisa Bonet. They have formed a fabulous mixed family that the actor proudly shows whenever he gets a chance.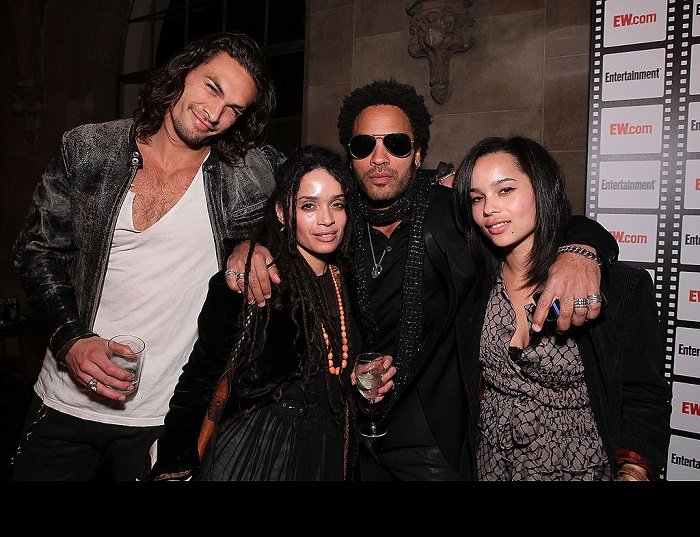 Jason Momoa, Lisa Bonet, Lenny Kravitz and Zoe Kravitz at Entertainment Weekly's Party at Chateau Marmont on February 25, 2010 in Los Angeles, California I Image: Getty Images
EARLY YEARS
Momoa was born in Hawaii but raised in Iowa, where he moved in with his mom after his parents' divorce. There, like any child of the time, he grew up watching TV shows like "The Bill Cosby Show," where he saw Lisa Bonet perform in the role of Denise Huxtable. Fascinated by her despite being only 8 years old, he told his mom that he would marry her one day.
The years passed and as a young actor, one night he met Bonet at a New York City jazz club. She had dreadlocks and he also had dreadlocks, he had made them for her. A mutual friend introduced them, and when she said, "Hi, I'm Lisa," Momoa turned to his friend excited to meet the girl of his dreams.
Momoa had decided since childhood to follow her until he could get her to be his, as he confessed in an interview a few years ago. Of course, he was careful to tell her until they had two babies, it would have sounded crazy, she sure would have believed that he was just another crazy stalker.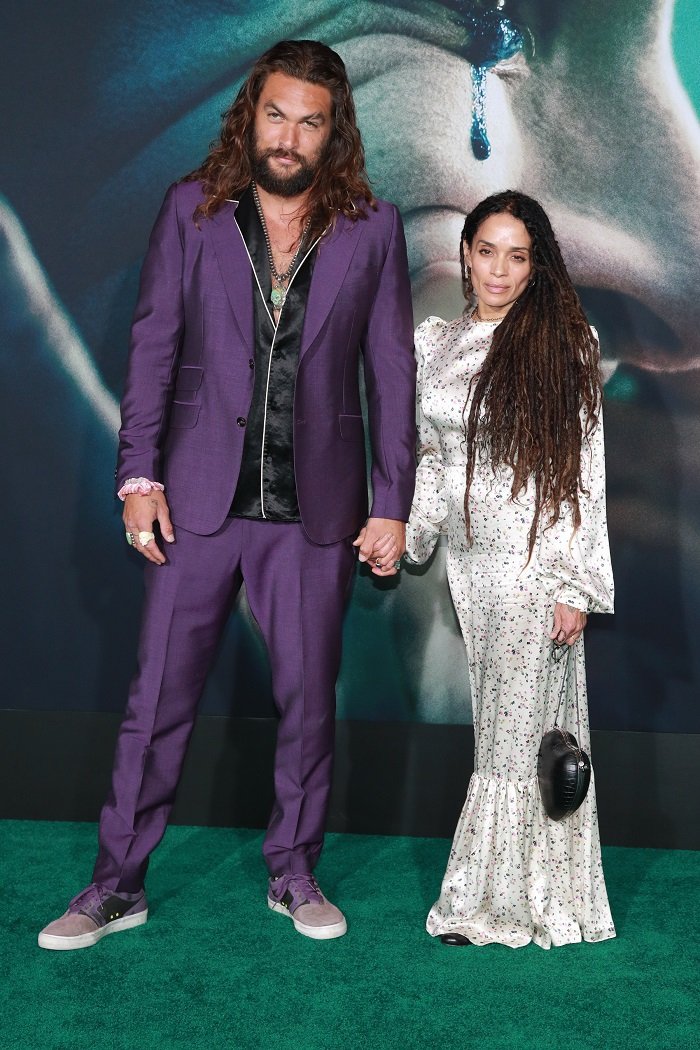 Jason Momoa and Lisa Bonet attend the premiere of Warner Bros Pictures "Joker" on September 28, 2019 in Hollywood, California. I Image: Getty Images
ALWAYS TOGETHER
Momoa didn't have a car, so he convinced Bonet to drive him home. When she took him to the hotel where he was staying, they stopped for a beer. The actor couldn't believe it could happen, but when ordering her beer Bonet asked for a Guinness, which is his favorite beer.
From that moment they are together, and although he can say that he was behind her since he was a child. As for her, it wasn't love at first sight, but love did start that night and has not stopped growing until today.
Bonet has a love story with musician Lenny Kravitz, and as a result of their five-year marriage, they share a daughter, singer and actress Zoë Kravitz. So with Momoa, she took her time, but he knew what he wanted, Bonet says that he came, picked her up and threw her over his shoulder, caveman style.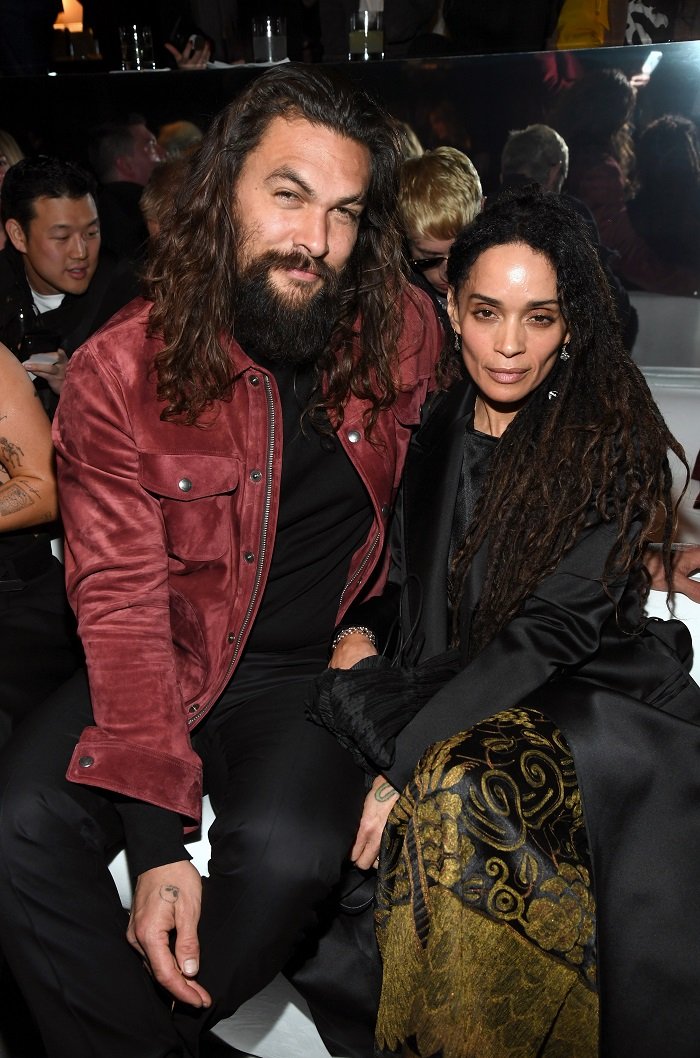 Jason Momoa and Lisa Bonet attend the Tom Ford AW20 Show at Milk Studios on February 07, 2020 in Hollywood, California. I Image: Getty Images
LIFE IN COMMON
The couple has lived together for 14 years, guarding their relationship from scandals and publicity. Bonet is extremely private and defines herself as a shy person. She does not like advertising and social networks, her husband is the opposite. Momoa is open and sociable; he seems to want everyone to always accompany him.
Bonet and Momoa welcomed their first daughter, Lola, in 2007, and the following year, 2008, their son Wolf was born, the family of five, together with Zoë, was complete. Momoa's relationship with her stepdaughter is tender and very real; they both share the same tattoo on her arms.
Zoe loves her brothers, she shows it often and one of her ways was to give her band "Lolawolf" the name of her two brothers. In addition, Lenny is a close friend of Momoa and Bonet, together they form a great family, and they have many photographs together. Incredibly, both parents share skull rings.
WEDDING
In 2017 the couple decided to take another step in their life together by getting married. Both said "yes, I agree" in a simple private ceremony at their home in Topanga, California, with only a few friends and family. Bonet is said to have performed the traditional Maori dance, haka on that special day.
Not much is known about the wedding day, as the couple wanted to keep it a secret, and have so far succeeded. Bonet has commented that he does not feel that anything has changed in their relationship after the wedding. Momoa has only said that he has finally married the woman of his dreams and because that for him nothing is impossible.
During their 14 years together, the couple has shared the screen acting together on projects such as the Momoa-directed and produced the film, "Road to Paloma," in 2014. That same year, they co-starred in the Sundance TV series "The Red Road."
CAREER
Momoa's agenda is full until 2022, with performance commitments and the businesses he likes to invest in. However, the actor makes sure not to spend more than a month away from home, that's when he had to spend six months in Australia filming "Aquaman," he took his entire family with him.
Undoubtedly, this couple lives a beautiful love story that they share with their followers. They have overcome difficulties and prejudices, such as the age difference since Bonet is 13 years older than Momoa.
But in Bonet's opinion, her husband has a type of masculinity that is not very common at this time. For her he is an alpha male, who cares about caring for and protecting his family, he is a leader who watches over his family with love. Momoa calls Bonet her "goddess" and lives to love her and make her happy. She only has eyes for him and gives him all her love and support.
For now, Momoa was already a fully domesticated family man, dedicated to the lady in his life and their children.
Please fill in your e-mail so we can share with you our top stories!