Whoopi Goldberg Wears Black Top Hat on 'The View' to Inject Humor Amid Growing Coronavirus Concern
Whoopi Goldberg is not letting coronavirus fears get the best of her, and she doesn't want it to bring down her fans' spirits either. So she took action on "The View." 
On Thursday's episode of "The View," Whoopi Goldberg joined co-hosts Joy Behar, Sunny Hostin, and Meghan McCain for a first-time event on the show.
The women did the taping without a live audience because of the coronavirus outbreak. Still, that's not to say the public should be panicking. At least, Whoop doesn't think so.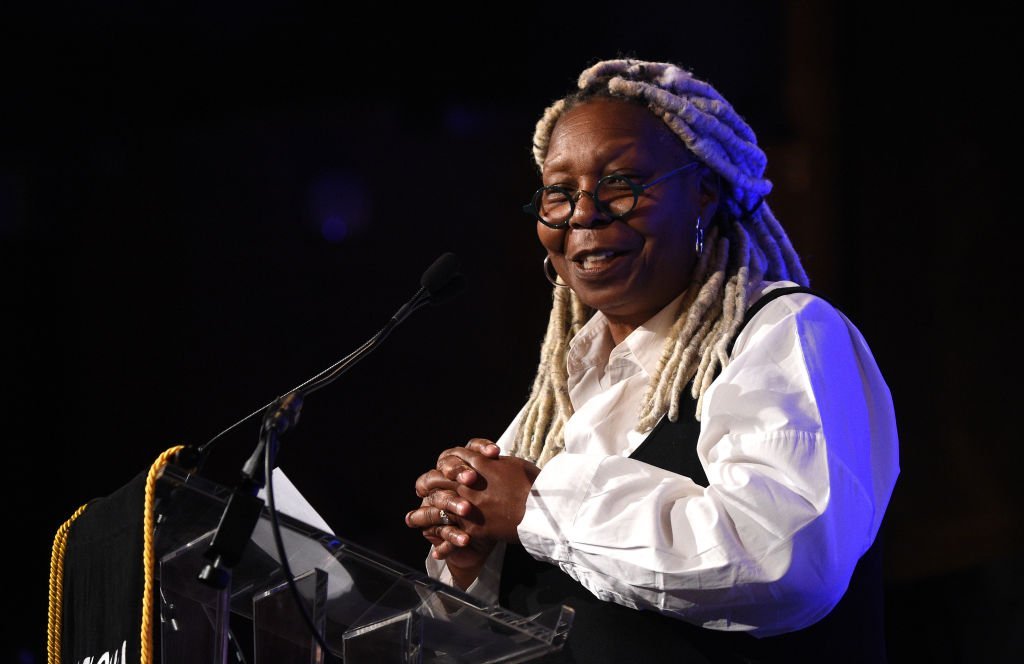 Whoopi's giant top hat
The former comedian and actress showed up wearing a black top hat and explained to her colleagues that she chose to don the piece because of what is happening with the coronavirus. 
"In the face of what's going on, lots of scary stuff happening, and we don't want everybody to be scared all the time. There is some silly stuff left, and I'm wearing it," said Whoopi reportedly.
Does it bother you if someone flirts with your spouse? https://t.co/f8u2wbJuik pic.twitter.com/ruCBtjZDqr

— The View (@TheView) March 13, 2020
Fans react to the look
The host proceeded to do the entire segment with the hat on her loc'd head of hair. Fans later took to Twitter to react to Whoopi's new look. Many of them were confused. 
Whoopi is wearing a top hat for some reason #TheView pic.twitter.com/xSzY0IR9Rl

— Stephanie Guerilus (@qsteph) March 12, 2020
Others understood and appreciated the host's intentions. Amid all the other cancelations of in-house studio audiences, concern throughout the nation only seems to be growing.
Here's Whoopi in a top hat this morning on #TheView to bring some light to your day. pic.twitter.com/ToxkIh8Qv3

— Curtis Kimberlin Jr (@ckimberlinjr) March 12, 2020
One person called for Whoopi to be protected at all costs due to her kind and angelic heart. Of course, not everyone would agree based on the actress' opinions on the show. Each host has haters. 
True or false? Whoopi Goldberg wore a top hat on today's episode of #TheView?

TRUE! pic.twitter.com/HVh3UW0vcF

— Ξvan Ross Katz (@evanrosskatz) March 12, 2020
Whoopi greets empty seats
However, it was certainly funny when Whoopi greeted a set of empty chairs on the show earlier this week. Some found it comedic, while others felt it was unsettling to see.
Whoopi and her colleagues came onto the stage, and when they sat down, Whoopi shouted "Hello, hello, hello! Welcome to 'The View!' The camera panned around to show rows of empty chairs. 
Whoopi Goldberg repeating "welcome to The View" to empty audience chairs is both peak apocalypse horror and high camp. pic.twitter.com/VZroTYVT0N

— Joey Nolfi (@joeynolfi) March 11, 2020
Meghan is absent from the show
On Monday, just one person was missing from "The View" studio, and that was host Meghan McCain. Viewers had a lot to say about the republican's absence. 
There were both happy and sad reactions regarding McCain's absence. Deborah Roberts filled in at the time. The hosts didn't provide any explanation regarding their missing co-host.
"The View" joined other daytime shows including the "Dr. Phil Show," "The Wendy Williams Show," "Jeopardy!" and "Wheel of Fortune," which have all opted to tape without a live audience.