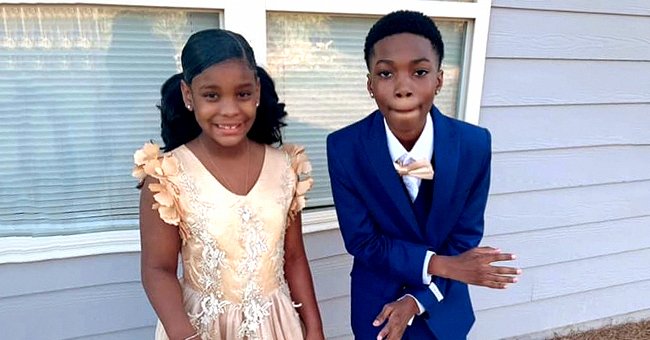 Facebook/trelysia.s.hamerter
Big Brother Takes Little Sister to Father-Daughter Dance after Dad Stood Her up for the Second Time
A caring big brother took her little sister to the father-daughter dance after their father stood her up twice.
On a viral Facebook post, proud mom Trelysia Hamerter revealed that her son stepped up to help his sister after her dad failed to show up to her father-daughter dance for two years in a row. Her daughter Skylar was left in tears because she wanted to go, as she wanted to prove to her classmates that her father was part of her life.
"This year she comes to me ahead of time and says, 'Mommy, I want my dad to come with me to the dance. I don't want grandpa. I want my dad, I want everyone to know I have a dad.'"
STEPPING UP FOR HER SISTER
Days before the dance was set to occur, Skylar's dad stopped answering their phone calls, and it was clear that he would miss the dance for a second straight year. When 11-year-old Christian heard what was happening, he decided to step up and take his sister instead.
While Skylar hoped to prove to others that she had a father figure in his life, her brother Christian hoped to let her know that she deserves a man who keeps his word and makes her feel special instead.
RAISING A GREAT MAN
True enough, their father did not show up on the day of the dance and Christian suited up to take his sister instead, showing her classmates that she had the best brother. Proud of her little man, Trelysia wrote to her Facebook followers that she was grooming a great future husband, too.
"Just know that I'm raising someone a GREAT HUSBAND one day."
A HEARTWARMING SURPRISE
Brothers stepping up to keep their siblings happy is a heartwarming sight, and for one bride, she had the privilege of dancing with her five brothers during the father-daughter dance at her wedding in honor of their late father.
Kaley West's dad, David Jean, passed away in 2015. Being the only girl of six siblings, she had a particularly close relationship with her father and was sad to know he wouldn't get to walk her down the aisle and dance with her at her wedding.
A FATHER'S MEMORY
Knowing how much it meant to their sister, her five brothers planned a sweet surprise. Using old videos of their dad, they spliced snippets of him talking to Kaley into Michael Bolton's "Fathers and Daughters," and it was heartbreakingly beautiful.
During the wedding, one of Kaley's brothers announced that they will be taking turns dancing with her, and asked everyone to be silent and listen to the words of Bolton's song. As they began dancing, Kaley instantly heard her father's voice, and she couldn't help but cry as she hugged her brothers one by one.
Please fill in your e-mail so we can share with you our top stories!