Shania Twain, 54, Sizzles in Two-Piece Swimsuit in Beach Video Celebrating International Women's Day
Inspiring women to be their best "every day," legendary country singer Shania Twain quite literally wrote her words of encouragement in the sand while looking incredible in a bikini on a beautiful beach day.
Shania may think that aging is a "battle you can't win," but she looked fabulous in a bikini and floppy hat when she celebrated International Women's Day on March 8.
The 54-year-old smiled broadly in the video she shared on social media to commemorate the empowering day, and wrote out the message, "Let's go girls!" in the sand before striking a strong arm pose. Appreciative of Shania's post, fans soon shared their thoughts: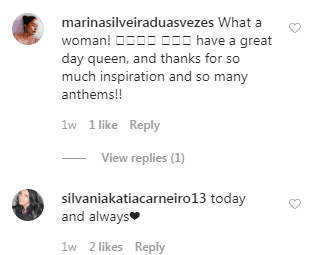 A self-professed dreamer, Shania focuses her attention on enjoying what she has and daydreaming about the things she still wants to achieve, as she said during a recent interview:
"I want to forget about the stuff I can't change. It's a waste of time and energy to worry about trying to slow my aging process down."
Instead, Shania enjoys the little things in life, like the sunset that captured her imagination while on vacation in the Bahamas.
In pictures the chart-topper posted, it seems aging is paying as little attention to Shania as she does to it, as she looked fabulous in a sheer, light blue wrap dress with her hair wrapped in a messy bun.
Feeling comfortable in her skin, Shania values being healthy, strong, and happy with her husband, Frédéric Thiébaud. She is now more accepting of her body with or without clothing on than she's ever been.
Currently busy with her second Vegas residency, Shania and Frédéric tied the know in 2011 after getting engaged the previous year.
In an earlier interview, Shania called her love story with Frédéric "beautifully twisted," as the pair developed romantic feelings for one another after their spouses cheated on them with each other.
After 14 years of marriage, Shania found out in 2008 that her ex-husband Robert Lange had an affair with her friend Marie-Anne Thiébaud, who had been married to Frédéric at the time.
Frédéric and Shania Twain bonded over their shared experience, and eventually, their friendship turned into a romance still going strong today.
The 54-year-old was set to return to her "Let's Go" residency in Vegas on March 13, and shared shortly after it kicked off in December last year that she is also working on a new album.
Changing things up a bit, the country singer said that she is aiming for a more "intimate" and "organic acoustic" feel with her new album while she continues with her residency set to finish at the end of the year.