Shania Twain Shares Details about Her New Las Vegas Residency Called 'Let's Go'
Shania Twain is back in action at her Las Vegas Residency Show. She spoke about how it's going so far and some ideas she has for the future. 
Shania Twain, 54, was excited about the kick-off of her residency, "Let's Go," as she spoke to People backstage after one of her shows. She talked about fan responses and some new ideas she has.
The "You're Still the One" singer said that although her fans come to see her rock out, she's hoping to do introduce more acoustic parts into the show. So far, one song she softened up was well-received. 
Twain is switching it up
Fans were "into the mood" for Twain's new version of her hit single, "You're Still the One" over the weekend. Hopefully, that means they'll love her new album. 
Twain is currently recording the project which she described as having a more "organic acoustic... intimate" feel. Twain, who also works as her creative director in Vegas, is a hard worker. 
She's no stranger to work
She explained that her decision to do the new residency came halfway through her last tour. Following her 2012-2014 Ceasars Palace run, she did two more tours.
She specifically chose to return to Vegas this time around. During the show, fans are invited to experience an array of Twain's feelings. She starts with "Rock This Country," but at one point she also has her dog on stage. 
Her creativity shines throughout the show
According to People, eight costume changes are carried out over the two-hour show. This part, in particular, is important to Twain because she is "intrigued by the visuals." 
She also just wants to be comfortable, so the outfits have to move with her as she performs. Additionally, Twain makes the audience part of the show by having them join her on stage.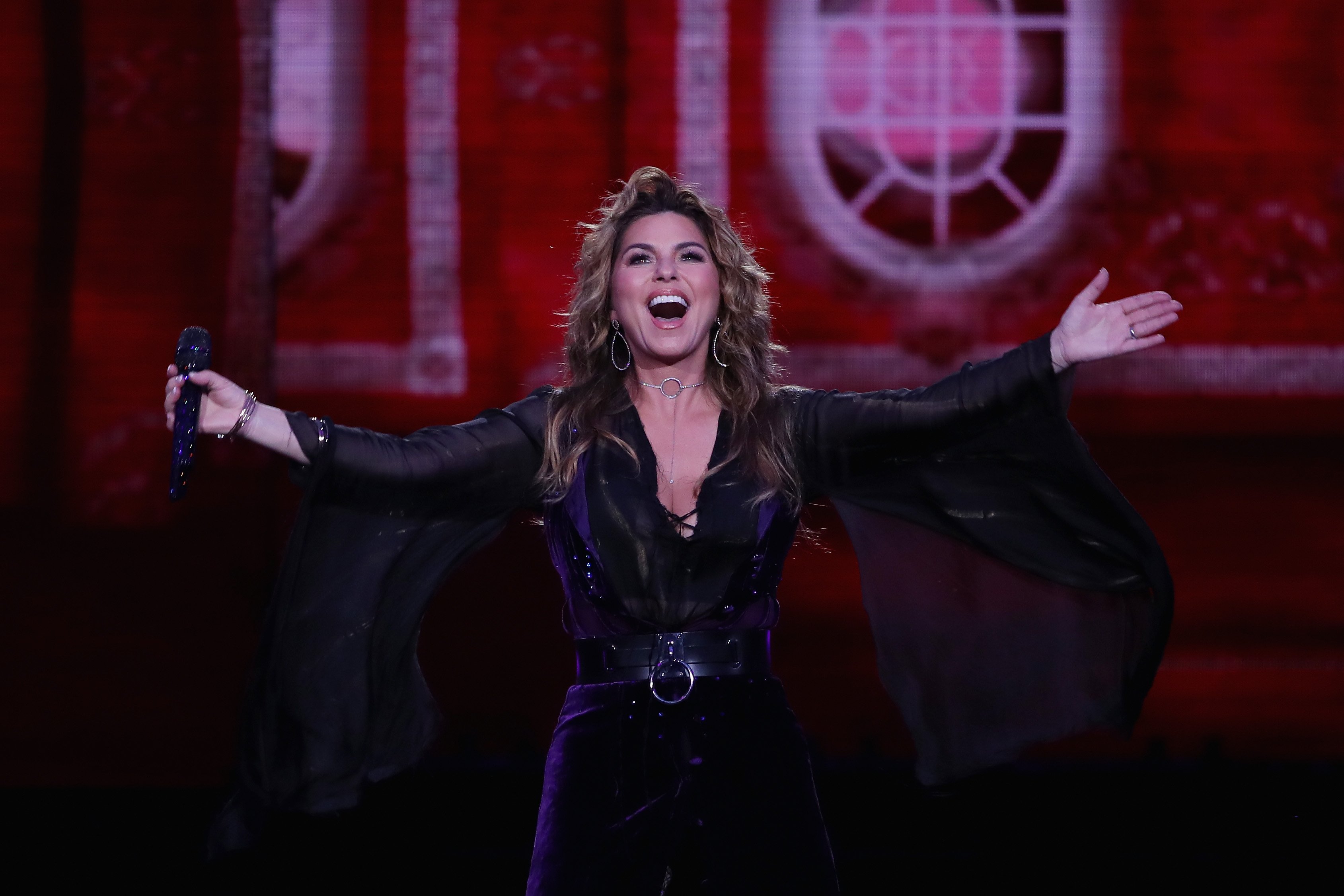 Twain celebrates her Vegas return
Apart from her interview, Twain celebrated her Vegas return when she took to Instagram on Monday and shared a photo from the big night.
Twain was decked out in a shocking pink getup that featured a dazzling pink body as she stooped down to touch a fan in the photo. She definitely connected with fans. 
She killed it at the AMAs
Twain gave fans a sneak peek of what was to come when she performed at the American Music Awards (AMA) last month. The rock/ country singer closed out the show with a bang. 
Her highly-praised performance came after 16 years off the AMAs stage. It included an acoustic version of Post Malone's "Rockstar" as well as a cover of a Taylor Swift song. 
Shining after throat surgery
Twain's return to the spotlight followed an open throat surgery she underwent this summer. The singer spoke about it soon after, addressing how Lyme disease and dysphonia plagued her career. 
She told Extra that the operation was "very intense" and left her with a new voice to discover. It appears that she's not only done that, but she's also pushed ahead with her new voice by having a rock star attitude.