Ice-T's Wife Coco Austin Flaunts Her Pink Hair in Photo & Admits She Doesn't Miss Being Blonde
Famous model and dancer Coco Austin loves her new hair color — the 40-year-old recently took to social media to confess that she doesn't miss being blonde.
Coco Austin is an American actress, dancer, glamour model, and TV personality. She has been married to rapper-actor Ice-T since January 2002. 
The famous model recently took to her Instagram page to post a photo that flaunted her long pink hair. Her face sported light makeup, and the top half of her stylish cardigan could be seen.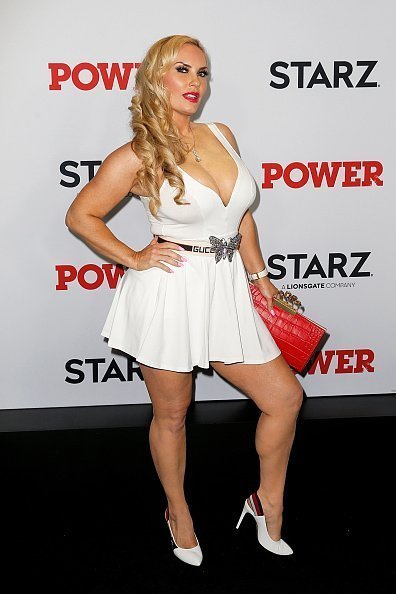 In her captions, Coco expressed her love for the color pink, admitting that she has always been a colorful person. A fan wanted to know if she misses her blonde hair. She replied by tagging the fan and saying,
"I actually don't, I've been blonde for 20 years… it's a nice change… going back in April."
Another fan chipped in by sharing that her work doesn't allow her the privilege of changing her hair color and so she would be living the life through Coco.
In reply to her revelation, the 40-year-old model said, "Lol, I know if I go back on TV they like blonde better, it's easier for them, I feel like these early years with Chanel has been my hiatus… lol."
Coco debuted the new hair color last year, in December, when she took to her Instagram page to post a short video clip in celebration of her daughter Chanel's Barbie-themed fourth birthday party.
She will be documenting the whole experience of breastfeeding a four-year-old on her baby blog.
The mother of one recently took to her Instagram page to share a photo of her breastfeeding Chanel along with her views on the topic of breastfeeding.
In her caption, she revealed that she still breastfeeds her 4-year-old daughter, alleging that it was more for comfort than nutrition.
The post attracted mixed feelings from fans of the talented model; however, she doesn't seem bothered by the reactions and only cares to speak her truth. 
"At a time when the world feels like it's coming to an end.. suck up as much love as you can!" Her caption began, referring to the currently ongoing Coronavirus pandemic. 
She went on to share that she will be documenting the whole experience of breastfeeding a four-year-old on her baby blog. It reportedly features a detailed account of her parenting journey with her growing daughter.
Coco also expressed gratitude to the women and mothers who push her to keep writing. She ended her lengthy captions with hashtags that reads, "#boobtime, #nursingmom, and #proudmama."