Instagram/chinamcclain
China McClain from 'Black Lightning' Poses with Her Sisters on Sierra's Birthday & the Resemblance Is Uncanny
China McClain recently paid tribute to her older sister through an Instagram post, featuring their radiant beauty.
"Black Lightning" actress China McClain often posts photos with her family on social media, but her recent post was explicitly dedicated to her older sister.
McClain shared two photos in one post, including one with her older sister, and the other with both her siblings, showing their beautiful faces.
The sweet tribute was made for her older sister's birthday with a caption that read: "Happy Birthday to the best older sister on earth."
Several fans and followers took to the comment section high praises for the trio, including one that complemented their genes.

Screenshot of comments on Instagram. | Source: Instagram/ChinaMcClain
McClain's big break came when she appeared in the film "Descendants 2," followed by the television series "Black Lightning."
The actress' talent for entertainment stems from her parents' creative genes, with her father being a music producer and her mother a songwriter. She shared:
"There was always music playing in our house. So, at the age of three, I was like, 'I want to be a singer.' I could barely talk, but that's made me who I am."
The studio's opening saw the likes of Jay Z, Beyonce, Hally Berry, and other celebrities.
McClain grew up close to her family, especially her parents, who served as her inspiration and mentors growing up.
Like the actress, her siblings Sierra and Lauryn have also appeared on-screen and entered the entertainment industry.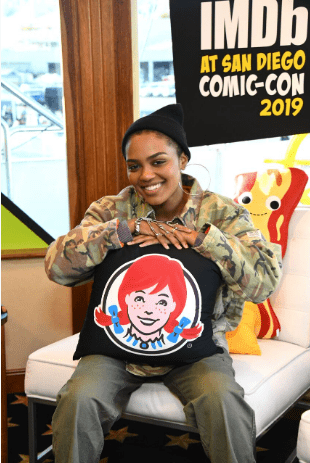 China McClain smiles at the IMDB Comic-Con 2019 at San Diego. | Source: Getty Images
After starring in "The Gospel" and "House of Pain," and appearing in "Daddy's Little Girls," among many others, McClain was honored with a star at Tyler Perry's studio.
The young actress shared the proud moment on social media as squatted beside the star. The studio's opening saw the likes of Jay Z, Beyonce, Hally Berry, and other celebrities.
McClain's career has been growing in the past years. She is distinctly known for her black curls, which she takes pride in.
Her dark skin is also something that she loves about herself and encouraged others to be happy and proud of their skin color because it is "beautiful" regardless.
Please fill in your e-mail so we can share with you our top stories!