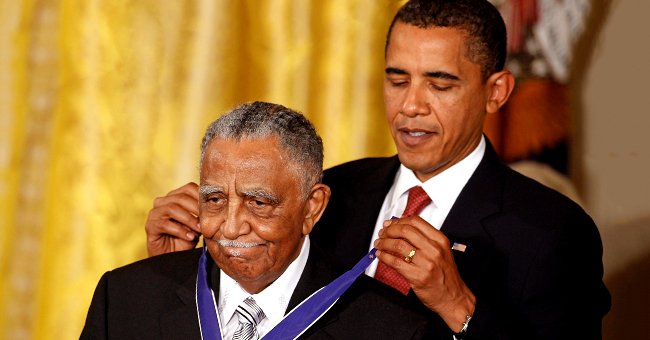 Getty Images
Celebrities Mourn the Death of Civil Rights Icon Rev. Joseph Lowery
Rev. Joseph Lowery, a famous civil rights advocate, and leader passed away last week. In honoring him, several celebrities have paid tributes using their social media platform.
Lowery died this past weekend at his home in Alabama. Reports have confirmed that he died of natural causes at the age of 98.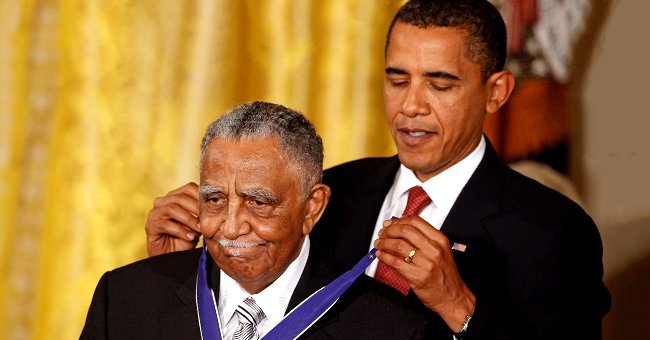 Reverend Joseph Lowery receives the 2009 Presidential Medal of Freedom from U.S. President Barack Obama during a ceremony on Wednesday, Aug. 12, 2009 | Photo: Getty Images
Several notable people — both within and outside the African-American community — have come out to share words of support and encouragement for his family.
Former President Barack Obama shared a picture of the late icon on his Instagram page. There, he described him as a man who "changed the face of America."
Tyler Perry, the famous movie producer, also took time out to pay his respects to a "great man" who commanded respect everywhere. Bill Clinton, Tina Lawson, and others also joined in with tributes of their own.
Rev. Lowery's life had an indelible impact on the civil rights movement.
Rev. Lowery was born in Alabama back in 1921 at what many might have called the height of tensions between the races. His hometown was a significant stronghold for the segregationist, racist movement, and surviving on its own was almost a daily chore.
However, reports explained that Joseph Lowery chose to fight for equality and peace after a nasty run-in with a local policeman. In the 50s, Rev. Lowery was instrumental in organizing peaceful protests and marches in Alabama and Georgia.
Along with Martin Luther King Jr., he helped to found the Southern Christian Leadership Conference (SCLC) — a prominent civil rights organization. Their tireless work and perseverance eventually led to the signing of the Civil Rights Act of 1964.
Even after the civil rights law passed, Rev. Lowery continued to fight segregation and racial intimidation for decades. He remained as the President of SCLC for 20 years and stepped down in 1998.
Throughout his life, Lowery got the moniker "Dean of the civil rights movement." The accolade was usually recognition of his stellar work in the civil rights movement and the abolishment of racial injustice.
His work also included the establishment of the Joseph and Evelyn Lowery Institute for Justice & Human Rights. Amongst some of his notable achievements include the NAACP's Lifetime Achievement Award and the Presidential Medal of Freedom.
Please fill in your e-mail so we can share with you our top stories!