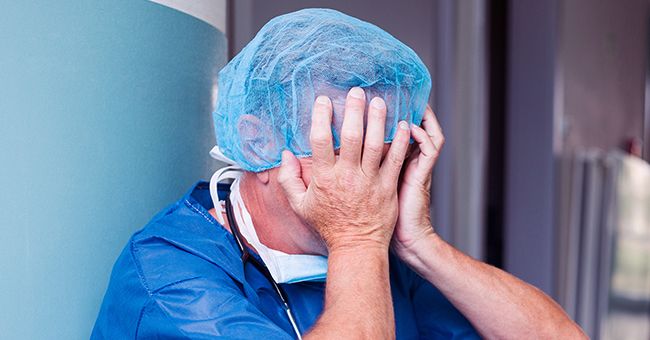 Shutterstock.com
Doctor Breaks down in Tears after Stopping Son from Hugging Him Amid Coronavirus Pandemic

Heartbreaking footage has been shared, showing Dr. Nasser Ali Al Shahrani bursting into tears after having to pull away from his son. The doting father fears of passing on the coronavirus disease.
As shown in the six-second clip posted to Twitter recently, Dr. Al Shahrani was returning home from a shift at King Salman Hospital in Riyadh, when his son ran towards him with his arms open wide.
However, even though it's against his will, he puts his hands out and tells his son to keep his distance. He then breaks down from the strain.
"The aim of the clip was to make citizens and residents aware of hazards of the coronavirus and to comply with arrangements and instructions of the Health Ministry," Dr. Al Shahrani told the Saudi newspaper Okaz, as reported by Lad Bible.
The doctor added that alongside other health care professionals, he needed to make new routines to prevent them from passing on the deadly disease to their loved ones. He continued:
"All colleagues should avoid approaching their children and families until they wash their hands and take the necessary precautions."
Many people were touched by the video. One person said that it is the purest emotional love between the little boy and the father, whose only concern at that time, is to safeguard his son.
She wants them to realize that their mom made a decent attempt to carry out her responsibility.
Another added that Dr. Al Shahrani is such a hero. Someone else commented that the fear and emotional exhaustion just pour the father off.
Meanwhile, in New York City, Dr. Cornelia Griggs, a pediatric surgeon, used her sacrifice and courage as a great teaching moment for her youngsters, as reported by Today.
Dr. Griggs took to Twitter to share a photo of herself wearing protective medical gear from head to toe. In her caption, she said that if her children lose her to coronavirus, she wants them to realize that their mom made a decent attempt to carry out her responsibility.
She concluded her post with the hashtag #GetMePPE. Today reported that the hashtag "calls attention to the shortage of personal protective equipment that health care workers are facing."
In a New York Times op-ed, titled "A New York Doctor's Coronavirus Warning: The Sky Is Falling," Dr. Griggs shed light on the situation in New York City hospitals.
Please fill in your e-mail so we can share with you our top stories!