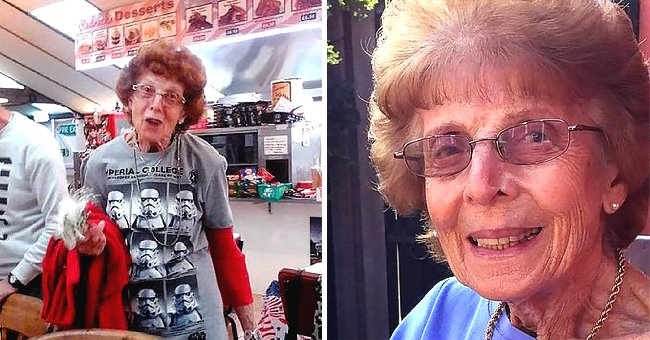 twitter.com/MetroUK/twitter.com/EveningExpress
94-Year-Old Woman Reportedly Becomes Oldest Female in the UK to Win Battle against Coronavirus

In the midst of this global health crisis, a 94-year-old woman recovered after contracting Coronavirus. She has become the oldest woman in the United Kingdom to have successfully fought the deadly disease.
Now called the "Supergran," Joy managed to return home after being admitted to James Paget Hospital in Gorleston, Norfolk. She battled the Coronavirus for nine days, as reported by Metro.
She credited the nursing staff, with their brilliant care, for how she beat the virus during her stay in the hospital. "I couldn't fault them for helping so many people," said Joy, a retired nurse.
MIRACLE LADY
Joy's family was, well, overjoyed with her fast recovery. Aside from being called "Supergran," they also call her the "miracle lady," as reported by the Daily Mail.
She has three children, seven grandchildren, and another seven great-grandchildren. Her large family got worried when they learned that Joy fell ill last March 20 in her home in North Suffolk.
Joy immediately reported she had breathing difficulties and high temperature. The call handler whom Joy contacted quickly sent an ambulance to her house and drove her to the hospital.
SHOCKING DIAGNOSIS
She later tested positive for Coronavirus. Her grandson, Toby Basil, said she had suspected chest infection or pneumonia.
"I was shocked that gran had got it. She only regularly comes into contact with about 20 people because she lives in a very small residential home, not a care home," he said, adding that his mother became so worried.
Joy is one of the older individuals in Europe to have recovered from the deadly disease.
TWO-WEEK ISOLATION
The nursing staff kept Joy for several days in the hospital, where they regularly monitored her temperature. After those difficult days, she came out remarkably well, full of energy.
After being discharged from the hospital, Joy was in isolation again for 14 days. This was to make sure she would not pass the virus to other people.
Joy is one of the older individuals in Europe to have recovered from the deadly disease. Recently, a 102-year-old Italian woman also survived after getting infected with Coronavirus, as reported by CNN.
Italica Grondona was treated in San Marino Hospital in Genoa on the first of March, until she became well on March 26. According to doctors, she was the first patient they know who has also survived the Spanish flu, as she was born in 1917.
Meanwhile, with the deadly virus spreading fear worldwide, the Royal Family has put on hold its supposed public activities. One of them was Queen Elizabeth, who has canceled all her garden parties following the outbreak.
Please fill in your e-mail so we can share with you our top stories!