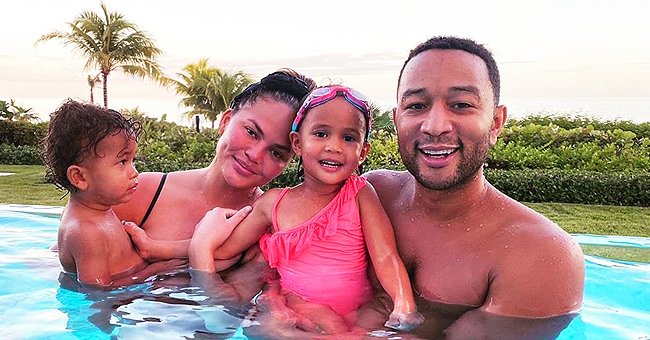 Instagram/chrissyteigen
Chrissy Teigen & John Legend's Son Miles Sings Dad's New Song 'I Do' during Quarantine
Chrissy Teigen shared a hilarious video of her adorable son, Miles Stephens, singing along to John Legend's upcoming single 'I do' and the told showed his approval for the song.
Chrissy Teigen melted hearts when she shared a video of her son, Miles jamming to his father, John Legend's upcoming single titled "I Do."
An excited looking Miles was shown sitting on a couch wearing a black t-shirt and a diaper while clapping and singing along to the song as he repeatedly sang, "I do…I do…I do…I do."
The song titled "I Do," is Legend's latest collaboration with Charlie Perth. In a tweet, John responded to Chrissy's video and joked, "We made this chorus very easy for Miles to pronounce, @charlieputh #IDo coming soon...."
Fans have been gushing over the video and praised Miles for his performance skills to the unreleased track. One fan felt sure the song was going to be a hit.

A fan commented on Chrissy Tiegen's video of her son Miles Stephens singing along to John Legends single titled "I Do" | Source: instagram.com/chrissyteigen
While self-isolating in their home amid the coronavirus outbreak, Chrissy and John have been balancing work and making time for the family. In a hilarious post about some of her frustration, she said:
"If u are thinking about having children, wonderful! but know u can't do [expletive] alone ever again ever."
Attached to the message about never being alone when you're a parent, Chrissy was pictured standing in her kitchen with her laptop on the kitchen counter.
The mother of two looked like she was trying to get some work done but was being distracted by her daughter, Luna, who was standing behind her and hiding under her floral robe.
Parenthood isn't the only thing that Chrissy had found challenging while quarantined with her family. Days earlier, she joked about splitting up with John after the quarantine is over.
According to E!, her tweet sent fans into a frenzy, who shared their heartbreak over the possibility of the couple breaking up and urged her to reconsider her decision.
The couple didn't appear to be shaken by Chrissy's joke because days later, she shared a picture of their family cuddled on their couch.
Looking ready for bed, they were dressed in their pajamas as they posed for the perfect family portrait. She jokingly called the precious family moment "dysfunction junction."
Please fill in your e-mail so we can share with you our top stories!