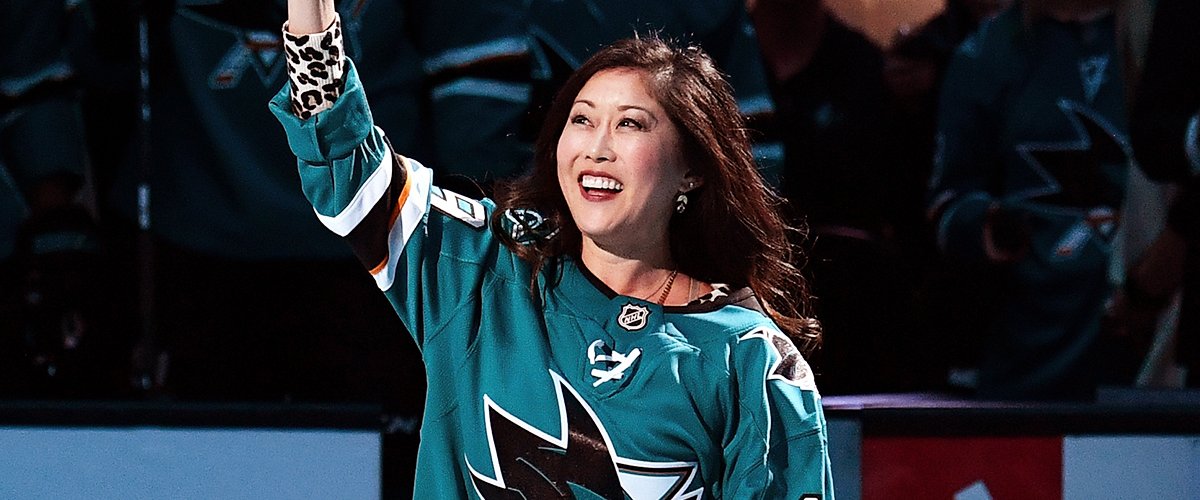 GettyImages
Kristi Yamaguchi's Youngest Daughter Is Following Her Steps on the Ice Rink — inside the Olympic Gold Medalist's Life
Former Olympic gold medalist and "Dancing with the Stars" champion Kristi Yamaguchi is now the proud mother of two girls. Her youngest daughter, Emma, seems to have inherited her passion for the sport.
It's been 27 years since Kristi Yamaguchi reached the height of her career by winning a gold medal at the 1992 Winter Olympics in Albertville, France.
Kristi Yamaguchi comes out for the puck drop before the game between the San Jose Sharks and the Edmonton Oilers at SAP Center on November 19, 2019 in San Jose, California | Photo: GettyImages
The former figure skater was only 20 years old at the time and already had won the U.S nationals and world championship titles as well.
However, despite her talent and potential, Kristi chose not to pursue a long Olympic career and turned professional in 1994.
Six years later, she married and started a family. Now, she's passing the torch to her youngest daughter.
KRISTI'S BEGINNINGS
Kristine Tsuya "Kristi" Yamaguchi was born on July 12, 1971, in Hayward, California. She's one of three children born to Carole Doi and Jim Yamaguchi, a third-generation descendant of Japanese emigrants.
Although Kristi didn't want to push any of her daughters into skating, the youngest one became naturally attracted to the sport.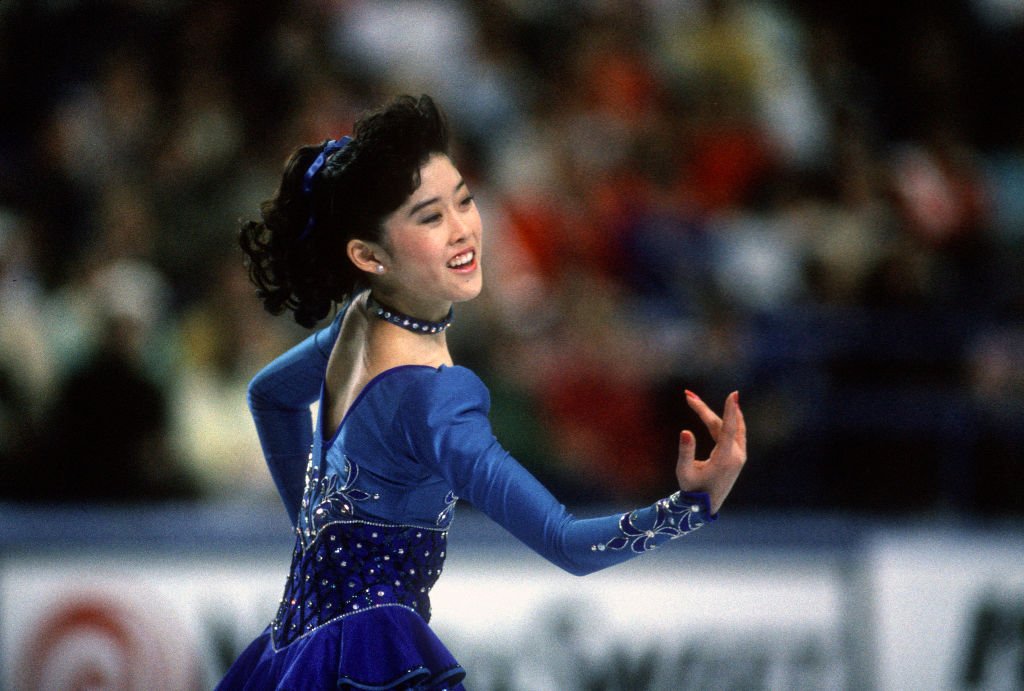 Figure Skater Kristi Yamaguchi of the United States competes in the 1989 U.S. Figure Skating Championships circa 1989 at the Baltimore Arena in Baltimore, Maryland | Photo: GettyImages
Kristi was born with club feet, a congenital disability where her two feet were turned inward, so she had to use plaster casts until she was one year old, and later corrective shoes.
"I was lucky they corrected it when I was so young," Kristi told CNN. "Skating wasn't assigned to me, but when I wanted to skate, the doctors said it would help."
Kristi first showed an interest in skating when she was five, after seeing the Ice Capades and being amazed by the performances of Peggy Fleming and Dorothy Hamill.
But growing up while practicing and training to be a figure skater didn't come without some sacrifices from Kristi.
She missed things like high school dances and football games, and never had a stable group of friends, as she explained that she didn't fit in socially. However, she felt like she belonged on ice. As she explained:
"I had to keep my grades up to continue skating, but I didn't mind missing the social things."
But still, Kristi made lots of international friends in the skating world, and while her classmates were enjoying homecoming, she was traveling all around the world and gaining life experience.
ROAD TO THE OLYMPICS
Kristi won her first title in the junior doubles category at the U.S championship in 1986 alongside Rudy Galindo.
Two years later, Kristi won in both the pairs and singles categories at the 1988 World Junior Championship.
Kristi and Rudy won the senior doubles title at the U.S. Championships in 1989 and 1990 but placed fifth at the World Championship the same years.
In 1991, Kristi chose to focus on her solo career. She quickly established a reputation as one of the best skaters after winning the Nations Cup, Skate America, and her first gold medal at the World Championship.
That year, the U.S team swiped the podium at the World Championship, with Tonya Harding and Nancy Kerrigan earning silver and bronze medals, respectively.
However, at the U.S championship that same year, Kristi and Harding switched places, and Kerrigan was once again on the bronze spot.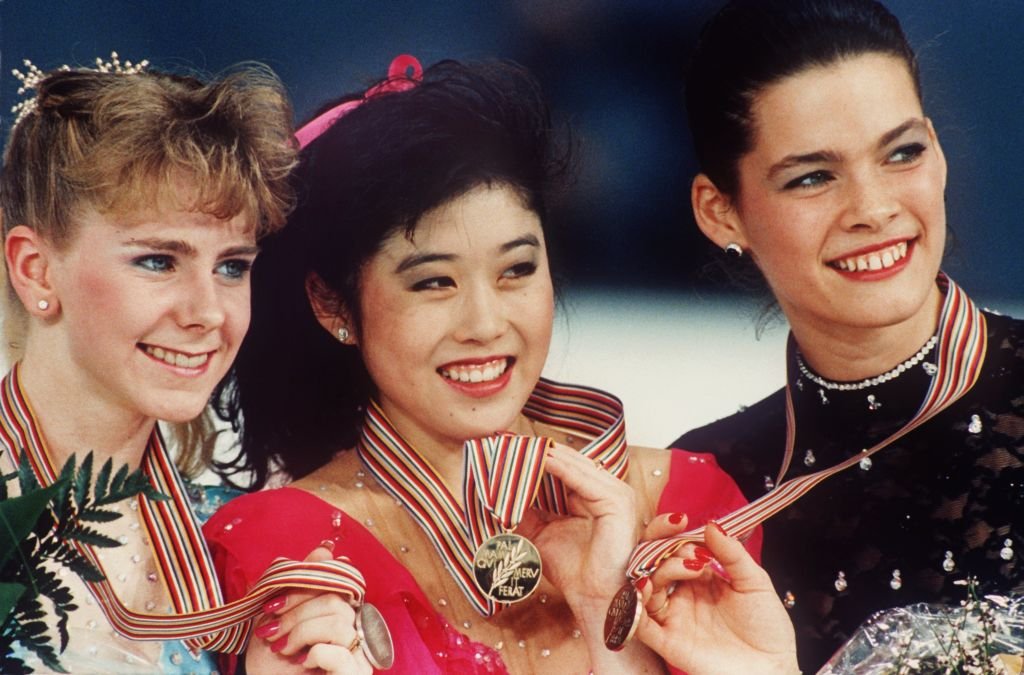 Tonya Harding, Kristi Yamaguchi and Nancy Kerrigan at the World Figure Skating Championships in Munich on March 16, 1991 | Photo: GettyImages
In 1992, Kristi won her first U.S championship and earned a place to compete at the 1992 Winter Olympics.
A LIFE-CHANGING EVENT
Ahead of the Olympics, Harding and the Japanese Midori Ito were the big favorites only because they could land a triple axel. Knowing that the expectations were high only fueled Kristi to train more and more.
However, she knew that the triple axel wasn't her forte, so she decided to focus on her strengths.
"I thought, 'Ok, let's focus on what I can do to separate myself from the other skaters,'" she recalled in an interview with Shondaland. And continued:
"Ultimately, you can only do what you can do, and even then, the results aren't in your hands — it's up to the judges."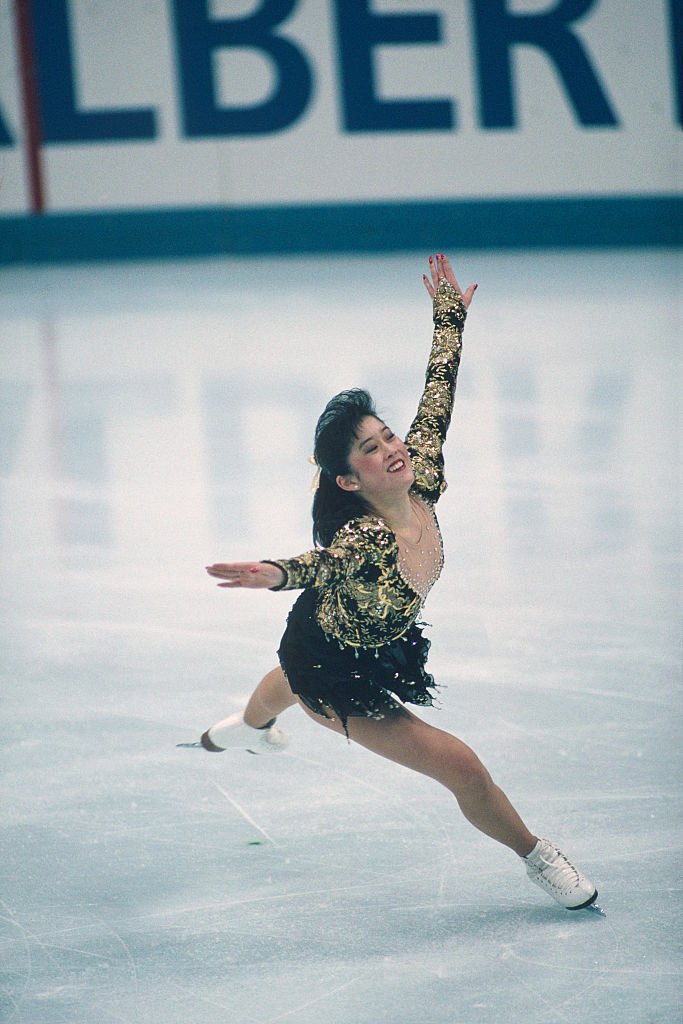 Kristi Yamaguchi from the USA competes at 1992 Winter Olympics. | Photo: GettyImages
On the day of the competition, Kristi performed to "Blue Danube waltz" by Johann Strauss II and only made small mistakes.
She ended up winning the gold, becoming the fifth American woman to do so since Dorothy Hamill in 1976.
"There was this incredible feeling of excitement and relief," Kristi recalled of the moment she won, and continued:
"Winning in women's singles felt surreal. I felt that everything I had done—the hard work, the tough times—was all worth it."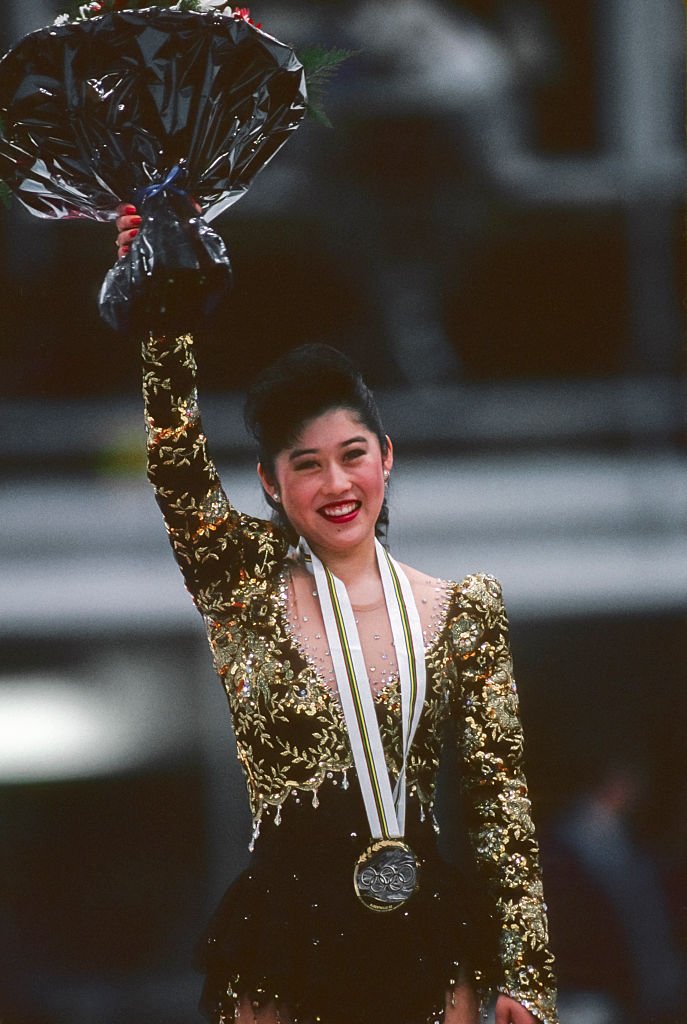 Kristi Yamaguchi during the medal ceremony of the Figure Skating competition of the 1992 Winter Olympic Games on February 21, 1992 | Photo: GettyImages
Although Kristi could have competed in the next Olympics in 1994, she took everyone by surprise by turning into the professional skating world and joining Stars on Ice.
"I knew if I went back in Lillehammer that the pressure would just be immense, and it would literally be the only focus was to come home with the gold again," she told Today of her decision.
MOVING FORWARD
Kristi toured for many years with Stars on Ice, and in 1996, she established the Always Dream Foundation, which is now focused on promoting early childhood literacy by launching school reading programs.
As she toured around the country, Kristi bumped into Brett Hedican, a former hockey player that she had met at the 1992 Olympics. Hedican told her they had met back then, but she didn't remember him.
Sure enough, once she searched through her pictures of the Olympics, she found Hedican in one, and the funny anecdote led to their first date.
Hedican and Kristi had a long-distance relationship that ran until they finally settled down and tied the knot in 2000. By that time, Kristi was more than ready to start a family and put her career on pause.
"I loved my career as a professional skater, but after ten years on the road, I was burned out," she confessed.
The couple welcomed their first daughter, Keara Kiyomi, in 2003, and their second daughter, Emma Yoshiko, was born two years later.
In 2008, Kristi became the champion of the sixth season of "Dancing with the Stars," alongside professional dancer Mark Ballas. She also became one of the most iconic contestants of the show for her perfect scores.
In 2010, she worked as an NBC skating broadcast analyst and was also was a correspondent for the "Today" show during the 2010 Winter Olympics.
PASSING THE TORCH
Although Kristi didn't want to push any of her daughters into skating, the youngest one, Emma, became naturally attracted to the sport.
She's now training with Kristi's former doubles partner, Rudy Galindo, and has started competing at a juvenile level.
There are Olympic aspirations for Emma, but according to Kristi, at her age, Emma doesn't know what that entails yet.
"It's great — there are so many positive life lessons you can learn, even if you're not competing at that elite level," Kristi told People of her daughter's skating career.
Emma seems to be doing great at the sport, and although Kristi claims she doesn't know "if it will be her 'thing," for now, it's a great activity for the 14-year-old mini star.
Please fill in your e-mail so we can share with you our top stories!