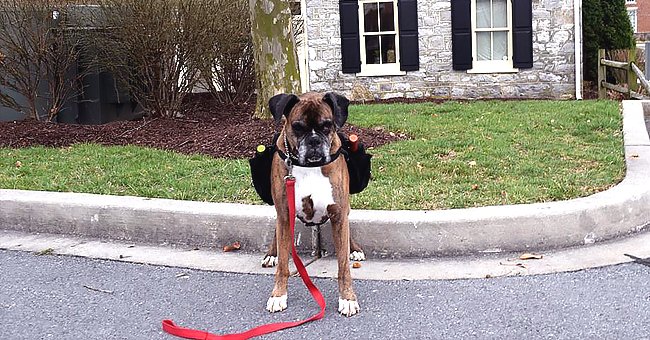 facebook.com/Stone House Urban Winery
Pet Dog from Maryland Winery Becomes Local Delivery Guy to Help People Keep Social Distance

A pet dog has become an instant celebrity amid the Coronavirus pandemic. Soda Pup, an 11-year-old brindle boxer, from a Maryland Winery, has stepped forward to serve as a deliveryman.
Soda has been helping customers of Stone House Urban Winery comply with social distancing protocols, as shared on the winery's Facebook page. Through this cute deliveryman, customers are able to stock up on wines.
In a cute Facebook page, Soda "encourages" wine customers to place their orders so he could deliver them. "Give us a call and place your order," his owner wrote, I'll try to personally deliver your wine in my nifty new wine saddle bag."
CUTEST DELIVERYMAN
The post, shared on March 20, has been shared more than a hundred times as of this writing. Comments praise Soda, who weighs 75 pounds, as the cutest deliveryman ever.
The Stone House Urban Winery, located in Hagerstown, has been offering curbside pickup, thanks to Soda. The winery's owner, Lori Yata, said Soda looked sad when the winery became quiet, as reported by TODAY.
"You see, every time the door would chime, Soda would jump up to greet whomever was coming in," Yata said. She added that guests would even acknowledge the dog first before the staff.
SADDLE-WEARING DOG
Unsurprisingly, Soda became sad when guests stopped coming. So Yata decided to buy a saddle bag meant for horses and put it on Soda.
She took a picture of Soda and posted it on Facebook to see if their guests would love the idea. And they did.
To be safe, Soda only carries two bottles of wine at a time.
TWO BOTTLES AT A TIME
Yata said that Soda was excited when she took a picture of him with the saddle. It's as if he knew what was on his owner's mind.
Customers now call the winery to place their orders. Then they wait at the parking lot, where Soda would deliver them their order.
To be safe, Soda only carries two bottles of wine at a time, as reported by NY Post. He just returns back right away if a customer is buying more than two bottles.
Even non-regulars now come to their winery, not only to buy wines but to see Soda. The adorable dog is also happy to get extra treats for his service.
The pandemic has slowed down business around the world. Even the Royal Family has put on hold its public activities, with Queen Elizabeth canceling all her garden parties.
Please fill in your e-mail so we can share with you our top stories!