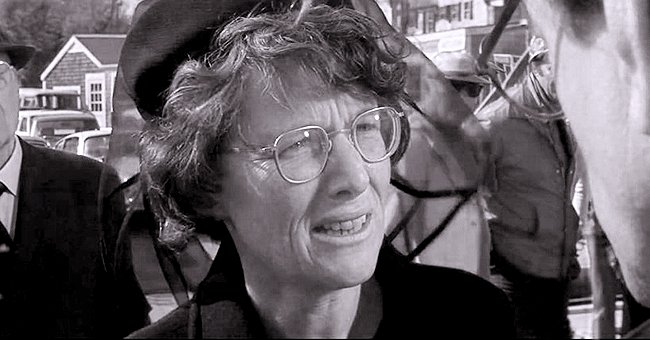 twitter.com/dfriend
Lee Fierro of 'Jaws' Fame Dies at 91 from Coronavirus

The actress, artistic director, and educator devoted her life to stage and behind-the-scenes work, but she came to be known in the mainstream for her show-stealing appearance in the classic thriller.
The past April 5, 2020, Martha's Vineyard's local news outlet MVTimes delivered the sad news of the passing of veteran actress Lee Fierro from complications of Covid-19 at the age of 91 in an assisted living facility.
Even though she only made three appearances on the big screen in the course of four decades, Fierro earned a place in popular culture with her film debut playing Mrs. Kintner in Steven Spielberg's "Jaw" in 1975.
In a very emotional scene in the movie, she famously lifts her mourning black veil to slap police chief Brody (Roy Scheider) for his responsibility in the death of young Alex Kintner (Jeffrey Voorhees) in a shark attack.
"You knew there was a shark out there, you knew it was dangerous, but you let people go swimming anyway. My boy is dead. I wanted you to know that," were Fierro's heartbreaking lines in the acclaimed director's breakthrough film.
Fierro reprised the role in the film sequel "Jaws: The Revenge" (1987), and didn't return to the big screen until very recently, in 2016, when she starred in "The Mistover Tale" in her last film role as Priscilla Goodrich.
A LIFE DEVOTED TO THEATER
Born on February 13, 1929, in Martha's Vineyard, chance put her in the path of Spielberg, who filmed the iconic horror movie on the island, where Fierro was already a local celebrity due to her stage work.
Fierro spent the most of the last 40 years in Martha's Vineyard, where she served as director and mentor in the Island Theatre Workshop for at least 25 years, according to the institution's board president Kevin Ryan, who added:
"[Fierro] was a good friend, mentor and a very busy community member when she was in Martha's Vineyard."
A REMARKABLE LEGACY
Survived by her five children, seven grand-children, and seven great-grandchildren, Fierro also tutored over 1000 acting students as well as directing more than 100 live productions in her career.
"I wouldn't have gotten through my teen years without her," novelist Nicki Galland, who considered Fierro her second mother, shared with MVTimes.
"She's the reason I followed my dreams. That's such a hackneyed phrase, but it's true. This is going to stick with me for a long time," the writer added.
A MEETING WITH HER ON-SCREEN SON
Fierro is also affectionately remembered by her fictional son Voorhes, now 57, who shared a funny story about his encounter with the actress many years later in a Martha's Vineyard restaurant run by the once-child actor.
As Voorhes told The New Daily in 2014, Fierro once came into the restaurant with a friend and he recognized her right away, so he approached her table to try to get the actress to identify him.
"Do you believe in reincarnation, because I think I died years ago and you look like my mother from a previous life," Voorhes allegedly asked Fierro, who immediately remembered him, exclaiming: "Oh my god, I had a son that died years ago in the ocean!"
Please fill in your e-mail so we can share with you our top stories!