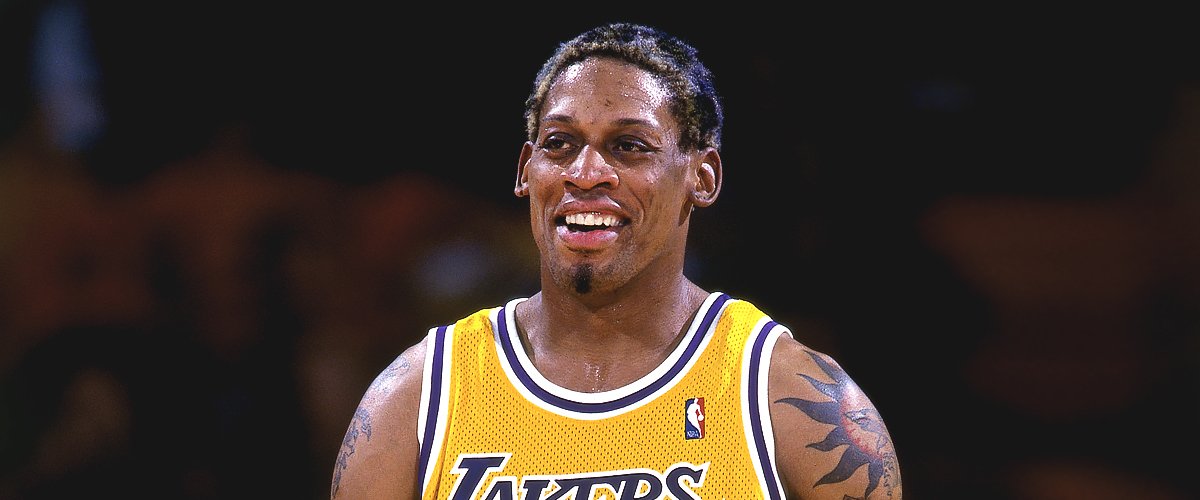 Getty Images
Dennis Rodman Has Three Grown-Up Kids, Two of Whom Followed in His Sports Footsteps

Former NBA star Dennis Rodman, considered one of the best rebounders in basketball's history, is also a family man. Two of his three children followed in his footsteps!
Born in May 1961, Dennis grew up in a challenging environment as his father, Philander, left his wife, Shirley, when he and his two sisters were quite young.
He wishes to be a better father.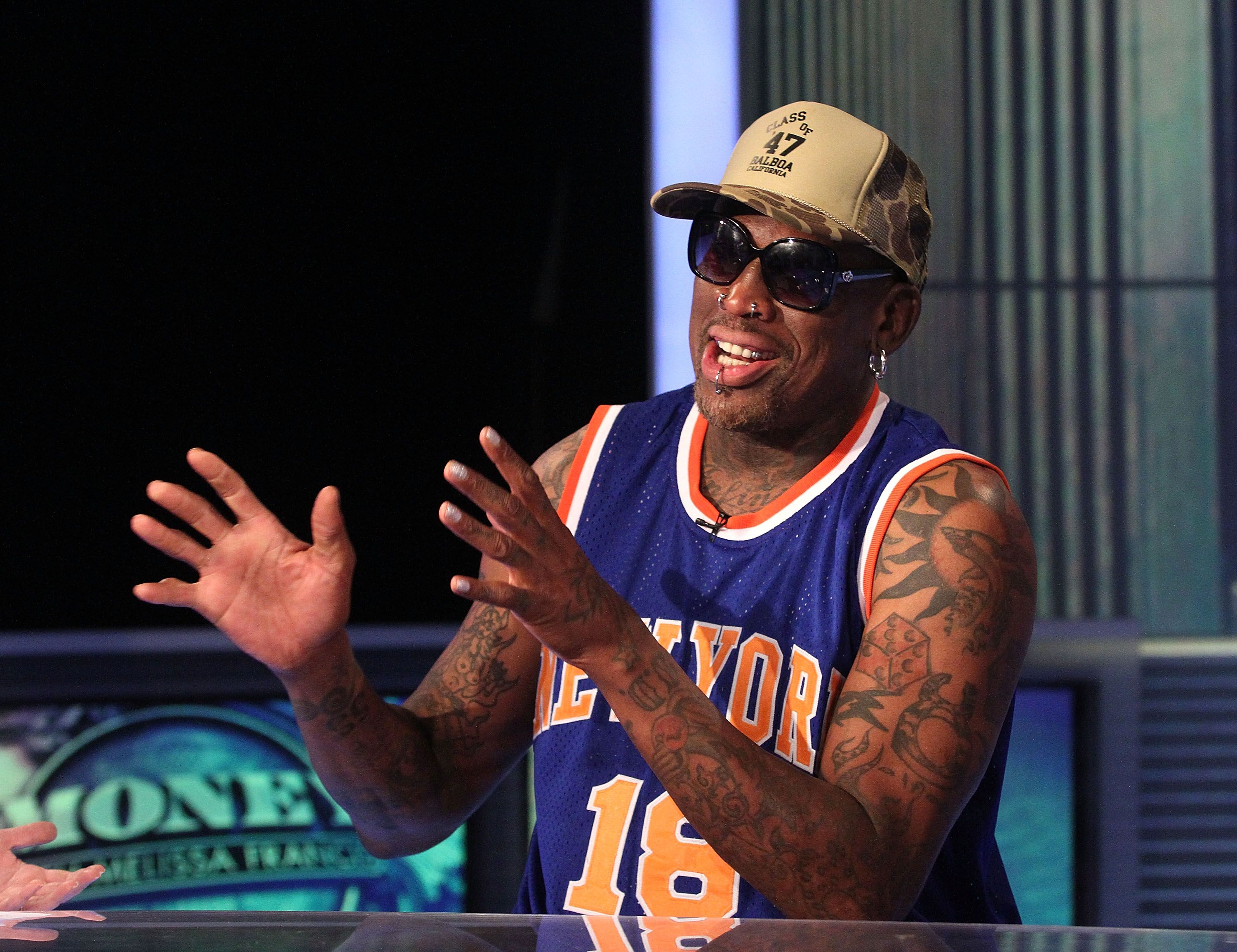 Dennis Rodman on December 9, 2014 in New York City | Photo: Getty Images
DENNIS RODMAN'S TOUGH CHILDHOOD
Following their separation, Shirley took her children to Dallas, where she had to take almost every job that came her way to make ends meet.
The future of the family was uncertain, and to make matters worse, it was improbable for Dennis to become a professional basketball player because, while in high school, he was just 5 ft 6 in tall.
Years went by, and Dennis grew up to be 6 ft 8 in. Apart from that, he used to be an outstanding player every time he played at local basketball courts. Fortunately, a family friend contacted the coaches at Cooke County Junior College in Gainesville, Texas.
They offered Dennis a chance to attend the school and play for the college team, and he accepted. However, the schoolwork was too much for him, so he left after a year.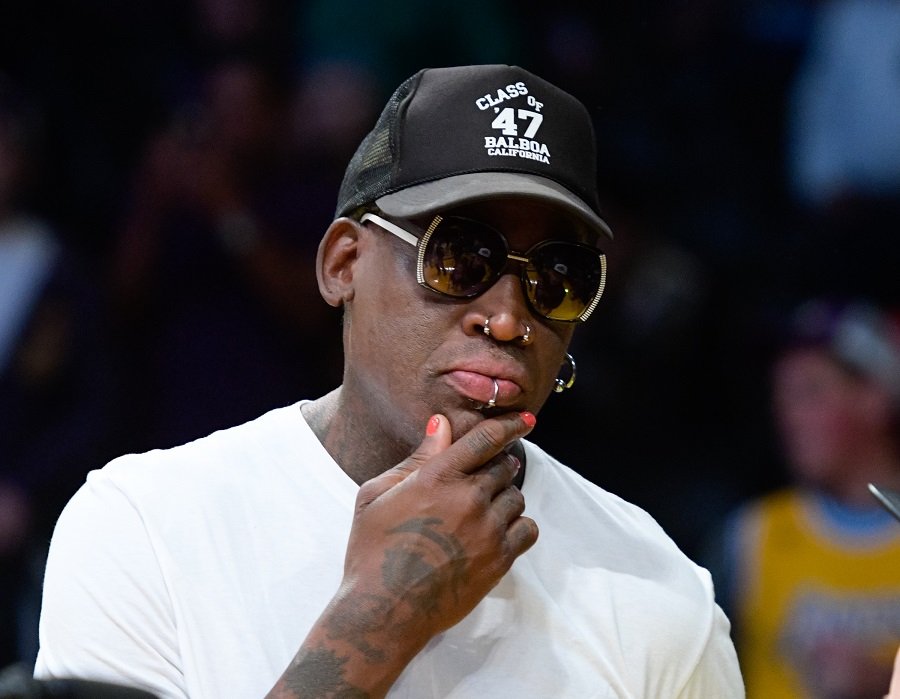 Dennis Rodman on November 25, 2016 in Los Angeles, California | Photo: Getty Images
HIS TIME IN THE NBA
During his time there, though, he got the attention of Southeastern Oklahoma State. He eventually started studying and playing there, and in 1986, he became the second-round pick of the Detroit Pistons.
Dennis Rodman's stats during his 14 years in the NBA are impressive. He played for the Pistons, San Antonio Spurs, Chicago Bulls, Los Angeles Lakers, and Dallas Mavericks.
In that time, he won five NBA Championships, was selected for two All-Star games, was chosen as the Defensive Player of the Year twice, and was the rebounding champion seven years in a row.
In 2000, he retired from the NBA. However, three years later, he started playing for the NBA G League team Long Beach Jam, now known as the Northern Arizona Suns.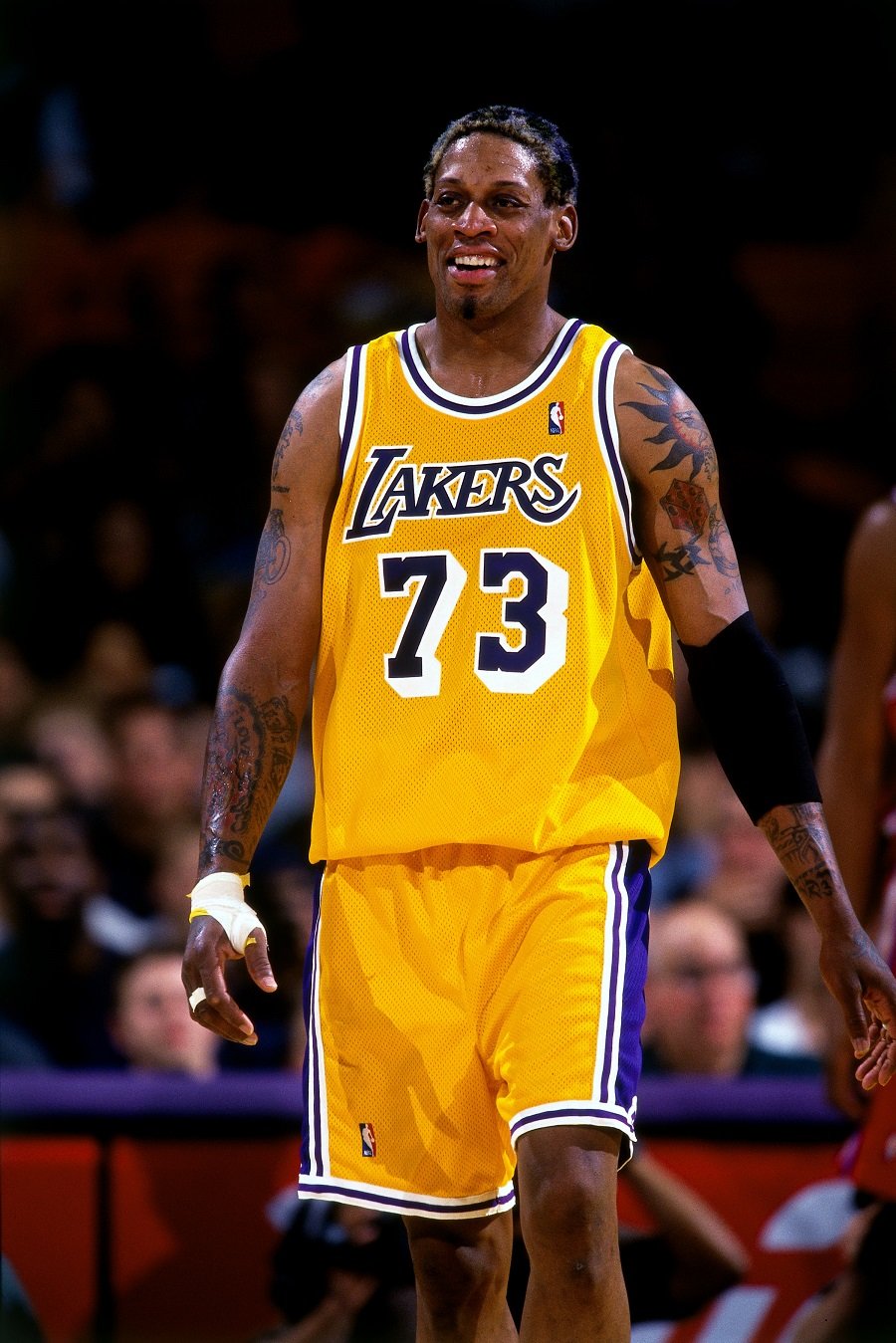 Dennis Rodman in 1999 in Los Angeles, California | Photo: Getty Images
Dennis played in several other minor teams in the US, Mexico, England, and Finland before finally retiring for good in 2006. Apart from his impressive basketball career, Dennis is known as an actor and TV personality.
So far, he has worked on "Double Team," "The Comebacks," and "Rally On." He has also appeared in several documentaries, TV series, and reality shows, including "The Apprentice," "Sober House," and "Gumball 3000."
DENNIS RODMAN'S WIVES AND CHILDREN
As per his romantic life, Dennis Rodman has had three spouses. His first wife was Annie Bakes, and they have a daughter together named Alexis Rodman.
The ex-couple got divorced in the early 90s, and in November 1998, the former NBA star married model Carmen Electra. Unfortunately, it was the shortest marriage in Dennis' life as Carmen filed for divorce in March 1999.
Later that, year, he met Michelle Moyer, and they walked down the aisle in 2003, a few years after having two children together: son DJ and daughter Trinity. Dennis once claimed that Madonna offered him a lot of money to get her pregnant.
One year later, Michelle filed for divorce. The couple didn't give up on their marriage that easy, though, as they tried to reconcile for years before finally dissolving their legal union in 2012.
HE WISHES TO BE A BETTER FATHER
His relationships with his wives didn't work out, and the same can be said about his children. In an interview that Dennis Rodman had with "30 for 30," the former NBA player pointed out that he has plenty of demons. He added:
"But I think the only major demon I have right now is trying to convince myself that I am a good dad. That's the worst one for me."
Dennis pointed out that, "for some reason," it is too hard for him to break out of the cycle of pain that his father, who had about "29 kids," put him into.
Although his parenting abilities are not as good as he would like to, his children are doing just fine. In fact, two of them followed in his footsteps.
In Trinity Rodman's case, she is a very talented soccer player who has represented the US at the U-17 and U-20 levels. She recently signed to play for the Washington State Cougars team.
Dennis Rodman Jr., on the other hand, is a basketball player who is also playing for the Washington State Cougars team.
Please fill in your e-mail so we can share with you our top stories!