Pierce Brosnan Celebrates 26th Wedding Anniversary with Wife Keely Shaye Smith
To many people, Pierce Brosnan is one of the most iconic men ever to don a James Bond suit. However, he's also a doting husband. Recently, fans got to see the latter side of him. 
Pierce took to Instagram to commemorate the 26th anniversary of his marriage to his wife, Keely Shaye Smith. The picture was a lovely throwback, and it showed both the actor and Keely at their much younger selves.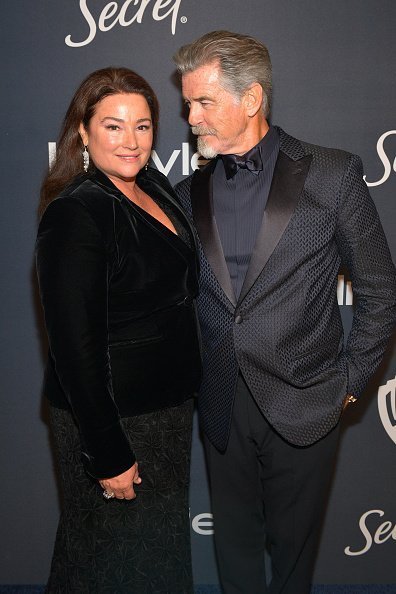 Pierce and Keely initially met in 1994, although they tied the knot in 2001. Keely was working as a TV correspondent at the time, while Brosnan had already cemented himself as one of Hollywood's most elite talents. 
It's not been all fun and roses, but the couple has been together all those years. They also have two sons together – Dylan and Paris. Pierce explained that he loves the family life and being a father, a responsibility which he described as "satisfying." 
Keely makes Pierce weak whenever she looks at him.
However, there's hardly anyone he loves as much as his dear wife. Despite the hard times in his life, Keely has been one person that Pierce could always count on. He made sure to highlight that in his anniversary message. He captioned the photo,
"My darling angel heart Keely, thank you for bringing such love and beauty into my life, for making these past twenty-six years the greatest joy of my life...❤️" 
Pierce's romantic side goes beyond pictures and captions as well. Last October, he and Keely hit the road for a romantic trip to Portofino, Italy. They both looked cute together, as they took in a day in the town.
They also showed their soft and mushy sides, as they shared several kisses on the trail. Mr. 007 sure knows how to bring the heat. 
Of course, while everything looks like fun and roses now, it's easy to see why Pierce loves his wife so much.
His first wife, Cassandra Harris, died of ovarian cancer in 1991. He also lost his only daughter, Charlotte, to the same disease, in 2012. 
Then, one of his older sons, Chris, has battled cocaine and heroin addiction for a long time. Through most of it, however, Keely has been Pierce's rock.
He said that Keely makes him weak whenever she looks at him, and he loves her vitality so much. Here's to many more years for them.