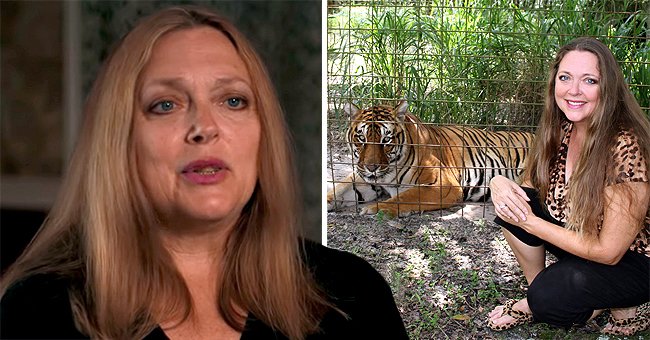 youtube.com/Nicki Swift facebook.com/carole.baskin
Carole Baskin of 'Tiger King' Reportedly Gets Death Threats as She Slams Netflix Filmmakers

Carole Baskin is speaking out after the release of "Tiger King," which caused many people to believe she's responsible for her husband's disappearance. She went after Netflix in a new interview.
When Carole Baskin agreed to do a documentary five years ago, she intended to spread awareness of animal cruelty within the tiger trade. The resulting Netflix series brought up almost everything else but.
Speaking to Tampa Bay Times, Carole and Howard Baskin revealed that they felt extremely betrayed by what was espoused in the show, which made them look like they were part of the problem.
Carole and Howard Baskin feel betrayed
"There's almost no way to describe the intensity of the feeling of betrayal," said Howard Baskin of the streaming company's actions. Carole arguably receives the most heat, though.
The show entertained accusations from former zoo owner, Joe Exotic, against Carole. He claims that she killed her former husband, Don Lewis, in 1997 when he disappeared.
Exotic, whose legal name is Joseph Maldonado-Passage, is currently in jail for animal abuse and charges of murder for hire. He attempted to pay $3,000 to have Carole killed. He is now serving 22 years.
Carole taking precaution after threats
Carole claimed that the false portrayal has led to numerous death threats against her. Furthermore, there have been several incidents that now has her in fear for her life.
She's reportedly seen drones flying over her house and witnessed up to 30 people a day standing at Big Cat Rescue's gates through a security cam. The sanctuary was closed four days before Netflix aired the show.
Because of the situation, Carole no longer rides her bike a half-hour to go to the sanctuary after people on the road allegedly ambushed her on the way there.
Her sole focus remains on raising awareness
The caretaker and animal rights activists has also stopped following up on phone calls about lost or injured bobcats and panthers because she fears that they might be traps rather than real emergencies.
While people have run with the allegation that she's guilty with no proof, Carole is busy wondering about her cause. "They saw those cubs being dragged away from their mother. Where are those memes?" she asked.
Carole says goodbye to an old bobcat in her sanctuary
Last week, the animal lover was saddened by something else. She had to say goodbye to one of her oldest bobcats, named Tiger Lilly, who had cancer. The animal was 24 years old.
Carole posted a photograph of the gorgeous creature and announced the news that Tiger Lilly was euthanized. "Run free our beautiful heart-shaped nose girl," she wrote.
O.J. Simpsons raises eyebrows with Carole Baskin comments
Meanwhile, almost everyone has weighed in on the matter after watching the show. One celebrity, in particular, confused many persons with his opinion on the accusations against Carole.
OJ Simpson, himself a convicted felon, took to Twitter earlier this month to reveal that he is convinced Carole killed her former husband. Of course, once he shared the tweet, people pointed out the irony.
Many netizens were pretty direct in expressing their views. A killer knows a killer!!!" said one. "Tiger King: Murder, Mayhem, and Madness" currently has eight episodes on Netflix.
Please fill in your e-mail so we can share with you our top stories!