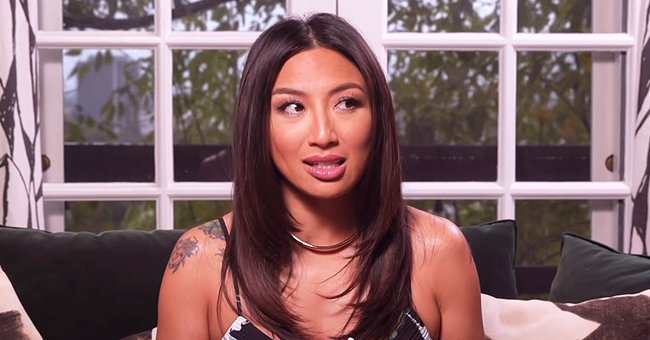 YouTube/Hello Hunnay with Jeannie Mai
Jeannie Mai Says Fiance Jeezy Was Broken like Her When They Started Dating

Talk show host, Jeannie Mai recently revealed details of her current relationship with her rapper beau, Jeezy. She confessed that "he had been broken" just like her at the time they met.
Amid the ongoing coronavirus pandemic, the onscreen star opened up about some personal matters in her life.
The "Hello Hunnay with Jeannie Mai" session on YouTube held captivating and never-heard responses concerning the 41-year-old's divorce from Freddy Harteis, whom she was with for ten years.
Jeannie Mai and Jeezy attend Tyler Perry Studios grand opening gala at Tyler Perry Studios on October 05, 2019 | Photo: Getty Images
Beaming in smiles, Jeanie stated that she's ready to answer her audiences' questions without mincing words. The divorcee didn't hold back details about how broken she was and how it took so much effort to get back on track.
Furthermore, she went on to list a couple of features that helped her reconnect with the love and her life and explained that facing her fears and self-love helped her redeem her sanity, which in turn got her ready to meet her knight in shining armor.
On her list, she extensively explained that a recipe for every excellent relationship includes:
"Thorough communication, brutal honesty, respect, understanding, vision, forgiveness, unity, and healthy love."
Both Jeannie and Jeezy have consolidated their love story by getting engaged. The rapper took to the gram to excitedly share the news.
Though the proposal came sooner than planned following the ongoing coronavirus pandemic, Jeezy could not curtail his joy and captioned that he'd love to share "infinity" with his woman.
He helped her pitch a new standard from what she was used to.
The couple started dating two years ago, so it doesn't seem like they rushed things and have unrelentingly shown their commitment towards staying together. When they are not having the time of their lives globetrotting, then they are dotting on one another via online posts.
During an interview with People, the "The Real" co-host expressed that she and the pop star have a healthy bond and connection. According to her:
"We both went through enough in our lives to connect...we are very attracted to each other's passion to serve...we're going to find a way to do that together."
Not only have they found a way to do that together, but both lovers have also confidently settled into each other's families. During last year's Thanksgiving, Jeannie revealed that Jeezy's family was thrilled to have her around.
On the other hand, Jeezy shares a friendly relationship with his fiancee's mother, Mama Mai. On an episode of the "The Real" show, the 41-year-old detailed that meeting Jeezy, who was also once married to his ex for over a decade, made her feel safe.
Asides from the similar experiences, he helped her pitch a new standard from what she was used to, and how she expected to be treated by a lover.
Details of their wedding are yet to be communicated, but it is evident that these two are a match made in heaven, and would stick together for as long as possible. All the best, Jeannie!
Please fill in your e-mail so we can share with you our top stories!