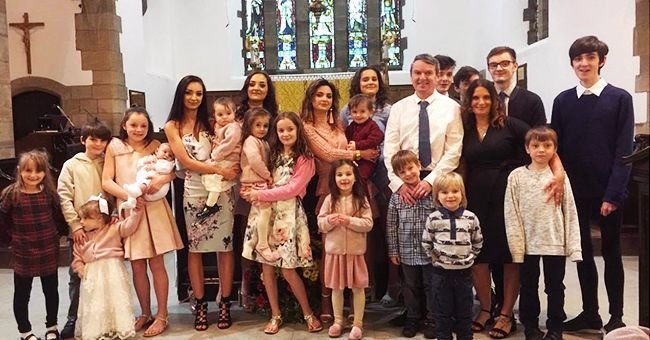 https://www.facebook.com/TheRadfordFamily
Britain's Largest Family Welcome Their 22nd Child and Share Her Chosen Name
Sue and Noel recently shared their 22nd child's birth name, Heidie Rose, through an Easter Sunday video on Youtube.
Britain's largest family just got bigger as they welcomed yet another child. Sue and Noel had their 22nd child on April 3rd and revealed her name in a YouTube video.
The couple gave their 11th child the name Heidie Rose, paying tribute to their eldest daughter and Noel's mother.
The couple met when they were just children and got married when Sue turned 18 in 1993.
In the video, the younger children helped in revealing their sister's name, reading out clues. They later looked around the house for the hidden six letters of the infant's name. After the revelation, Noel said:
"She also has a middle name, which is Rose. We picked Rose because Sophie, our eldest daughter, her middle name is Rose, who was named after my mom."
The name was carefully chosen because the couple wanted to begin with a daughter named Rose and end with a daughter with the same name.
The couple met when they were just children and got married when Sue turned 18 in 1993. In 2014, the couple had a stillborn child named Alfie, their supposedly 17th.
Sue had her first child at the age of 14, followed by several more. Although Noel had a vasectomy after their ninth child, he had it reversed later on.
Their children are Chris, 30, Sophie, 25, Chloe, 23, Jack, 22, Daniel, 20, Luke, 18, Millie, 17, Katie, 16, James, 15, Ellie, 14, Aimee, 13, Josh, 12, Max, 11, Tillie, nine, Oscar, seven, Casper, six, Hallie, four, Phoebe, three, Bonnie Raye, one, Archie, 22 months.
Although the couple claims to have their 22nd child as their last, the two previously said the same about their 21st and 20th kid.
After her last pregnancy, they said: "We've both decided we don't want any more. Bonnie has completed our family. Some people decide to stop after two or three kids. We've made it after 21."
All of their children seem excited whenever welcoming a new sibling and fight over having their first moment with the baby.
The family relies on their bakery in Morecambe, Lancashire, for income, although they run their own YouTube channel, which gets many viewers per video.
Please fill in your e-mail so we can share with you our top stories!