Chrissy Teigen and John Legend's Daughter Luna Celebrates 4th Birthday in Princess Dress
Chrissy Teigen and John Legend celebrated their daughter Luna's fourth birthday with a princess-themed celebration and surprised her with three different cakes. 
On Tuesday, Chrissy Teigen and John Legend celebrated their daughter Luna's fourth birthday. Chrissy started the day off by giving her a special breakfast.
Luna was treated to her first breakfast in bed that included juice in a champagne glass, waffles, berries, and crispy bacon. The four-year-old excitedly declared, "thank you three, you've been good to me."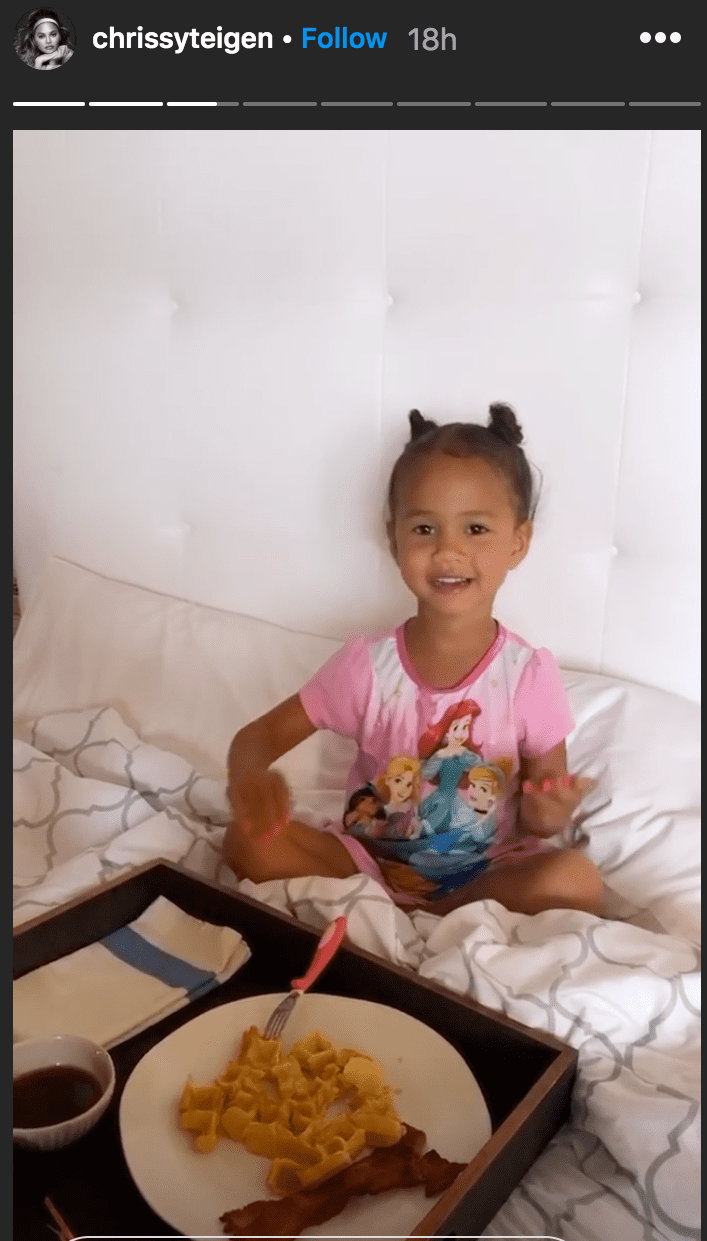 The couple couldn't throw a huge gathering with all her friends and family, but John revealed that Luna's preschool friends surprised her with video messages, he 
admitted:
"Luna's living her best birthday life…Good memories for her during this strange time."
Chrissy took charge of decorating their house for the princess themed party. Luna looked like she came straight out of a Disney movie in a gold a white dress princess costume.
In a birthday tribute, John gushed, "happy 4th birthday to our beautiful Luna! I'm so happy I get to be your father, teacher, friend."
John shared a slideshow of rarely seen pictures of his daughter over the years, including some of her as a new-born. Chrissy also shared a heartfelt message saying:
"Happy 4th birthday to the queen of our household. I could have never prayed for a better little being."
The intimate birthday was full of surprises. When it was time to sing for the birthday girl, Luna was presented with three different cakes.
Chrissy panned over the cakes and explained where they had come from. Chrissy herself decorated the elaborate number four cake topped with pink and white roses.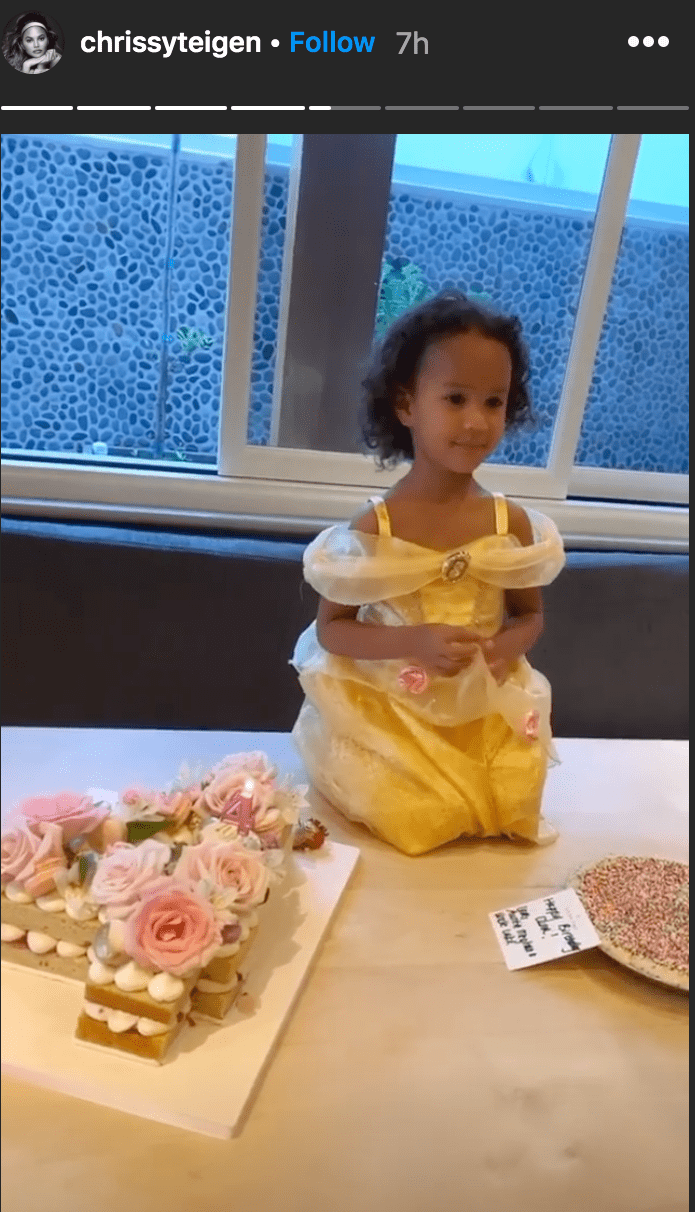 There was also a large white cake detailed with nail polish bottle figures on the top that quickly drew Luna's attention. It was sent by hairstylist Jen Atkin and her husband, Mike Rosenthal.
After Chrissy and John sang for Luna, they asked her which cake she wanted to taste first, and she immediately pointed to the cake with nail polish figures.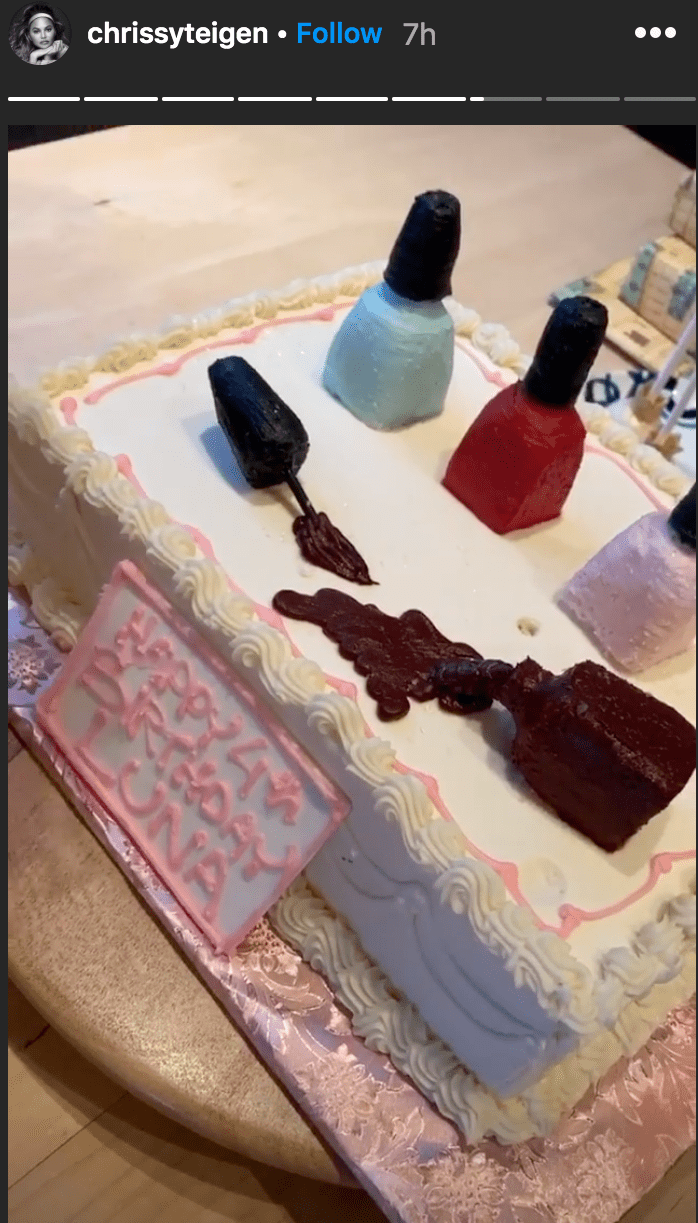 Luna's birthday party comes on only weeks after the couple held another celebration for a wedding they hosted for her stuffed animals, Chloe and Nosh.
The ceremony was streamed live on Instagram, Chrissy officiated, and set up the decorations for the event. John lent his voice and sang for the newlyweds at the end.