John Legend's Daughter Luna Calls Dad by First Name in Adorable Clip Shared by Chrissy Teigen
John Legend has quite the little lady on his hands. In a recent video, daughter Luna called the singer by his first name and was undaunted by his correction. 
On Monday, Chrissy Teigen, 34, posted a clip embodying cuteness when she revealed that her family adopted a brown puppy named Petey. Some sass from daughter Luna Simone soon followed the news.
In a hilarious yet adorable shot, Luna carries the sweet furry ball over to her father, who is busy on his phone. Soon enough, his full attention goes into correcting his little girl. The clip is found below. 
Luna knows exactly who "dad" is
Luna, three walks over to the "Ordinary People" singer while holding Petey in both her arms. The tot wore a black top and white ribbon in her hair.
As she makes her way through two wooden tables, she asks, "John, would you like to hold her?" Taken aback at first, the R&B singer reacts calmly. 
John was not having it
"I'm not John. I'm your dad," he says. Yet Luna doesn't miss a beat, she hands over her new furry friend to her father and says nothing else. Behind the camera, Teigen is in a fit of laughter.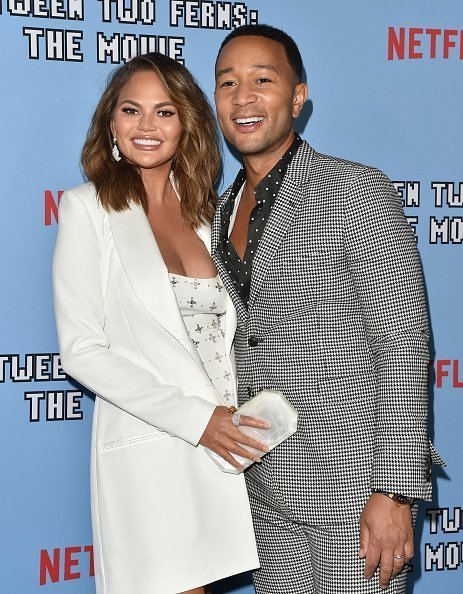 "Excuse me?" she wrote in the caption, along with a laughing emoji. The model revealed that the family adopted the adorable pet from Wagmore Pet Hotel & Spa in a previous post. 
Ellen can take credit for the adoption
Talk show host Ellen DeGeneres was the one who made them aware of the rescue home and animal daycare. The model thanked DeGeneres for doing so. 
In the next two posts she shared, Chrissy displayed more sweet pictures of little Petey. One featured Luna enjoying the pup's company as they lounged on a chair. 
In another, one-year-old Miles makes his debut with the pup by giving it a heartwarming kiss as it sits on the same chair and blanket from the previous post. 
Oh yay help pic.twitter.com/ZB6I4Mp29q

— chrissy teigen (@chrissyteigen) November 25, 2019
Petey's unique name and origins
According to People, the pup was named after the parakeet from the movie "Dumb and Dumber." It came from a new family of eight at the Pet Hotel. 
Teigen's wit is often displayed on her social media, along with her two adorable kids. It's no surprise then that her mini-me Luna has clearly inherited some of her spunk. 
Chrissy's daughter is her lookalike
Back in August, Teigen showed just how much her daughter resembled her, and Legend couldn't help but comment on it. When his wife shared a photo from her childhood, the singer said, "It's Luna!" 
Of course, the couple's baby girl is still just a child and with her active presence on social media, now and then there's bound to be criticism. Teigen is always prepared for such times. 
For instance, in November last year, the cookbook author was forced to defend herself after posting a shot of Luna near a stove. When some fans showed concern, she assured them it had been off for hours. 
In that video, little Luna called her mother by the right title. I guess we have an idea who she listens to more between her parents. Good luck, John.