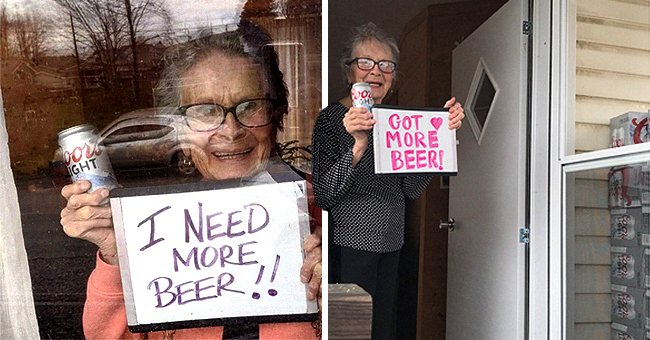 Twitter/CoorsLight Twitter/darrenrovell
93-Year-Old Woman Whose Plea for More Beer Went Viral Got 150 Cans of Beer

93-year-old Olive Veronesi, who made a plea for more beer, has gotten her request granted with 150 cans of beer delivered to her house.
When 93-year-old Olive Veronesi put up a sign saying she needed more beer, it got people laughing as they could not get over the beautiful smile and the funny request during the lockdown.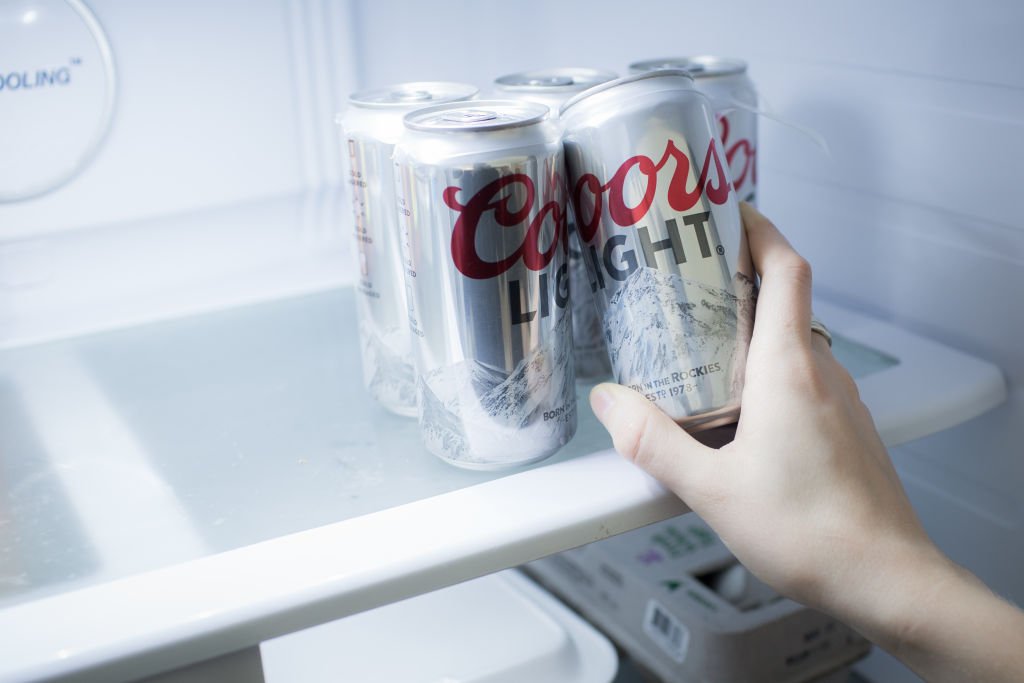 Cans of Molson Coors Brewing Co. Coors Light brand beer are arranged for a photograph in Madison, Connecticut, U.S., on Saturday, April 28, 2018. | Photo: Getty Images
But as things would turn out, the beautiful Olive has had her request granted as she got 150 cans of beer from Coors Light.
The company took to Twitter to share a picture of the delivery they made to Olive. The image showed Olive holding a can of beer with her dry-erase board that had the following words written on it:
"Got more Beer!"
The company had seen Olive's initial request, where she held up a sign saying she needed more beer while holding a can of Coors Light, and they decided to surprise her by granting her request.
A Molson Coor spokesperson expressed that when they saw Olive's message, they decided to jump at the chance of connecting with someone who brought a smile to faces of people during the lockdown.
Olive's initial request of wanting more beer was directed at her daughter and neighbors...
The spokesperson also mentioned that asides from connecting with Olive, they saw it as an opportunity to thank a fan of Coor Light. They also said that with or without the lockdown, the company would have been thrilled to grant Olive's request.
Following the post on Twitter, people commented under the picture of the delivery, thanking Coors Light for fulfilling Olive's wishes with some asking if they can also get surprised with cans of beer. Someone thanked Coors, saying:
"...I'm convinced you are the BEST. Thank you for making me smile."
When asked how she was feeling during the delivery, the 93-year-old surprised those around, saying that she felt good and could still kick a football and hit a home run at her age.
Olive's initial request of wanting more beer was directed at her daughter and neighbors, but with the help of social media, more than five million people have seen it.
Interestingly, the company has stated that they were making a standing offer to Olive and her family in that more beer would be on its way when they need to restock.
Olive, who is from Seminole Pennsylvania, is doing her best to flatten the curve by staying indoors and enjoying a can of her favorite beer.
Please fill in your e-mail so we can share with you our top stories!