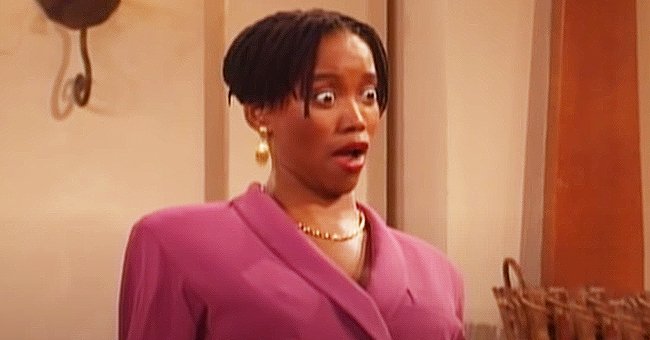 YouTube/TV One
Erika Alexander Who Played Maxine Shaw in 'Living Single' Has Flourishing Acting Career at 50

"Living Single" actress Erika Alexander is aging like fine wine and still looks stunning at 50, decades after she starred in the 90s show.
Erika Alexander, who played Maxine Shaw in the 90s show "Living Single" turned 50 in November 2019, and has maintained her young and agile physique from her days on the show. In an Instagram post, the actress initiated an Instagram donation challenge. She captioned the post:
"#YouGotServedChallenge !! Here's my challenge to help tipped, gig, and service workers - the nation's biggest workforce bearing the brunt of this economic crisis."
Erika Alexander attends Hollywood Stars Gala Academy Awards Viewing Party at Waldorf Astoria Beverly Hills on March 4, 2018. | Photo: GettyImages
Erika's post was a video of herself holding a tray of delicious-looking ribs. She revealed that she would be donating to the cause of an emergency fund to assist tipped, gigged, and service workers who had to leave their jobs amid the pandemic.
She added that the challenge would be completed by nominating five friends. She chose five co-stars from "Living Single." They would get in the kitchen, whip something up, donate to the emergency fund, and continue the chain by challenging five others.
The actress has also shared several pictures of her vibrant beauty, documenting her life on social media, and often wowing her followers with how well she has aged over the years.
Alexander has lived the not-so-single life for almost three decades.
Alexander has quietly established herself as one of the black actresses in Hollywood to have a long-standing marriage. Contrary to her role on "Living Single," the actress has been married for 25 years to Tony Puryear, a screenwriter for many A-list Hollywood acts.
While her marriage flourished, her career faced several challenges. In 2019, the actress revealed that she had faced the rejection most black actors face in Hollywood. But rejection, she affirmed, would not stop her. It would push her to create her own success by herself. She said:
"I started to take the fact that I needed to be a creator much more seriously. I needed to focus on things that were beyond a phone call or [a representative]."
Despite her impeccable performances in several shows and projects, her awards, and her perfect, professional attitude in the workplace, Alexander still got rejected for roles.
Her resilience caused her to tap into her own divine talents and create her own opportunities, with her husband's support. Life after her famous show became very challenging.
Reflecting on the years that followed the end of "Living Single" in 1998, she admitted that life as a woman in Hollywood was not a crystal staircase.
She used Will Smith's spiral success as an example, emphasizing that being a man in the industry had certain perks.
Despite the odds stacked against her over the years, Alexander remained the outspoken and eccentric person that she started out as, speaking up when she felt the need to and fighting for whatever she believed.
Please fill in your e-mail so we can share with you our top stories!