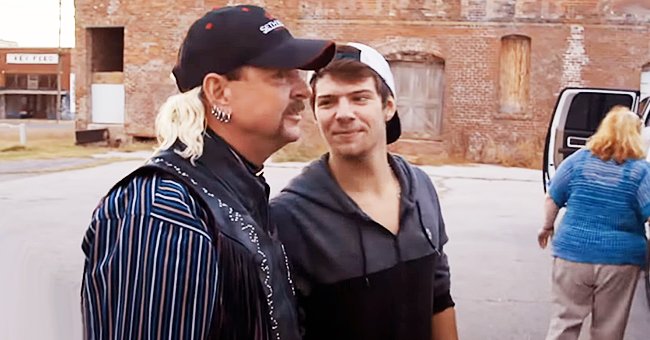 youtube.com/Entertainment Tonight
Dillon Passage of 'Tiger King' Had Discussions with Joe Exotic about Opening up Their Marriage
Even from behind bars, Joe Exotic's life is as dramatic as ever. His husband, Dillon Passage, revealed that the couple has spoken about having an open marriage.
Netflix's hit docuseries, "Tiger King," is seeing the show's character's gain attention for their roles in the wild zoo battle between Carole Baskin and Joe Exotic, whose real name is Joseph Maldonado-Passage.
At the end of the series, Exotic ends up behind bars, set to serve 22 years in federal prison for hiring a hitman to kill Baskin. Yet he has a husband on the outside who may be getting lonely.
Dillon doesn't need anyone else
After his three-way marriage ended in one husband leaving him and the other dying by a self-inflicted gunshot, Exotic got married to Dillon Passage, a man who is 33 years his junior.
Passage recently spoke to Us Weekly about whether or not he and Exotic have discussed their future as a couple. Exotic is pretty considerate of his much-younger husband's feelings.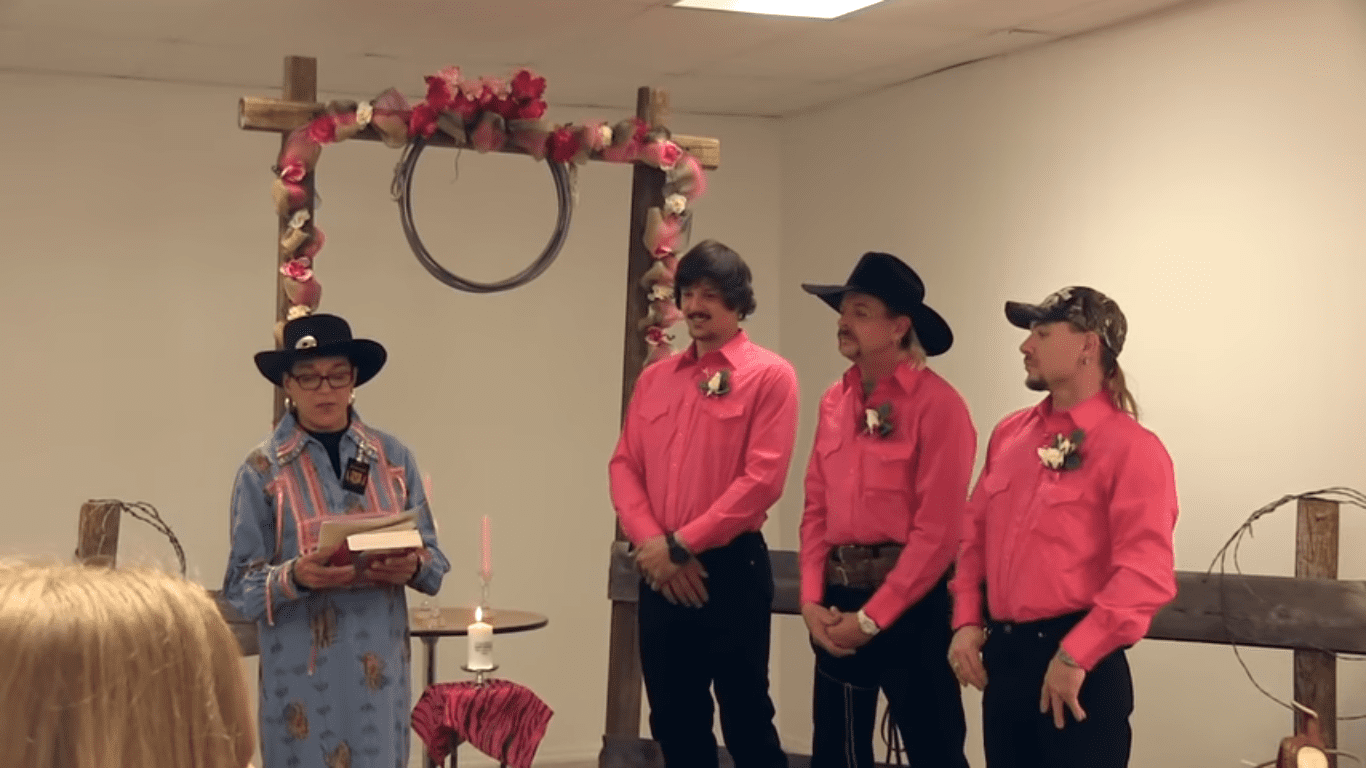 The wedding ceremony of Joe Exotic and his partners, John Finlay, and Travis Maldonado. | Photo: YouTube/JoeExoticTV
Passage said: "[Joe's] like, 'I don't want you to be alone. I know how hard it is.' And I'm just like, 'You know, I don't need anybody to do that right now. I'm kind of focusing on me and what life has to throw at me.' "
Joe gives Dillon permission to move on
What life has thrown at him includes lots of attention following the show's wild success. People are wondering why Passage got involved with the mullet-wearing zoo owner in the first place.
During the interview, Passage joked that perhaps he likes older guys — Exotic is about 57 years old — because he has daddy issues. On a more serious note, he found Exotic to have tons of energy and a lot of fun to be around.
These days, the most fun the pair have is via telephone. Exotic reportedly told Passage, "If you ever find somebody that is important to you, and you think that you need to move on, I'd be OK with letting you do that."
Passage doesn't appear to have plans to move on but said that if he does, he'd not stop talking to Exotic daily. The men have been married since 2017.
His opinion on Jeff Lowe, new zoo owner
Currently, Exotic's former zoo is owned by Jeff Lowe. Passage also spoke about the man his husband used to be in partnership with, and who he says "orchestrated" Exotic's arrest.
Passage spent time around Lowe, and as a result, has an informed opinion of him. "I can't speak highly of him," he noted, adding that there was nothing Lowe did to indicate that he was a good guy to him.
Dillon looks forward to visiting Joe
Exotic has been in jail for two years now. In that time, the couple has not been able to see each other regularly. This might change, as Passage told Us Weekly that he might get conjugal visits soon.
At the time, Passage said he's hoping to start visiting his husband within the following month. "You know, I miss Joe, and it sucks not being able to touch him," the 24-year-old noted.
The pair also have hope that Exotic might be pardoned in the future or, primarily, have his sentence lessened for good behavior. Exotic was convicted on 17 charges of animal abuse and two of murder for hire.
Please fill in your e-mail so we can share with you our top stories!