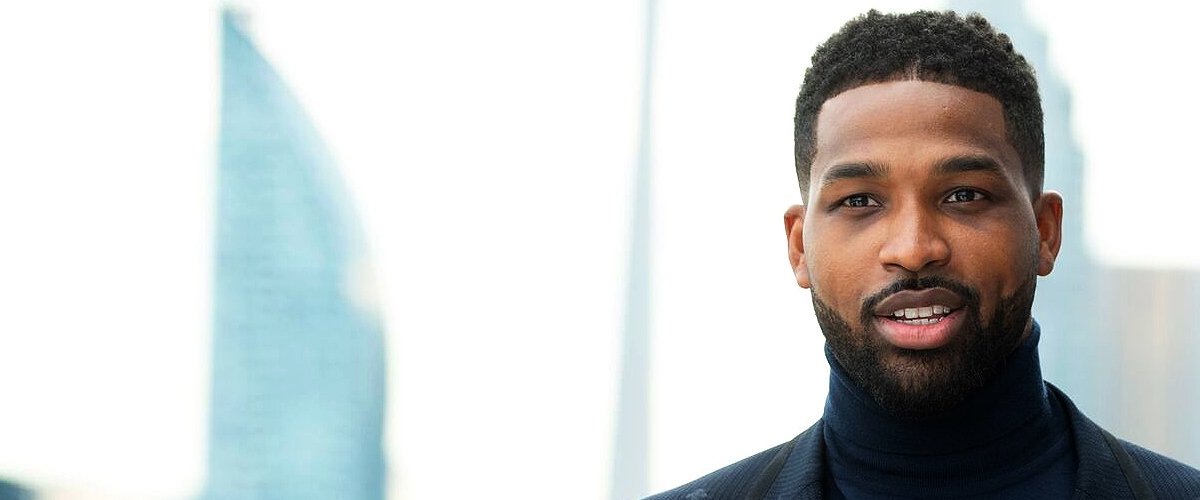 GettyImages
Tristan Thompson Is Spotted at Kourtney Kardashian's Socially Distant Birthday Parade and Fans React
Khloé Kardashian and ex-boyfriend Tristan Thompson have been spending a lot of time together during the COVID-19 quarantine. They celebrated True's 2nd birthday a few weeks ago, and now Tristan also joined Kourtney Kardashian's festivities.
The Kardashian-Jenner family is used to spending a lot of time together and hanging out at each other's homes. And when it comes to celebrations, it's almost a tradition for them to gather and celebrate with lavish parties.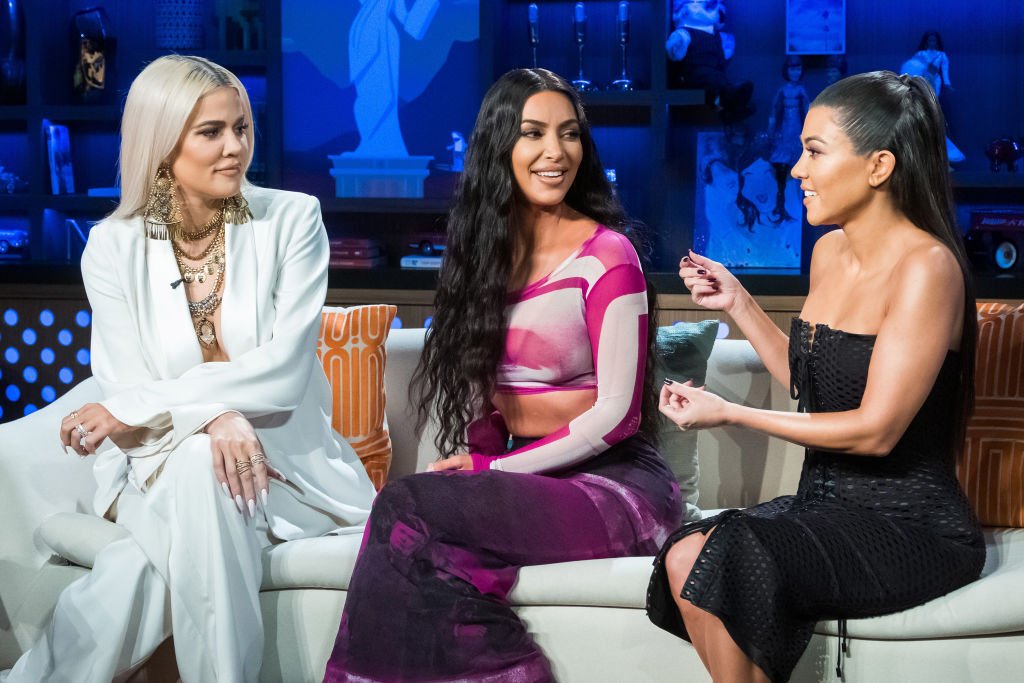 Khloe Kardashian, Kim Kardashian and Kourtney Kardashian on Andy Cohen's "Watch What Happens Live" January 14, 2019 | Photo: GettyImages
However, because of the COVID-19 pandemic and social distancing, this year's birthday parties have been replaced by lengthy social media posts and celebrations from a distance.
Still, the reality TV stars found a way to celebrate Kourtney Kardashian's birthday without actually stepping on her home, and fans were confused when they spotted one Tristan Thompson among those involved in the innovative celebration.
A BIRTHDAY PARADE
Kourtney celebrated her 41st birthday on April 18, and her family, led by Khloé Kardashian and Kendall Jenner, hopped on their luxurious vehicles to pay Kourtney a visit on her front yard.
In the clip, they're seen discussing over video call the possibility of having a second child and giving 2-year-old True a sibling.
The family decorated the cars with balloons and some handwritten signs, and they had loud music playing as they approached Kourtney's home to wish her a happy birthday.
Several of the people present shared videos from the socially distant birthday parade. In a compilation of clips reposted by Hollywood Unlocked, fans were surprised to see Tristan Thompson among those invited to the celebration.
Now, although Tristan has been co-parenting with Khloé, it is known that he had a tense relationship with the Kardashian-Jenner family after cheating on Khloé for the second time and with family friend Jordyn Woods.
While Woods was vanished from the family, despite being Kylie Jenner's childhood best friend, it seems like Tristan has been welcomed back with open arms.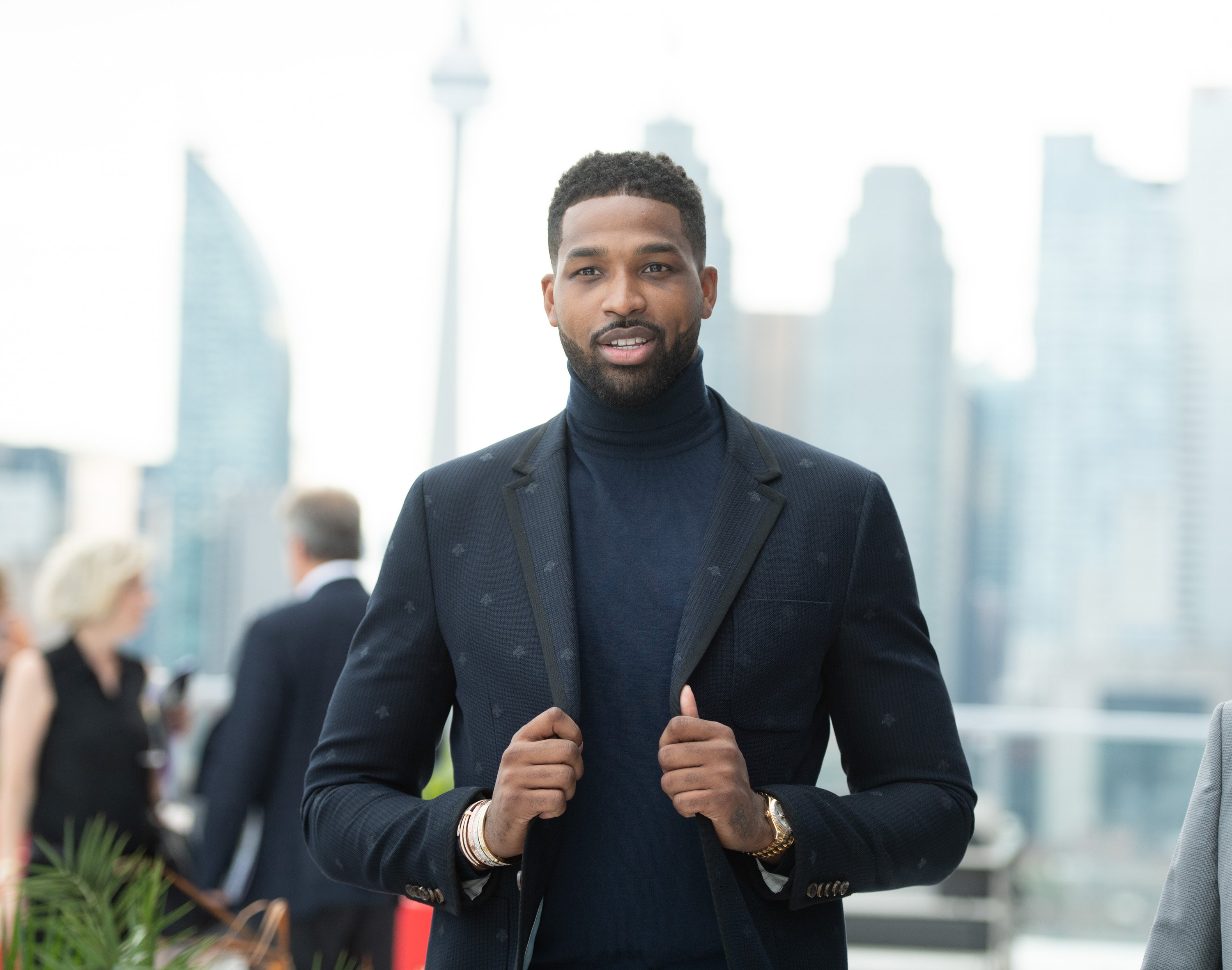 Tristan Thompson at The Amari Thompson Soiree at The Globe and Mail Centre on August 9, 2018, in Toronto, Canada | Photo: GettyImages
FANS HAVE A LOT TO SAY
For weeks now, fans have been speculating that Khloé and Tristan are back together. However, a source close to the family told E! News that the pair is just co-parenting and that Khloé is happy Tristan is spending more time with True these days.
As for Tristan's presence at Kourtney's birthday parade, some fans were shocked and some not at all.
While one fan hoped into the comment section to point out she had to "do a double-take" to see if that was Tristan, another added:
"Everyone is surprised Tristan is there. Am I the only one only that's not LOL C'mon now, people."
A third fan pointed out that "Tristan is back in the family like he never left!" and many more seemed to agree with him, with some even pointing out that perhaps he indeed never left. Here are more comments: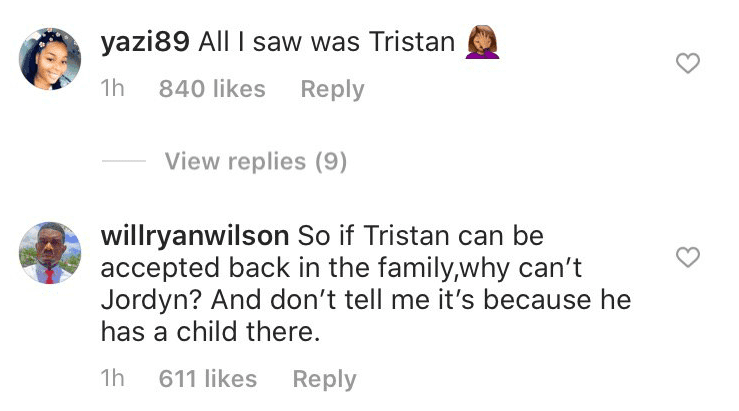 Fans comments on Hollywood Unlocked's post | Source: Instagram/hollywoodunlocked

Fans comments on Hollywood Unlocked's post | Source: Instagram/hollywoodunlocked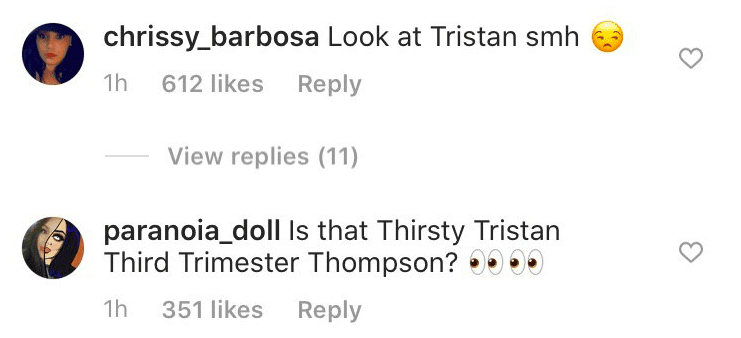 Fans comments on Hollywood Unlocked's post | Source: Instagram/hollywoodunlocked

Fans comments on Hollywood Unlocked's post | Source: Instagram/hollywoodunlocked
TRISTAN THOMPSON'S CHEATING STORY
The basketball player and the reality star first made headlines back in September 2016 when it was confirmed they were dating, while Tristan was expecting his first child with ex-girlfriend Jordan Craig.
Almost a year later, it was announced that they were expecting their first child, daughter True, who was born in April 2018. However, the baby girl's birth was marred by the first cheating scandal the couple faced.
As the Daily Mail reported only two days before Khloé gave birth, Tristan had been caught kissing another woman and then entering a hotel with her.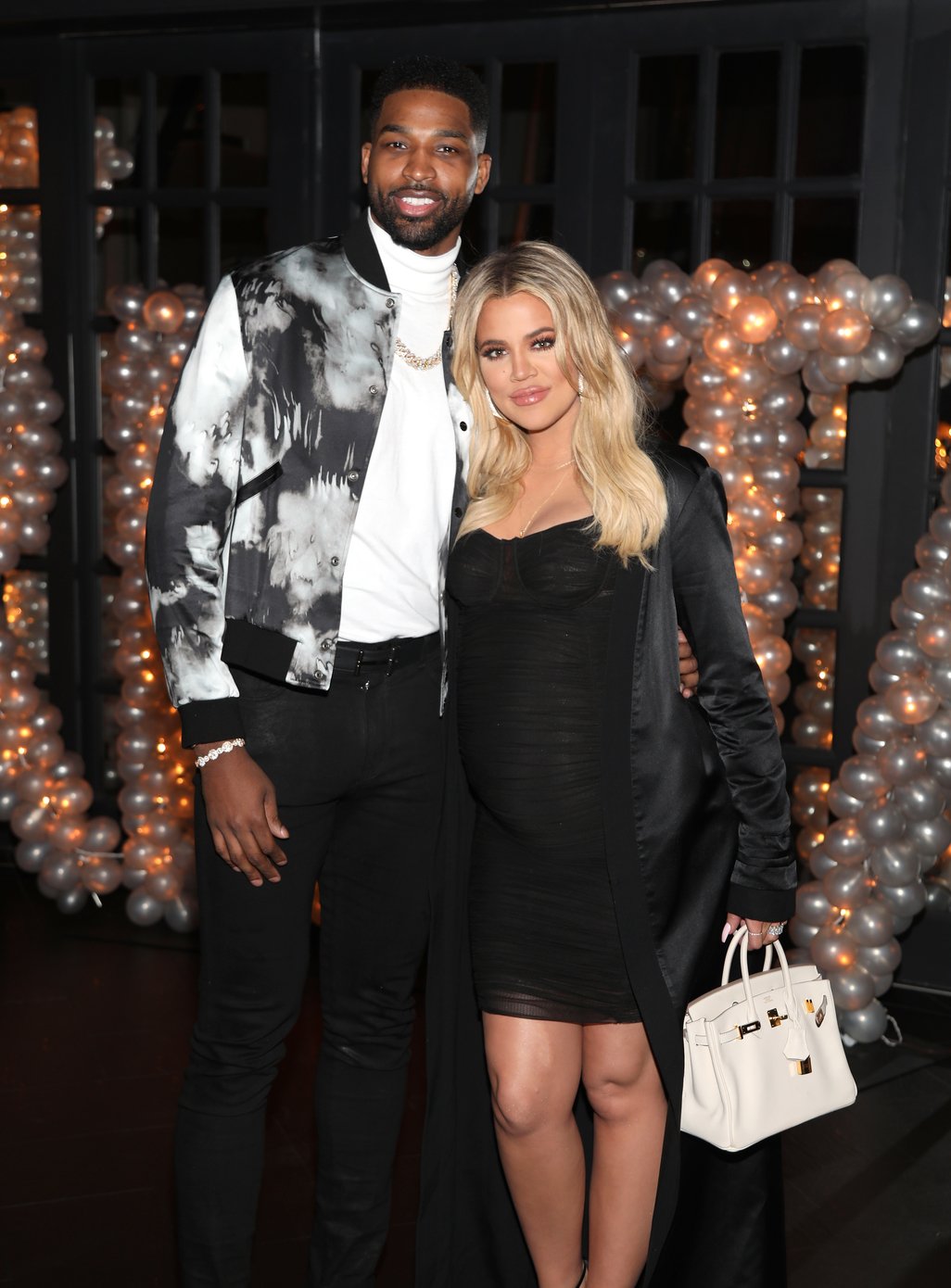 Tristan Thompson and Khloe Kardashian celebrate Tristan Thompson's Birthday at Beauty & Essex on March 10, 2018 in Los Angeles, California | Photo: GettyImages
However, Khloé didn't let the circumstances interfere with her labor, and she had Tristan present in the delivery room alongside her mother and her sisters, including Kim Kardashian, who could barely contain her disdain for Tristan.
Khloé and Tristan managed to move on from his first betrayal. She forgave him because she wanted to give her daughter a complete family, even if that meant being the center of criticism from fans for choosing to stay with a cheater.
SECOND STRIKE AND OUT
The couple spent almost a year together until February 2019, when the other cheating scandal broke, and this time, it was with a family friend, Jordyn Woods.
Jordyn, who used to be Kylie Jenner's best friend, admitted on Jada Pinkett Smith's "Red Table Talk" that she attended a party at Tristan's house and that he kissed her when she was leaving in the morning.
Khloé was furious because she claimed Jordyn never apologized to her and instead chose to do an interview to save face. She even wrote a tweet at the time, blaming Jordyn for the separation of her family.
However, after getting backlash for accusing only Jordyn and absolving Tristan from the blame, Khloé backtracked her words and said Tristan was to blame for what had happened.
Still, neither she nor the rest of the family forgave Jordyn for what happened, and these days, she's gearing up to record an album after a mildly successful run on "The Masked Singer."
THE POSSIBILITY OF A SECOND CHILD
On top of the fact that Khloé and Tristan are social distancing together, the former couple raised some eyebrows with a recent clip of "Keeping Up with the Kardashians."
In the clip, they're seen discussing over video call the possibility of having a second child and giving 2-year-old True a sibling.
Khloé and Tristan were going over some of True's stuff at his home in Cleveland and, when Khloé told him to get rid of a toy for babies, Tristan asked what would happen "if we have another girl and… have to buy it all over again?"
Surprised by the statement, Khloé asked Tristan, "who's having another girl with you?" to which the Cleveland Cavaliers replied, "Listen, I'm just saying, True does need a sibling."
Both Khloé and Tristan seemed to forget that True does have a brother, Tristan's son Prince. Still, the Good American designer joked, saying maybe she would need a sperm donor in the future.
Please fill in your e-mail so we can share with you our top stories!