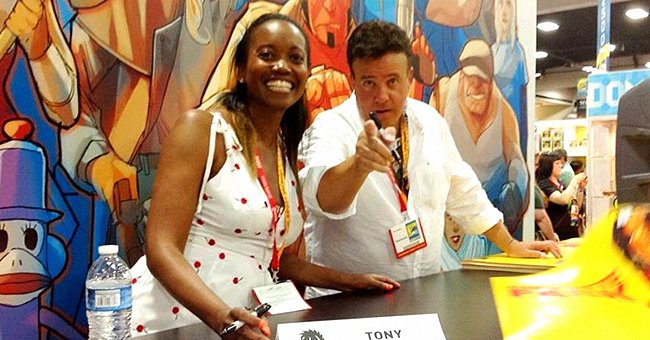 Facebook/tony.puryear
Erika Alexander of 'Living Single' Is in Good Terms with Former Husband of 20 Years

Erika Alexander is famous for her starring roles in television sitcoms, "The Cosby Show," and "Living Single," and was married to her ex-husband, Tony Puryear, for twenty years.
Erika Alexander is remembered by many for her iconic roles in some of the hit television sitcoms of the 90s, including "The Cosby Show," where she portrayed Pam Tucker, and "Living Single," where she starred as Maxine Shaw.
Not so much is known about her marriage, but Erika Alexander was married to American Screenwriter Tony Puryear, for twenty years, from 1997 to 2017, when they divorced.
Erika Alexander attends Hollywood Stars Gala Academy Awards Viewing Party at Waldorf Astoria Beverly Hills on March 4, 2018. | Photo: Getty Images
Despite their divorce, the ex-couple remain friends, and Puryear remains ever so proud of Erika, as seen in a post he shared on his Facebook page, in November last year to celebrate her birthday.
In that post, Puryear explained that he met Erika 25 years ago and that she is the most creative person he has ever met. The screenwriter also joked that Erika was a fast runner because it wasn't easy for him to catch her. He then added:
"Today is her birthday, and I just want to celebrate this remarkable life force who gave me life and who honored me..."
Puryear also said that Erika had other qualities such as a blinding honesty, a warrior's heart, a demanding collaboration, and that she was a fierce example, and ended his post by wishing her a happy birthday.
Many people replied to the Puryear's post, with most of them wishing his ex-wife a happy birthday. Erika was also among the respondents.
He is the first African-American writer to create a summer blockbuster worth $100 million.
In her comment, she thanked Tony for the beautiful post and his wonderful words. The 50-year-old actress went on to say that Puryear was always a silver-fingered devil.
Erika also said that she and Puryear were best of friends and that she would love him for life. In her closing remarks, she also thanked all her well-wishers for their love and good wishes.
In a recent post made by Puryear on his Facebook page, he challenged all the professionals in the film, television, and art world to join him to post a photo of themselves on their jobs.
He added that the post should only contain a picture with no description, adding that the goal of the challenge was for them to flood social media with their professions.
Tony Puryear also has a bit of history attached to his name, because he is the first African-American writer to create a summer blockbuster worth $100 million.
This was after he wrote the script for Arnold Schwarzenegger's smash movie, "Eraser." He is also renowned for writing scripts for famous names like Mel Gibson, Jerry Bruckheimer, Will Smith, and Oliver Stone.
Please fill in your e-mail so we can share with you our top stories!