instagram.com/franciefrane instagram.com/duanedogchapman
Duane 'Dog' Chapman Calls New Girlfriend Francie Frane 'Babe' While Fishing Together
Duane Chapman of "Dog The Bounty Hunter" fame took to Instagram to post a cute video of himself and his girlfriend, Francie Frane, while fishing outdoors in Colorado.
Duane "Dog" Chapman shared a video of him and his girlfriend, Francie, enjoying the great outdoors over a weekend in Colorado. While caught up in their sweet banter over where Francie's catch was, Dog said:
"Oh, it's gone, babe. Good Lord!"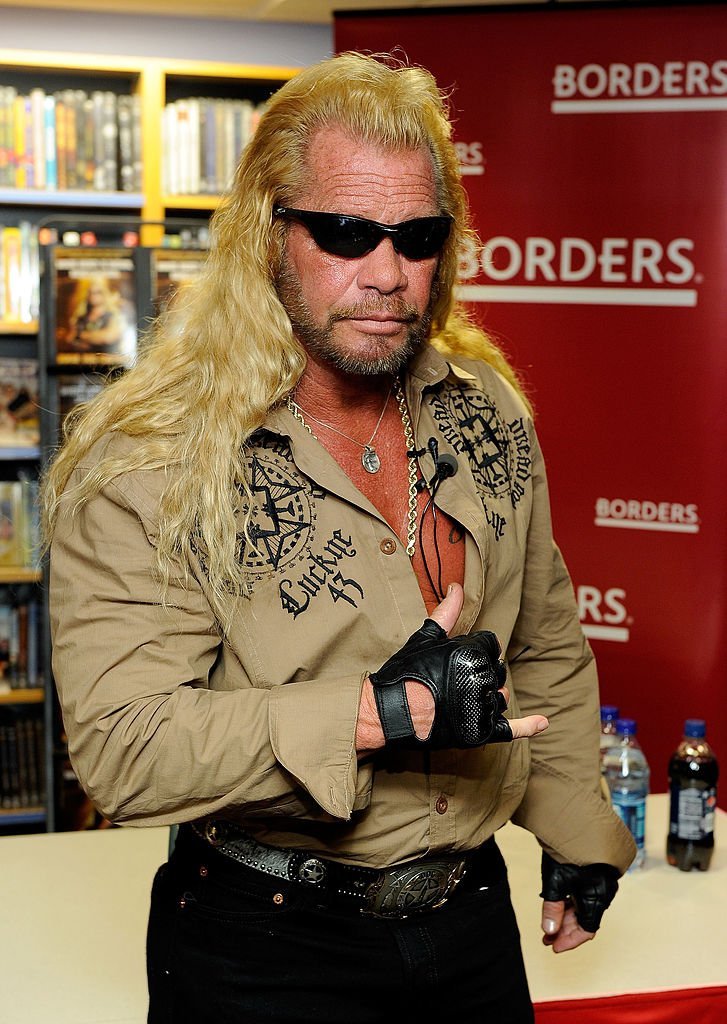 Media personality Duane Chapman, known in the media as "Dog the Bounty Hunter" promotes his book "When Mercy Is Shown, Mercy Is Given" at Borders Wall Street on March 19, 2010. | Photo: Getty Images
Dog appeared in front of the camera, throwing his fishing rod into the water. Francie asked if he intended to catch a big fish, and he teased her, saying it would be bigger than hers.
On checking the basket which Francie set up in the water, Dog was pleasantly surprised to find out that she had caught two big fish, which led Francie to tease him some more. His fans and followers expressed how excited and relieved they were to see the TV star finally happy again.
Several months before Beth's death, Francie also lost her husband, Bob.
Dog first confirmed that he was dating Francie, in March when he posted a photo in which the two posed together, with his arms around her. Fans expressed their disapproval of the relationship as Dog's wife had only just passed away ten months from then.
A few weeks after his post, Dog's daughter, Lyssa, also shared a photo of the lovebirds calling them "cute." Her sister, Bonnie, quickly jumped to her father's defense when fans started to criticize. She wrote:
"Everyone who's judging my father should sure pray that they never have to lose their loved one and get judged for trying to fill the void."
Bonnie continued, saying that the critics' opinions were invalid to her and that their family approved, and they were certain that her mother, Beth Chapman, would have wanted Dog to find happiness.
Beth Chapman, Dog's late wife, died in June 2019 at the age of 51 after she had been diagnosed with stage II throat cancer sometime in 2017.
Chapman had been so heartbroken and wrought with grief that he admitted that he had promised Beth he would not remarry and that he was not in the least bit ready to date again.
Opening up about his new-found love with Francie, the reality star revealed that he felt as though the way they had met and were getting along was nothing short of a miracle.
Several months before Beth's death, Francie also lost her husband, Bob. The similar pain and grief that they were both going through helped the pair have an understanding, which gradually led to the sweet relationship the two share.
Please fill in your e-mail so we can share with you our top stories!