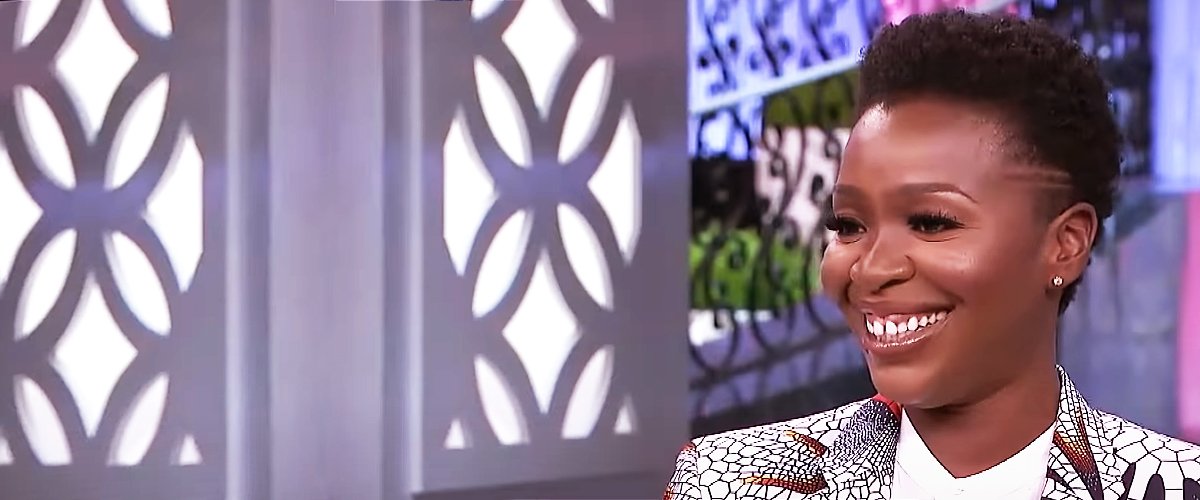 youtube.com/The Real Daytime
Folake Olowofoyeku Stars in 'Bob Hearts Abishola' — a Look at Her Life, Family and Career

Talented actress Folake Olowofoyeku has come a long way from her humble beginnings in Nigeria. She is the lead cast of the new CBS series "Bob Hearts Abishola." Here is a scoop into her compelling story and background.
Folake is a Native of Nigeria, and she moved to New York City for college, where she lived for several years. After her education, she ventured into acting and has steadily built a respectable profile for herself over the last decade. She currently resides in Los Angeles.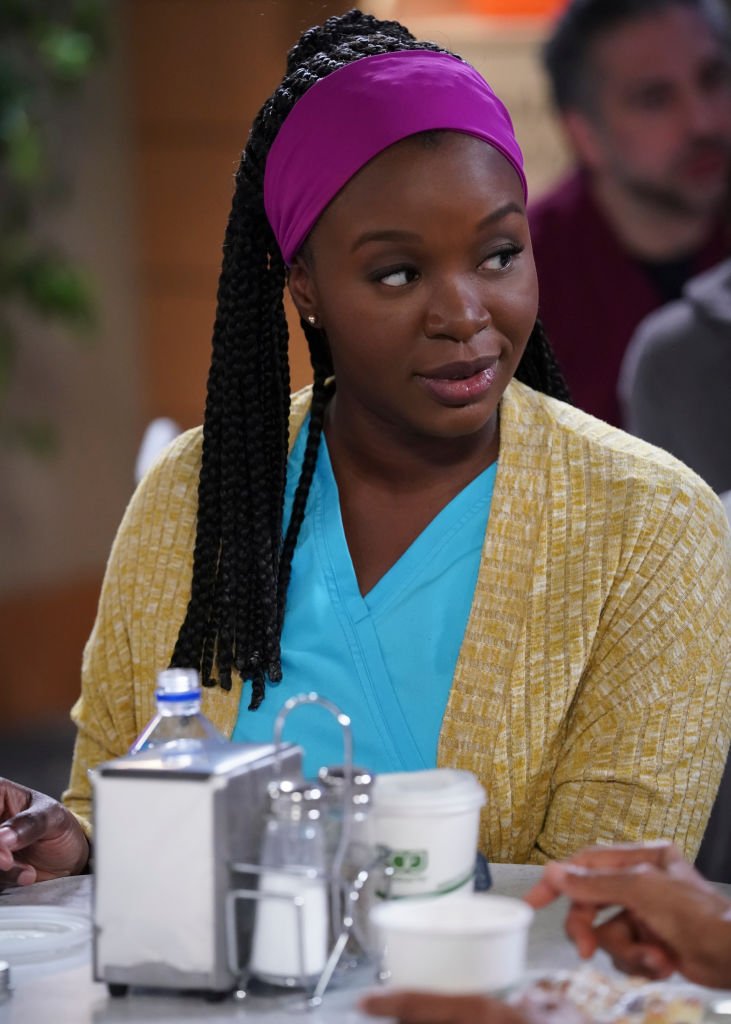 Folake Olowofoyeku as Abishola on the set of the show, "Bob Hearts Abishola" on March 2, 2020 | Photo: Getty Images
Some of her memorable roles to date include "When They Could Fly," which helped her to a Best Actress award at the prestigious ReelHeART International Film Festival in Toronto; "Central & Broadway," for which she earned Best Actress in a Fashion Film at the CinéFashion Film Awards. Others include "Female Fight Club," The Bride," "The Child Within," and "Hellbenders-3D."
Folake's television credits include a recurring role in "Transparent," and several guest appearances on shows like "How to Get Away with Murder," "Westworld," "Modern Family," "Law & Order," "Law & Order: Criminal Intent," "Law & Order: Special Victims Unit," amongst others.
FOLAKE OLOWOFOYEKU LIVING THE DREAM
The actress has been on film and television since 2004, but in the CBS series "Bob Hearts Abishola," Folake assumes her most significant role yet as the lead character and also a co-writer.
Now, people are beginning to take notice of her talent, and the 36-year-old actress loves every bit of the attention.
Last year, Folake and her "Bob Hearts Abishola" co-star Billy Gardell made an appearance on The Real Daytime, where they talked about working together and what viewers could expect from the show.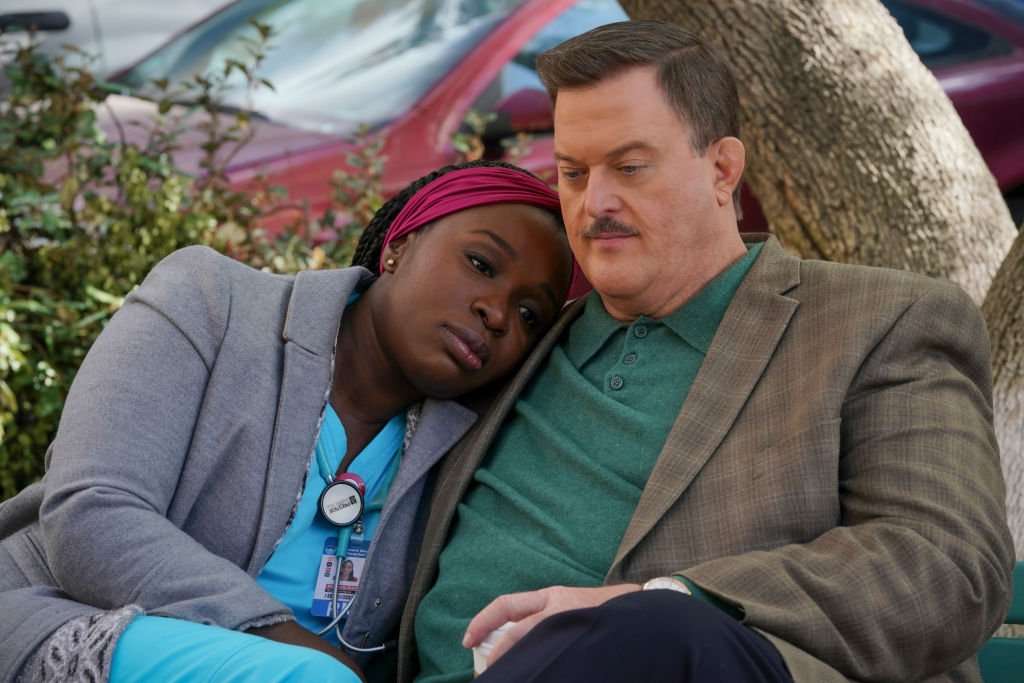 Folake Olowofoyeku as Abishola and Billy Gardell as Bob on the set of the show, "Bob Hearts Abishola" on March 2, 2020 | Photo: Getty Images
Co-star Billy Gardell is especially thrilled about how the show focuses on kindness and authenticity and how it shines the light on the situation of emigrants that are currently living in the United States.
"Bob Hearts Abishola" is a new CBS sitcom from executive producer and writer Chuck Lorre. It follows the lives of an American compression-sock salesman Bob (Billy Gardell).
He has a heart attack and is attended to by a Nigerian cardiac-unit nurse Abishola (Folake Olowofoyeku). A spark is lit, and Bob falls in love with Abishola.
Other cast members of the show include Christine Ebersole (Dottie), Matt Jones (Douglas), Maribeth Monroe (Christina), Vernee Watson Gloria, Shola Adewusi (Auntie Olu), Barry Shabaka Henley (Uncle Tunde), Travis Wolfe, Jr. (Dele), and Gina Yashere (Kemi).
FOLAKE OLOWOFOYEKU'S PERSONAL LIFE
Folake Olowofoyeku was born on October 26, 1983, in Nigeria to Nigerian politician Babatunji Olowofoyeku and his wife, Felicia Olowofoyeku. The actress comes from a large polygamous family, and she is the youngest child of 20 children.
Growing up, Folake's parents encouraged her to go to the university and pursue a career in law and politics. The actress's parents who are now late wanted her to study law so badly they named her after the first female Senior Advocate of Nigeria, Folake Solanke.
After her secondary education at the Vivian Fowler Memorial College for Girls in Ikeja, she emigrated to the United States, where she came to live with her sister in New York on her 18th birthday. Speaking about her time in New York, Folake said:
"It was glorious. I wanted to find the school farthest away from my sister on Long Island, which was Harlem. I wanted to move out on my own."
Although the soft-spoken actress initially studied economics in anticipation of becoming a lawyer, she eventually bagged a B.A. in theater from City College of New York.
During her time at City College, she developed an interest in basketball and played in NCAA Division III college basketball for the CCNY Beaver.
Once she was done with her studies, Folake moved straight into the business of acting against the wishes of her parents. Her siblings also questioned her career choice, regularly casting doubts on her ability to make it in the industry because she "didn't have the looks."
In an interview with Television Critics Association, the TV series star claimed that constant rejection and criticism from family members helped prepare her for future rejections during auditions.
Despite her busy work schedule, Folake still finds time to visit Nigeria to see her family and engage in other philanthropic efforts.
Due to the shut down of production for "Bob Hearts Abishola" as a result of the global novel coronavirus outbreak, the actress has taken the opportunity to get involved with the One campaign to spread awareness about the seriousness of COVID-19, especially in Nigeria.
Please fill in your e-mail so we can share with you our top stories!