Nicole & Eddy Murphy's Daughter Zola Resembles Mom in a Stunning Swimsuit Photo
Nicole Murphy's daughter Zola looked stunning in a recent swimsuit photo shared on her Instagram page. The 20-year-old looked just like her mother in the picture.
Nicole Murphy's last daughter, Zola Ivy Murphy, is growing up fast, and it's safe to say she is a replica of her mom, who is a successful actress and a former model.
In a recent Instagram post shared by the model, Zola showed off her figure while she gorgeously rocked a white swimsuit that accentuated her body.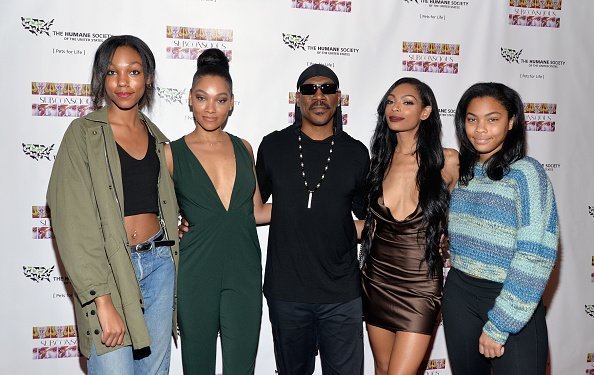 Ivy paired her swimsuit with a black hat while she rocked a curly hairstyle. The young model who has a love for jewelry also showed off her silver belly button ring in the picture. She captioned the photo:
"I just wanna go home."
Although Zola grew up living a privileged life like the rest of her siblings, she does not have a sense of entitlement to either of her parent's wealth and success.
As a young adult, Ivy is consistently working hard to build a career for herself while creating a brand that is separate from her parents.
Eddie stated that having a large family makes him very happy.
Not only does Zola share a physical resemblance with her mom, but the 20-year-old also has a love for fashion and is currently pursuing a career as a model.
While working with Coachella Fashion Line in March 2019, the young lady described modeling as a beautiful and artistic career. Ivy also said it was great that she could be in the industry while figuring out what she wanted to do.
Zola has nine siblings who come from five different women, including her mother, Nicole, former "Spice Girl" member, Mel-B, Tamara Hood, and Paulette McNeely.
In celebration of Christmas in 2018, Eddie's oldest daughter, Bria Murphy, shared an adorable picture on her Instagram page where the proud father was pictured with all of his children.
The picture also featured Eddie's mother, the grandmother of the whole gang, as well as the mother of Eddie's fiance, Paige Murphy.
During an appearance on the "Ellen DeGeneres Show," the "Coming to America" star talked about having many children; he stated that having a large family makes him very happy.
In a 2016 interview, Eddie spoke about all of his kids being good people. According to him, there wasn't any bad one among them.
With a net worth estimated at $160 million, it is obvious the legendary actor can afford to have as many children as he wishes.