Getty Images
Tim Brown Calls Wife Sherice His Greatest Victory — Meet the Raiders Legend's Spouse

Theirs is a story of faith and love conquering all, and even though he has always been the famous one, she has so many qualities and achievements that she deserves her place in the spotlight.
53-year-old Oakland Raiders legend Tim Brown was born into a very humble family, but his excellence in sports and a religious upbringing gave him the means to earn a comfortable and happy life he shares with his wife and children.
"They always treated me like Timmy, I was never a superstar," Tim has said about the family he built with his longtime wife, and he credits them with helping him stay true to himself and what's most important.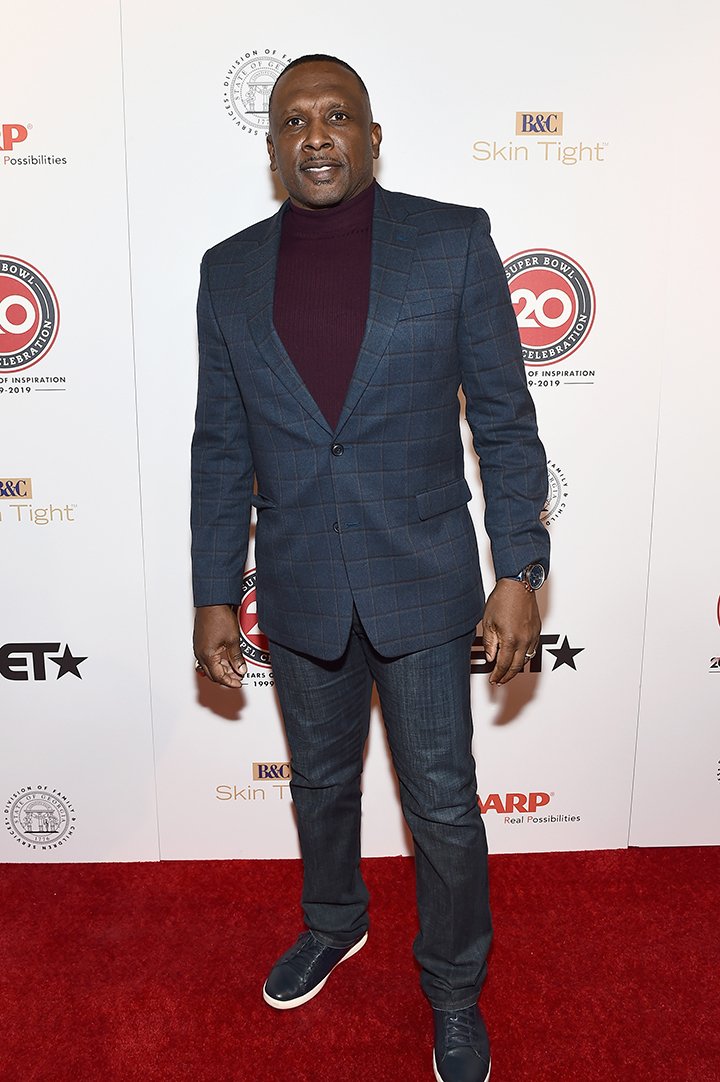 Tim Brown attends the 2019 Super Bowl Gospel Celebration at Atlanta Symphony Hall on January 31, 2019 in Atlanta, Georgia. I Image: Getty Images.
SHERICE
Sherice Brown has been married to the former Oakland Raiders star and Pro Football Hall of Fame inductee Tim Brown for 22 years, and the couple shares four children together.
Sherice is a successful business owner, as well as a fitness coach and nutrition counselor. Through She' Brown Fitness, Sherice has helped people better cope with diabetes with the right nutrition and exercise.
Sherice also runs a catering and events company named The Lanette Group, which focuses on working with abused women and through which Sherice serves as a public speaker on the issue of abused women.
In the early years of her multifaceted career, Sherice was involved in modeling, and even though she didn't go far with it, she is pleased to see that the fashion industry is more open to diversity and even leaving room for her Christian faith.
FAITH
Faith has been a key element in Tim and Sherice's relationship. In fact, there was a time when Tim was disoriented about what to do next after a couple of failed relationships, and after turning to God, he set out to find a woman of faith.
Tim had little hope of meeting a woman who shared his Christian faith. Luckily, the two attended Tim's teammate Chester McGlockton's wedding and were introduced to each other, making the perfect match.
Tim grew up close to the church, but as he became famous as an athlete, he spent a few years away from religion. He ultimately reconnected with his Christian beliefs and has since become a very active and enthusiastic part of the community.
Today, Tim thanks his faith for helping him stay humble despite having achieved fame and wealth, and Sherice agrees with this, telling USA Today in 2015:
"I can say, from the time I met him until today, he has truly been the same man."
SON TAYLOR
Taylor is about 30 years old and is a professional nurse, as his social media activity shows. A devoted Christian like his parents, he is also passionate about Beyonce, as he never ceases to remind his followers on Instagram.
In a recent Instagram post, Taylor shared a photo of his father and him as a child, calling his father his best friend and sharing his love and gratitude for him.
DAUGHTER TIMON
Timon is 21 years old and attends Loyola Marymount University in Los Angeles, California, where she is also a cheerleader, after being captain of her cheer team in high school. According to her mother, she has also done some modeling.
Even though she is not very active on social media and rarely posts family pictures in her feed, she does have a "mommy appreciation post" from 2017 that features images of Sherice and her enjoying quality time together.
DAUGHTER TAMAR
Tamar and her brother Tim Jr. are twins, both born in 2003. Her mother also shared that Tamar is an aspiring model. She is a senior in high school, where she is a cheerleader like her sister.
She is very close to her twin brother and when the two became 17 in January, she made a commemorative post calling Tim Jr. her favorite person. "Couldn't do life without you!" Tamar said to her "other half."
SON TIM JR.
Tim Jr. attends JCP University of Pretoria, where he will be graduating in 2021, according to his Instagram. He plays with the school football team, the Jesuits, and wears the number 81.
"I was blessed to be born with my best friend 17 years ago today," he wrote on his and Tamar's shared birthday, sharing pictures from their childhood.
A HAPPY MARRIAGE
Tim and Sherice's longtime marriage is apparently very rare considering the statistics that show that most high-profile athletes have a high divorce rate, and the two have even been invited to speak in public about the secrets to their marriage.
As Sherice explained, 85% of NFL stars get divorced after they retire from the sport, and she recalled in 2016 how most of their couple friends from the Raiders are now divorced. This is what Tim once told her that helped her overcome her fears:
"I will always love God first, so you don't ever have to worry about me cheating on you."
Tim shared during the same marriage conference that it was precisely God that was missing from other celebrity marriages.
TIM'S ACHIEVEMENTS
Tim enjoyed an exceptionally long career as a receiver, starting in 1988 with the L.A. Raiders, continuing in Oakland from 1995, and retiring in 2004 after one year in Tampa Bay, with a total of 17 seasons in the NFL.
In 2015, Tim was inducted in the Pro Football Hall of Fame, a recognition that was greatly received not only by him but also by the entire family.
"Joy is the one word to describe it. Joy. I was just so happy for him," Sherice shared with USA Today back then.
But there is no achievement that Tim is more proud of than having "won over" his wife of more than two decades, which he called his "greatest victory" in 2018.
Please fill in your e-mail so we can share with you our top stories!