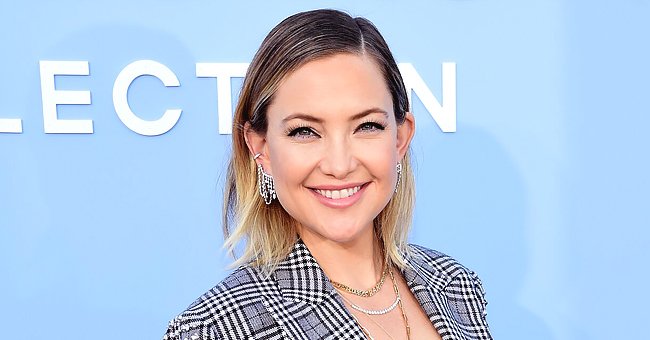 Getty Images
Proud Mom of 3 Kate Hudson Turns 42 — See Her Quotes about Motherhood and Children
Kate Hudson is a proud mother to her kids Ryder, Bingham, and Rani. Here are some of her sweetest quotes about motherhood.
"They're your kids and you love them and then you can't stand them sometimes," Hudson shared on "The Late Show With Stephen Colbert" in February 2016, as reported by US Weekly. "It's just the truth."
In April 2019, Hudson opened up about Ryder on "The Rachael Ray Show." "People kind of go, 'I want to freeze them when they're little.' I'm like, 'I don't,' actually. I'm having a blast," she said. "I can't wait to go to a bar with my kid — is that weird? He's so much fun!"
Kate Hudson at Wallis Annenberg Center for the Performing Arts on February 09, 2020 in Beverly Hills, California. | Photo: Getty Images
RAISED BY A STAR
Hudson credited her mother, Goldie Hawn, for showing her how to be a wonderful mother to her daughter, Rani, as reported by Closer Weekly. The actress said that Hawn was a great supporter and perfect role model.
Seeing Hawn interact with her long-time partner, Kurt Russell, caused Hudson to gain proficiency about the significance of family. According to the younger actress, her mother consistently advised her not to let a man darken her light -- that's the reason she never defined herself through the manner in which a man sees her.
Despite her successes, motherhood remains the most fulfilling job.
RAISING RANI
On October 2, 2018, Hudson and her boyfriend, Danny Fujikawa, welcomed little Rani. As seen in several posts, the "Almost Famous" star's youngest daughter has a fun personality which can probably be accredited to Hudson. "Parenting goal number one: make sure they're funny," she previously said.
Apart from raising free-spirited children, Hudson also allows her children to grow as individuals by being lenient in disciplining them. In a previous interview with Health magazine, the actress shared:
"The only things you're entitled to are a roof over your head, food, and my love. Everything else is a privilege."
TWO LOVING BOYS
The Oscar nominee shares Bingham with her ex-fiancé Matt Bellamy and Ryder with her ex-husband Chris Robinson. Despite having different dads, the Fabletics co-founder aims to raise her boys in a safe and loving environment through co-parenting.
Previously, Hudson revealed that parenting Ryder had brought her closer to Bellamy, whom she promised to raise their son as a priority. Through this, the former couple felt a strong need to trust each other, although no longer together.
"The only expectations I really have that are really high on my life is with my kids and with family stuff," she shared. As such, she tries to keep a close relationship with her children through bonding activities.
EXPANDING THE BROOD
In her younger years, Hudson always thought she would have at least four children. However, she is now unsure about getting pregnant again, but if she does, a reason would probably to beat her brother who now has three children as well.
Hudson shot to fame when she was picked to star in the 2000 film "Almost Famous." For her spectacular performance in the movie, she won a Golden Globe and was nominated for the Academy Award for Best Supporting Actress.
Despite her successes, motherhood remains the most fulfilling job. "My role as a mother to my beautiful children is my most important -- and there isn't a thing I would not do for my family," she said.
Please fill in your e-mail so we can share with you our top stories!