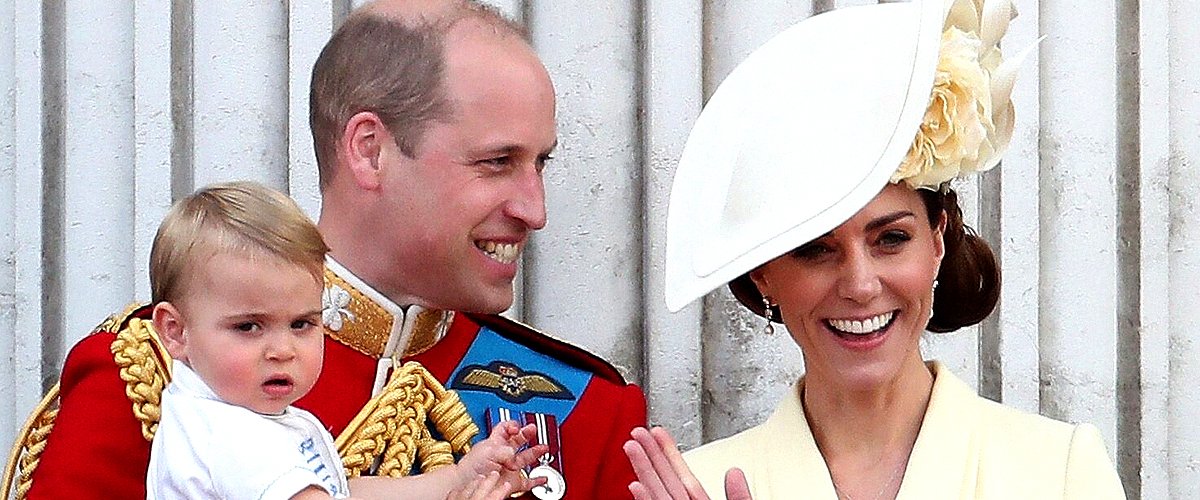 Prince Louis at Two — a Look Back at Kate Middleton's Journey as a Mother of Three Kids
Kate Middleton, the Duchess of Cambridge and wife of Prince William, is the proud mother of three children. All her pregnancies were fascinating, and she has shared some details about some of them.
Her first child is Prince George. He was born on July 22, 2013, and captivated the public ever since his photos were shared online for the first time. Unfortunately, Kate's pregnancy was not a walk in the park.
Greeting the public after Prince George was born was "terrifying."
KATE MIDDLETON'S FIRST PREGNANCY
From the very beginning, Kate started dealing with morning sickness. Although uncommon, it could endanger the condition of the expectant mother and the upcoming baby. In those cases, it is called hyperemesis gravidarum.
Sadly, that's exactly what the Duchess of Cambridge faced in her three pregnancies. In fact, in December 2012, she spent three days at the hospital before finally feeling well enough to fulfill her royal duties!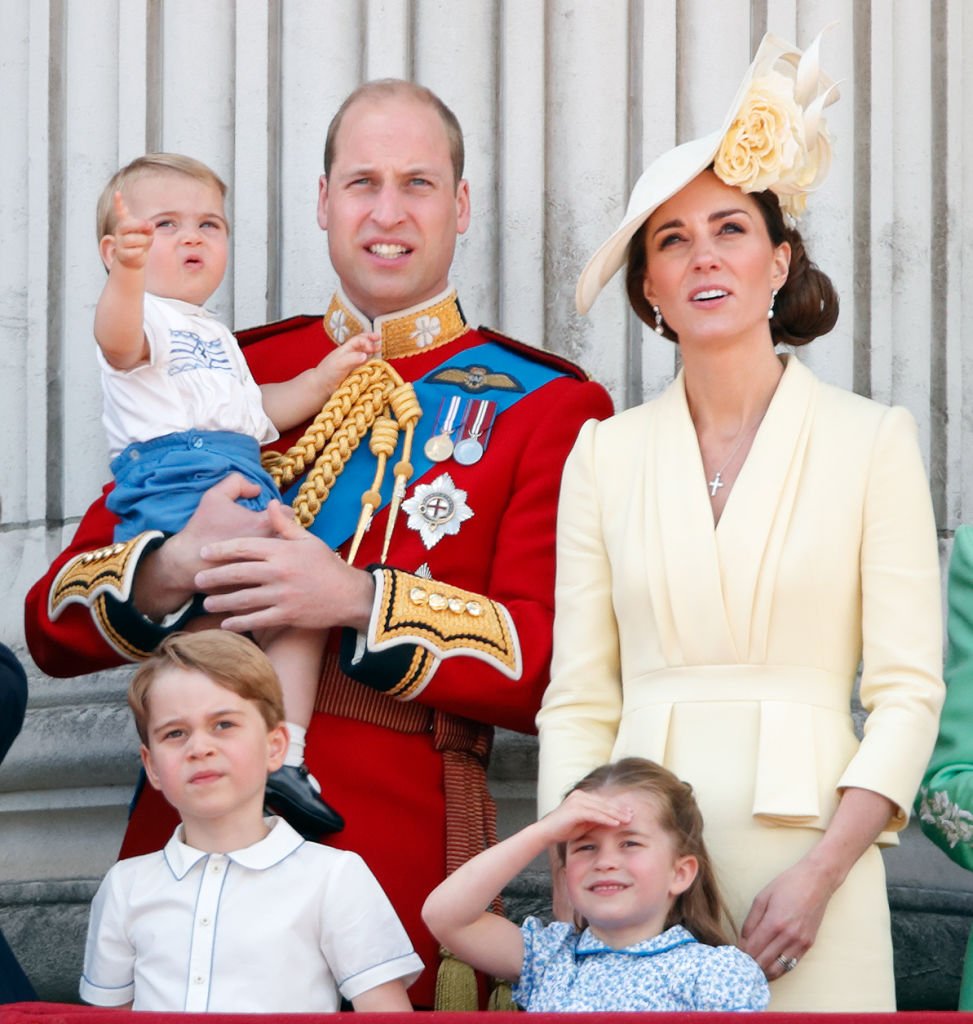 Duchess Kate Middleton, Prince William, and their three children on June 8, 2019 in London, England | Photo: Getty Images
In January 2012, about one month after the Palace officially announced Kate's pregnancy, it was revealed that the child would be born in July. As expected, rumors and questions about the name and sex of the baby were all over the Internet.
William and Kate kept those details away from the spotlight until Prince George's birth. Born in the Lindo Wing of St. Mary's Hospital in London, George became the third in the line of succession to the British throne.
In 2017, gynecologist Tiong Ghee Teoh and anesthesiologist Johanna Bray opened up about George's birth, claiming that the medical team was made up of 23 people who were ready to take care of "anything that could possibly go wrong."
According to them, they had two obstetricians, three midwives, three anesthetists, four surgical staff members, and more.
KATE MIDDLETON'S SECOND PREGNANCY
The Palace announced that Kate Middleton and William were expecting their second kid in September 2014. Later that month, the Duchess of Cambridge was expected to go on her first solo trip.
Unfortunately, doctors recommended her to rest due to her severe morning sickness, so that much-anticipated trip was canceled. Kate had to cancel a few other Royal visits for health issues throughout her pregnancy.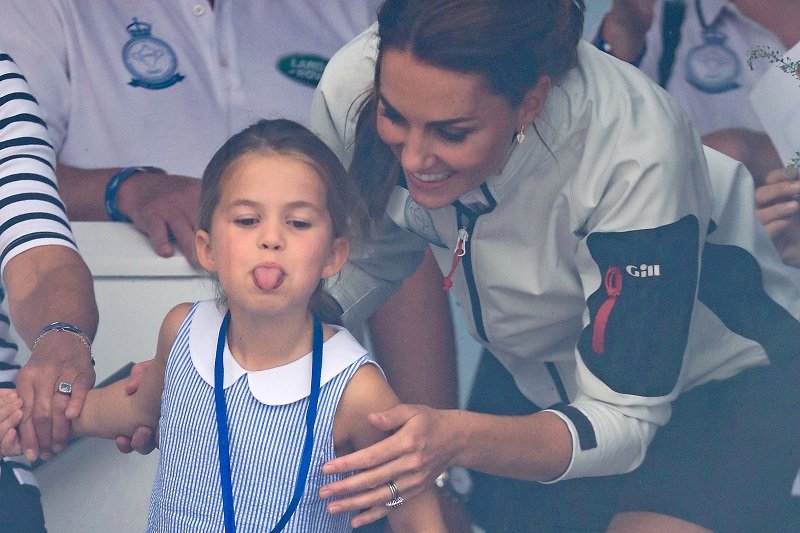 Princess Charlotte and Duchess Kate Middleton on August 08, 2019 in Cowes, England | Photo: Getty Images
In October 2014, the due date of the couple's second child was announced: April 2015. However, Princess Charlotte stayed in her mother's womb for a bit longer than doctors anticipated as she was born on May 2, 2015.
Just like her first time, Kate chose St. Mary Hospital in London. This time around, though, she didn't wait a whole day to leave the Lindo Wing. Instead, she returned to the palace hours after giving birth.
It was reported that Kate Middleton's three children were delivered by the same two doctors: Alan Farthing and Guy Thorpe-Beeston, surgeon gynecologists to the Queen and the royal household, respectively.
KATE MIDDLETON'S THIRD PREGNANCY
Prince Louis is the youngest child of the Cambridges. News about Kate Middleton being pregnant for the third time came on September 4, 2017. Again, she suffered from hyperemesis gravidarum and had to cancel several appointments.
Similar to what happened with Princess Charlotte, Kate presented Louis to the world only seven hours after giving birth, earning the title of "super mom."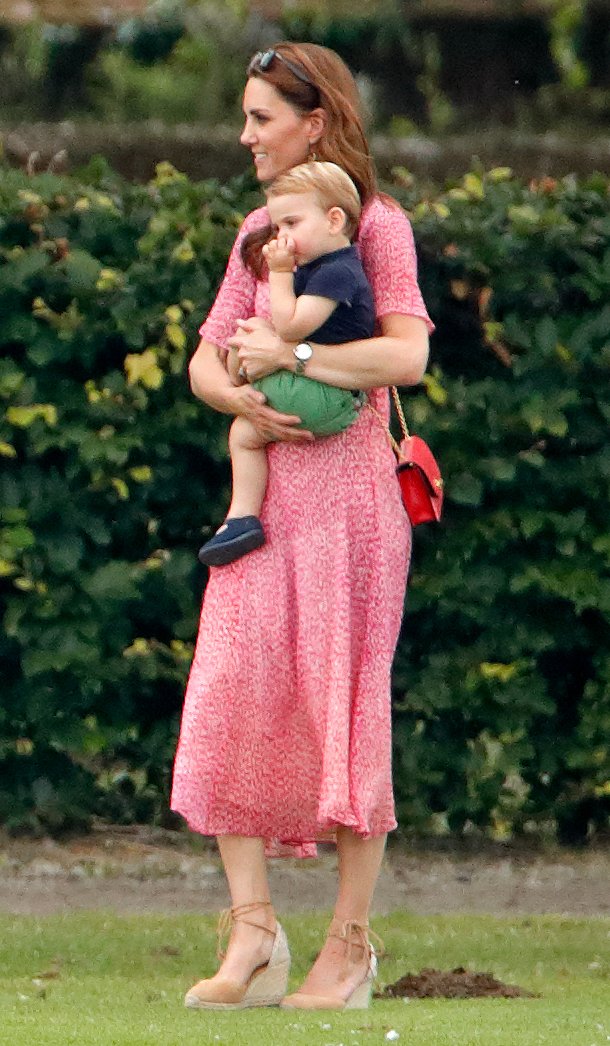 Prince Louis and Duchess Kate Middleton on July 10, 2019 in Wokingham, England | Photo: Getty Images
Although Kate looks beautiful while pregnant and she loves her children as much as possible, it is very unlikely for her to have more. According to People, she told a royal fan named Josh Macpalce that Prince William did not want to have any more!
Earlier this year, the Duchess of Cambridge surprised the world by joining Giovanna Fletcher for an interview on her podcast, "Happy Mum, Happy Baby." In it, Kate talked about different topics, including motherhood.
One of the things that she said was that greeting the public outside of the hospital after Prince George was born was "terrifying." While she felt the support of a lot of people, they were inexperienced parents, so it was a "sort of mixed emotions."
Another exciting aspect that Kate and Giovanna talked about was "mommy guilt." According to the Duchess of Cambridge, every mother feels it at least once.
She explained that her older children, George and Charlotte, have shown their disappointment about the fact that their mom would not drop them off at school.
Since Kate Middleton is a member of the Royal family, it wouldn't be fair to say that she is just an ordinary mom. However, she tries her best to give her three kids as much love as possible and to make them live a life as normal as possible.
Please fill in your e-mail so we can share with you our top stories!