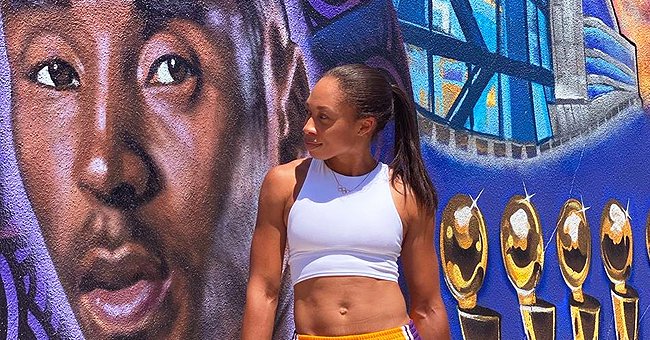 Instagram/af85
Olympian Allyson Felix Poses in Jersey near Kobe Bryant Murals in LA
Olympic gold medalist Allyson Felix remembered the late Kobe Bryant by going to visit one of his murals that had been painted on a building in Los Angeles, California.
Since Kobe Bryant's death on January 26, 2020, murals have been erected in many parts of California in his honor. Recently, Olympic gold medalist Allyson Felix visited one in Los Angeles.
Allyson revealed that she and her husband, Kenneth Ferguson, had taken their daughter Camryn for a drive to soothe the toddler when they stopped to view one of Kobe's murals.
Allyson, who is a basketball enthusiast, was dressed in a crop top that showed off her abs and yellow and purple basketball shorts that were reminiscent of the Lakers uniform, Kobe's team for 20 years.
One fan gushed over the tribute and exclaimed, "let go Laker's short and Kobe's!" Paralympian Scout Bassett praised Allyson and Kobe for their talent and called them both the greatest of all time.

Paralympian Scout Bassett commented on a photo of Allyson Felix standing next to a mural of Kobe Bryant | Source: Instagram.com/af85
Shortly after Kobe's death, when he was killed in a helicopter crash in Calabasas with his daughter,
Gianna Bryant
, and seven other passengers, Allyson paid tribute to him in a lengthy post.
She revealed that they first met at the 2008 Summer Olympics and admitted, "I constantly had to pinch myself that someone so accomplished and busy took the time to be so caring."
Allyson said during their conversation, she and Kobe discussed her career in track and details about his team. Most of all, she remembered how much joy he expressed when talking about his daughters, she revealed:
"Listening to [Kobe] speak about his girls was the best. You could see his face light up."
Allyson welcomed her first child in November 2018. According to Essence, she had a near-death after suffering from severe preeclampsia and had to undergo an emergency C-section, she admitted:
"I didn't realize anything was wrong until everything was terribly wrong. [It was] two [of the] most terrifying days of her life."
Today reports, Allyson was nervous that she wouldn't be able to perform the same after giving birth. However, only 10 months after welcoming Camryn, she surpassed Usain Bolt's record of holding 12 gold medals.
She admitted that she was proud that her daughter was there to share the moment, and she found it fulfilling to be representing other mothers.
Please fill in your e-mail so we can share with you our top stories!