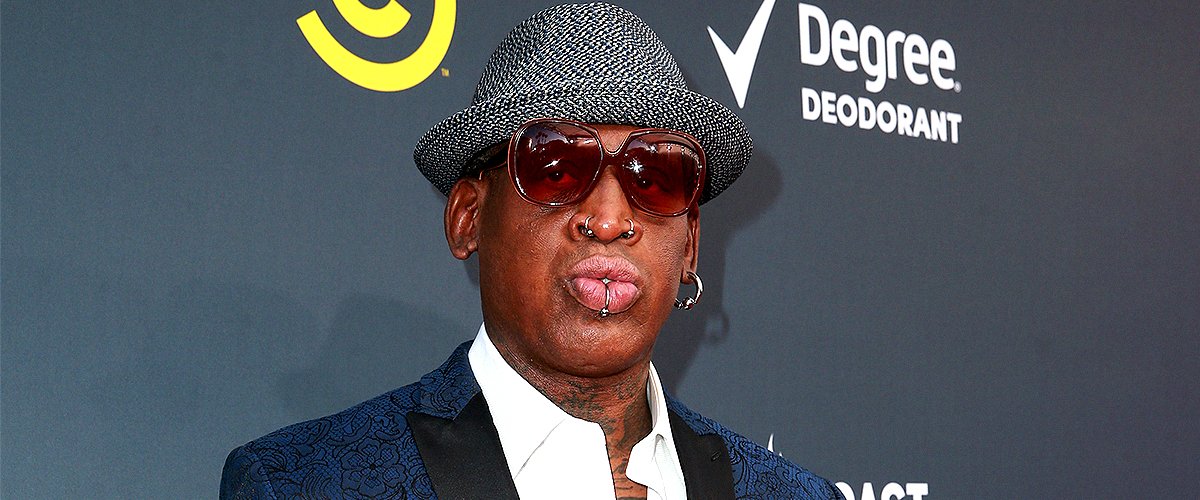 Getty Images
Dennis Rodman's Ex-wife Michelle Moyer Eight Years after Official Divorce — inside Her Life

The love life of basketball legend Dennis Rodman has not been as successful as his career. His third wife was Michelle Moyer, and she is taking care of their two children.
Dennis and Michelle met in a bar in 1999, and their relationship kicked off quickly as they started dating shorting after that. Only a few months later, Michelle got pregnant with the couple's first son, Dennis Rodman Jr., who was born in 2000.
Michelle addressed Dennis' alcohol problems on TV.
MICHELLE MOYER AND DENNIS RODMAN'S RELATIONSHIP
The ex-couple enlarged their family once again the following year when their daughter Trinity was born. Everything seemed to be great for Michelle and Dennis, which led them to walk down the aisle in May 2003.
Their private civil ceremony took place in Newport Beach in California. However, the former NBA player told the media at the time that the "real wedding" would be in mid-June on the beach in front of his house.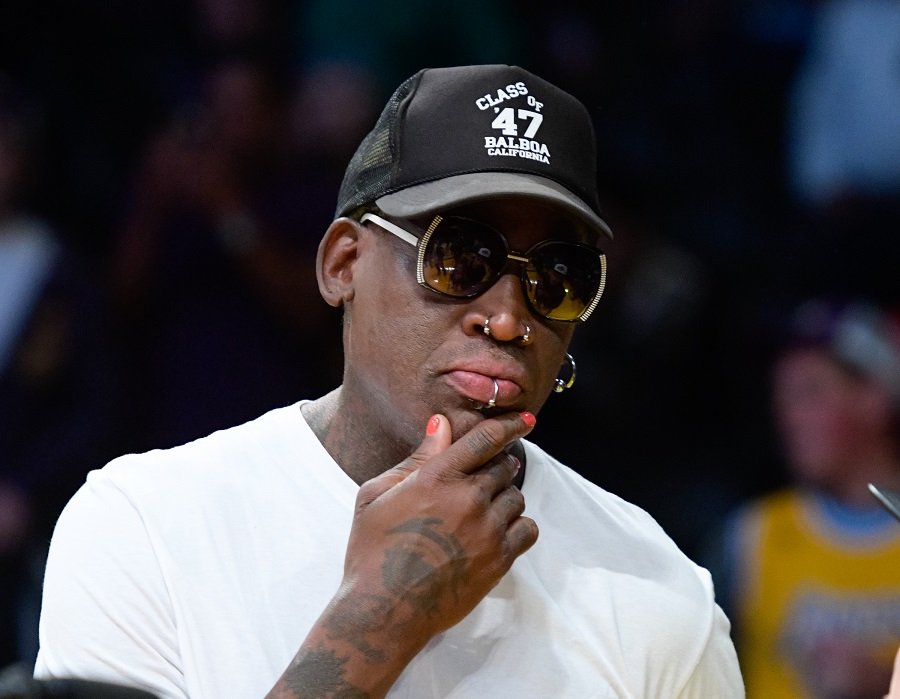 Dennis Rodman on November 25, 2016 in Los Angeles, California | Photo: Getty Images
As expected, one of the most famous party-givers in Los Angeles invited "everybody" to it, adding that apart from the ceremony, they would hold a concert.
One of the most curious aspects of Dennis Rodman and Michelle Moyer's wedding was that it was held on his 42nd birthday, May 13, 1961. Unfortunately, the marital bliss didn't last long.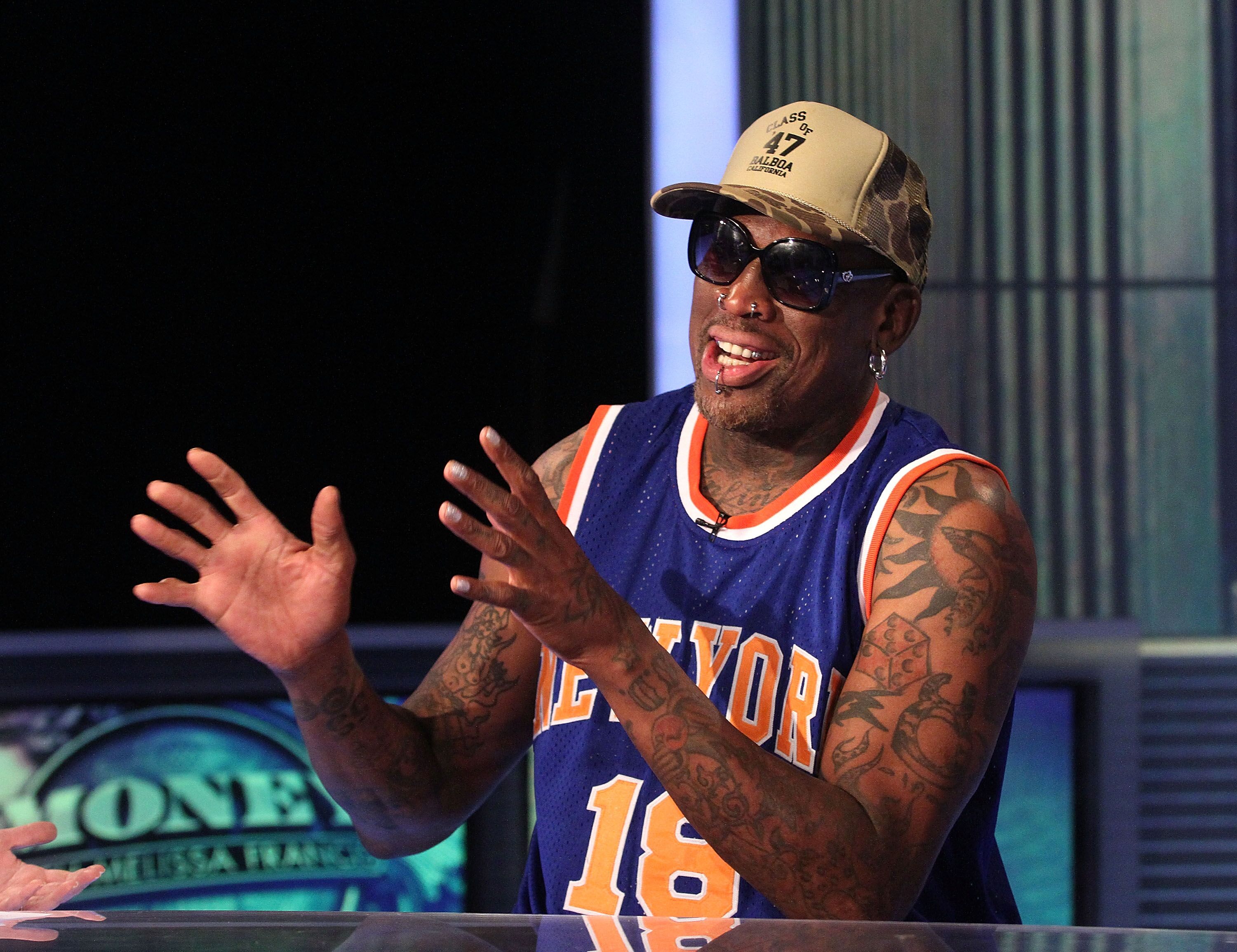 Dennis Rodman on December 9, 2014 in New York City | Photo: Getty Images
THEIR DIVORCE
In 2004, Michelle filed for divorce. For eight years, they had several ups and downs as they tried their best to work things out and have a good relationship. Things completely fell apart in 2012, though, when the divorce was finalized.
Shortly after that, things got complicated for Dennis as he was facing a possible 20-day jail sentence for falling behind on his child and spousal support payments. According to the Los Angeles Times, he owed more than $860,000.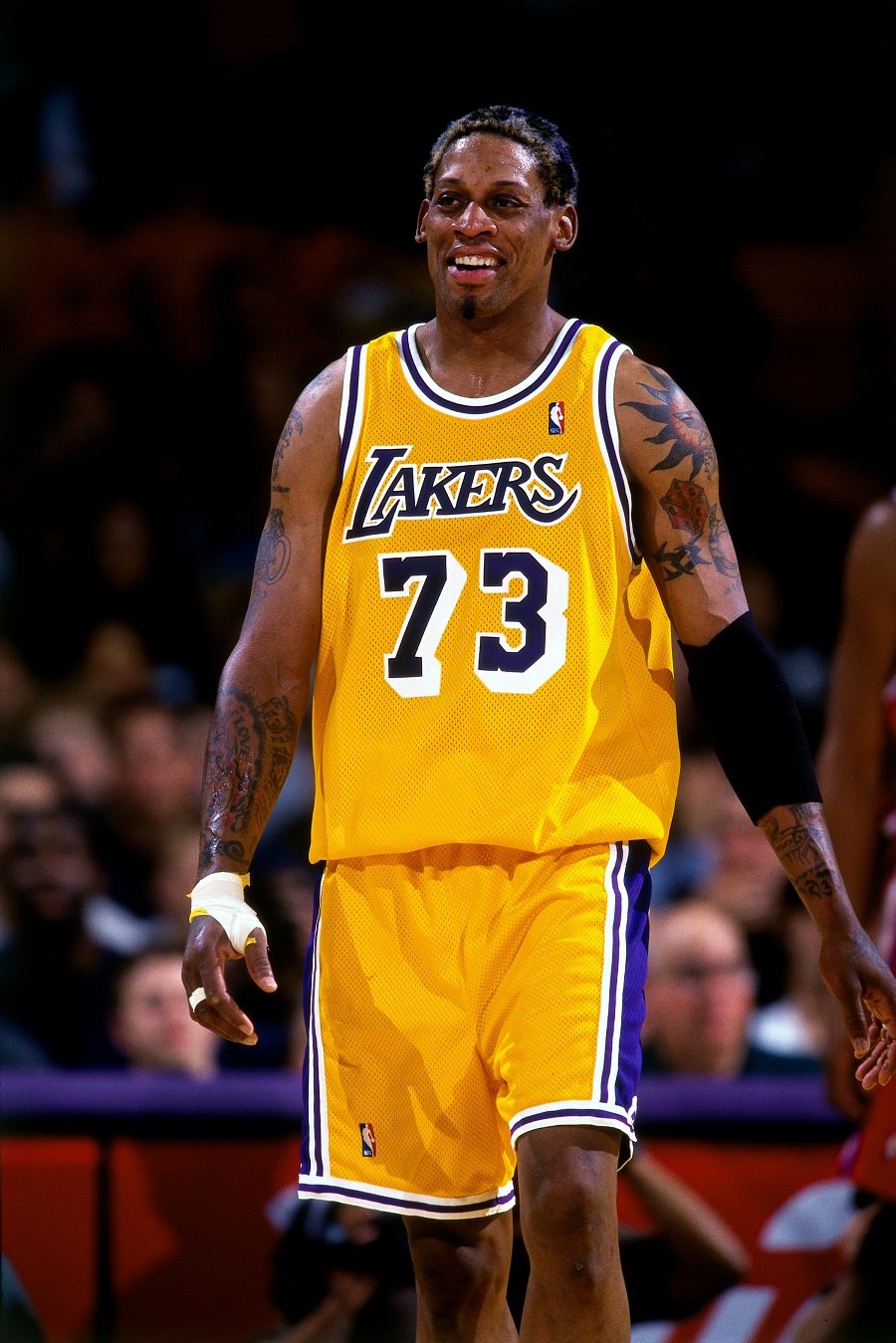 Dennis Rodman in 1999 in Los Angeles, California | Photo: Getty Images
His then-financial advisor Peggy Williams revealed that the former NBA star was an alcoholic, a fact that prevented him from working. Apart from saying that Dennis didn't have savings or even a checking account, she added:
"This case, especially his wife filing for divorce, has put him on a binge that I have never seen before."
DENNIS RODMAN'S EX-WIFE ON HIS ADDICTION
Michelle addressed Dennis' alcohol problems during an episode of VH-1's "Celebrity Rehab with Dr. Drew."
In it, she told psychotherapist and life coach Sherry Gaba that his addiction had affected them financially so much that she had to go to welfare offices to get food stamps.
When Michelle and Dennis finally got divorced, she stayed away from the spotlight. Her social media accounts are filled with photos of her children DJ, Trinity, and Teyana, her eldest child born before she met Dennis.
Teyana lives in California and has two children, a boy named Koa and a girl named Kya.
TWO OF DENNIS RODMAN'S KIDS ARE ATHLETES
Her other two children, on the other hand, followed in their father's footsteps and are very talented athletes. Trinity Rodman, for example, is a soccer player who has already represented the US at the U-17 and U-20 levels.
She recently signed to play for the Washington State Cougars team. Dennis Rodman Jr. chose basketball and, just like his sister, he is an important player for the Washington State Cougars team.
Michelle was not the only one to have a relationship and a child before her romance with Dennis began. The former NBA player, in fact, was married twice.
His first wife was Annie Makes. With her, he had a daughter named Alexis Rodman, born in 1988. They got divorced in the early 90s, though.
HE WISHES TO BE A BETTER PARENT
After that, in November 1998, Dennis married actress and model Carmen Electra in Las Vegas, in March 1999, they got divorced.
It is clear that the Chicago Bulls legend has a hard time keeping a wife, and to make matters worse, he once admitted that his parenting skills were not as good as he would wish.
Talking to "30 for 30," Dennis revealed that he has plenty of demons, but that the major one was trying to convince himself that he was a good father.
Fortunately for Trinity and DJ, Michelle Moyer has been there for both of them and have encouraged and supported them to be as successful as they are nowadays.
Please fill in your e-mail so we can share with you our top stories!