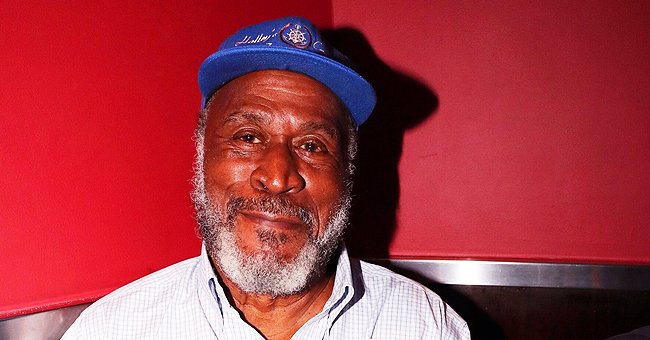 Getty Images
John Amos' Only Daughter Shannon Looks Overjoyed as She Takes a Walk Amid Quarantine

After many years of working successfully in the entertainment industry, Shannon Amos has taken a different path in her life. As a spiritual practitioner, she is into metaphysical guidance to help people amid coronavirus pandemic.
Shannon Amos had taken a different kind of path in her life long before Covid-19 would hit the world and change our lives. John Amos' only daughter is taking the spiritual road to fulfill her own life and help others to get through the quarantine.
Recent videos she posted on her Instagram stories, showed her taking a walk in the sun while feeling grateful and overjoyed for the moment she was embracing. After having a busy life as a producer, she is now more into shamanism and metaphysical guidance.
John Amos and daughter Shannon at Lucques Restaurant in Los Angeles, California in 2004. I Image: Getty Images.
Amid coronavirus pandemic, Shannon, through her project Sumanah Wellness, has been sharing guided meditation, Reiki sessions, and Third Eye Activations for her followers, in order to help them get through these difficult times. On a recent post she wrote:
"We are doing this for **FREE** To help keep our community LIFTED during this challenging time. Make time for your self-care and dial-in for the health benefits of relaxation"
ACTOR'S DAUGHTER
In spite of her spiritual transition, Shannon followed her dad's footsteps since she was a teenager. Although acting was not her interest, she learned along with John all the issues and business concerning the entertaining industry.
That is how she traded a college degree for practical experience when director, Ted Demme, hired Shannon as a production assistant on MTV's first hip-hop show "Yo! MTV Raps." Then, she quickly went from production assistant to associate producer.
She later began to work for BET network where she rose up from producer to show creator and director. After a while she also worked in the music industry, producing music videos for hip-hop and R&B artists like Snoop Dogg, Ice Cube, and Dr. Dre.
CLOSE RELATIONSHIP
Shannon holds a really close relationship with her father. John Amos, who is better known as James Evans, the loving and careful head of the family in the 1970s hit TV show "Good Times", has been a good example as a father in real life as he was in the series.
Taking a glimpse at some photos that both John and Shannon have posted on their social media, we can see how much love and respect they have for each other. A post on Shannon's Instagram reads:
"Daddy! One of the hardest working men I know. You've taught me to live life on my own terms and to never give up on my dreams! Thank you! I love you to the moon and back"
Please fill in your e-mail so we can share with you our top stories!