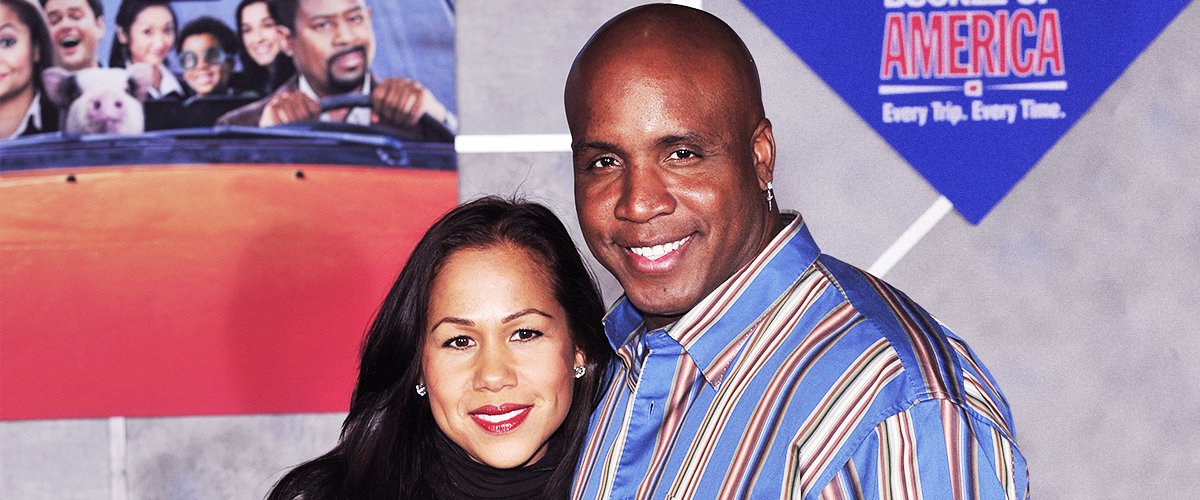 shutterstock.com
MLB Legend Barry Bonds' Children, Including His Beautiful Daughters Aisha and Shikari — Meet Them
Even though it was cut short in 2007 because of a controversy that has haunted him ever since, Barry Bonds led an impressive MLB career at the same time he fathered three children that are now grown.
55-year-old record-breaking Major League Baseball star Barry Bonds fell from grace in the late 2000s when his name became associated with the use of steroids.
The son of another remarkable baseball player (late Bobby Bonds), Barry set up to continue his father's legacy from an early age, and he grew up to become one of the high-achieving players of America's favorite sport.
Since 2007, Barry has held the all-time home run record in the MLB with 762, as well as other records like most career walks and most intentional walks.
Debuting with the Pittsburgh Pirates in 1986, he had a 21-year career during which he played 22 impressive seasons that earned Barry a lasting place in baseball history.
And while his career has been tainted by a scandal that hasn't allowed him to be finally inducted into the Baseball Hall of Fame, he has found peace in his personal life and has other things to be proud of, like his children.
Let's meet Barry's adult children and revisit the two marriages that resulted in the sports star, becoming a father, which is his ultimate legacy.
SON NIKOLAI
30-year-old Nikolai Lamar Bonds is Barry's oldest child and the baseball star's only son, shared with his first wife, Susann Margreth Branco. Nikolai has a very warm relationship with his father, who regularly appears on Nikolai's Instagram feed.
During Barry's last years as a celebrated player in the San Francisco Giants, Nikolai served as the team's batboy, which gave him the opportunity to greet his father on the field right after some of the latter's most famous moves.
In fact, Nikolai recovered from an injury that disabled him for the task for a couple of months just in time to be there with Barry when he broke Hank Aaron's record by hitting his No. 756 home run in August 2007.
As The New York Times reported at the time, "Nikolai held up one finger to his father, a sign that Bonds was No. 1," in celebration of Barry's biggest sports milestone.
At age 19, Nikolai made headlines on his own for the wrong reasons, when he was arrested in Menlo Park, California, over an incident at home in which he allegedly spat in his mother's face and threw a doorknob at her.
During the trial in June 2010, Nikolai pleaded no contest to misdemeanor vandalism and assault charges after making a deal with San Mateo County prosecutors that resulted in the dropping of three additional charges.
Apart from being sentenced to four days in jail, Nikolai had to pay $ 2,130 in fines and undergo 32 hours of anger management counseling. He was also put on probation for two years.
After leaving his problems with the law behind, Nikolai went on to become a model and an aspiring rapper, currently collaborating with the Cali Kings collective.
In 2015, Nikolai made Barry a grandfather on the former baseball player's 51st birthday, welcoming daughter Nassiya Mey Ly-Bonds on July 24 that year.
Even though Nikolai once admitted that he had had his differences with his father, he defended him from media attacks and described him as having a great heart and never wanting to harm anybody.
DAUGHTER SHIKARI
29-year-old Shikari Bonds is Barry's oldest daughter, also shared with his first wife Susann Margreth Branco, later known as Sun Bonds.
According to her father, Shikari has always been passionate about fashion, a vocation that she pursued in her higher education. In 2015, she graduated from the Fashion Institute of Design and Merchandising.
More recently, in 2019, Shikari became an MBA graduate of Santa Clara University. This occasion made the entire family very proud, as Shikari's younger half-sister Aisha showed on social media.
DAUGHTER AISHA LYNN
Aisha Lynn Bonds was born in 1999, and she is Barry's youngest child, the daughter of the former Giants slugger, and his second wife, Liz Watson.
Like her older half-sister Shikari, Aisha is interested in fashion, and also like Shikari, she chose to attend Santa Clara University, where she was accepted in 2016.
Aisha is close to her father, and she accompanied Barry to public events on more than one occasion.
Even before going to college, Aisha launched her own fashion brand called NoMi in a first attempt to make it in the fashion industry, as her father advertised on social media.
FORMER WIFE SUN BONDS
Sun is originally from Sweden, but she moved to the US in the early '80s. Sun and Barry met in Canada in 1987 and were involved in a long-distance romance for months before she moved in with him, and the two became engaged.
Married in 1988, Barry and Sun famously signed a prenuptial agreement that was legally contested by Sun in 1995 after the two divorced, arguing that she wasn't in full understanding of the terms of the agreement when she signed it.
Sun also argued that Barry prevented her from having a career and left her financially limited with two children to take care of when the marriage ended. She also accused Barry of being physically violent with her.
Despite her reasons, in March 1996, a judge ruled in favor of Barry regarding the prenuptial agreement, and he got to keep his two homes and to reduce child support.
FORMER WIFE LIZ WATSON
Elizabeth "Liz" Watson and Barry got together soon after he finalized his divorce from his first wife in 1994, and they went on to marry in 1998.
Barry and Liz had a daughter together and were married for 12 years before finalizing their divorce in 2014.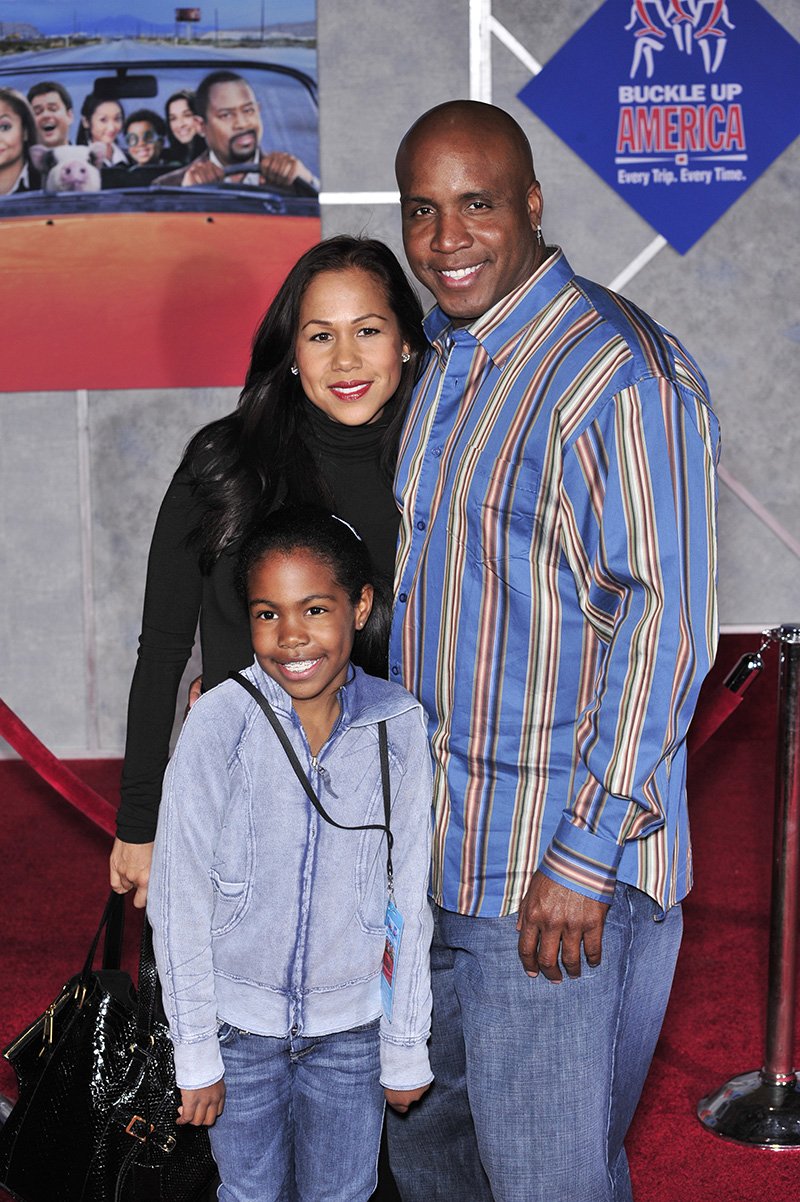 Barry Bonds, former wife Liz Watson and their daughter Aisha at the world premiere of "College Road Trip" at the El Capitan Theatre, Hollywood. March 3, 2008 Los Angeles. I Image: Shutterstock.
Liz originally filed for legal separation from Barry in 2009, and while they briefly reconciled in 2010, the two continued their divorce process, citing irreconcilable differences.
Although apparently there was no prenuptial agreement this time, the couple reportedly reached a private deal that took care of financial issues and custody of their shared daughter.
Please fill in your e-mail so we can share with you our top stories!