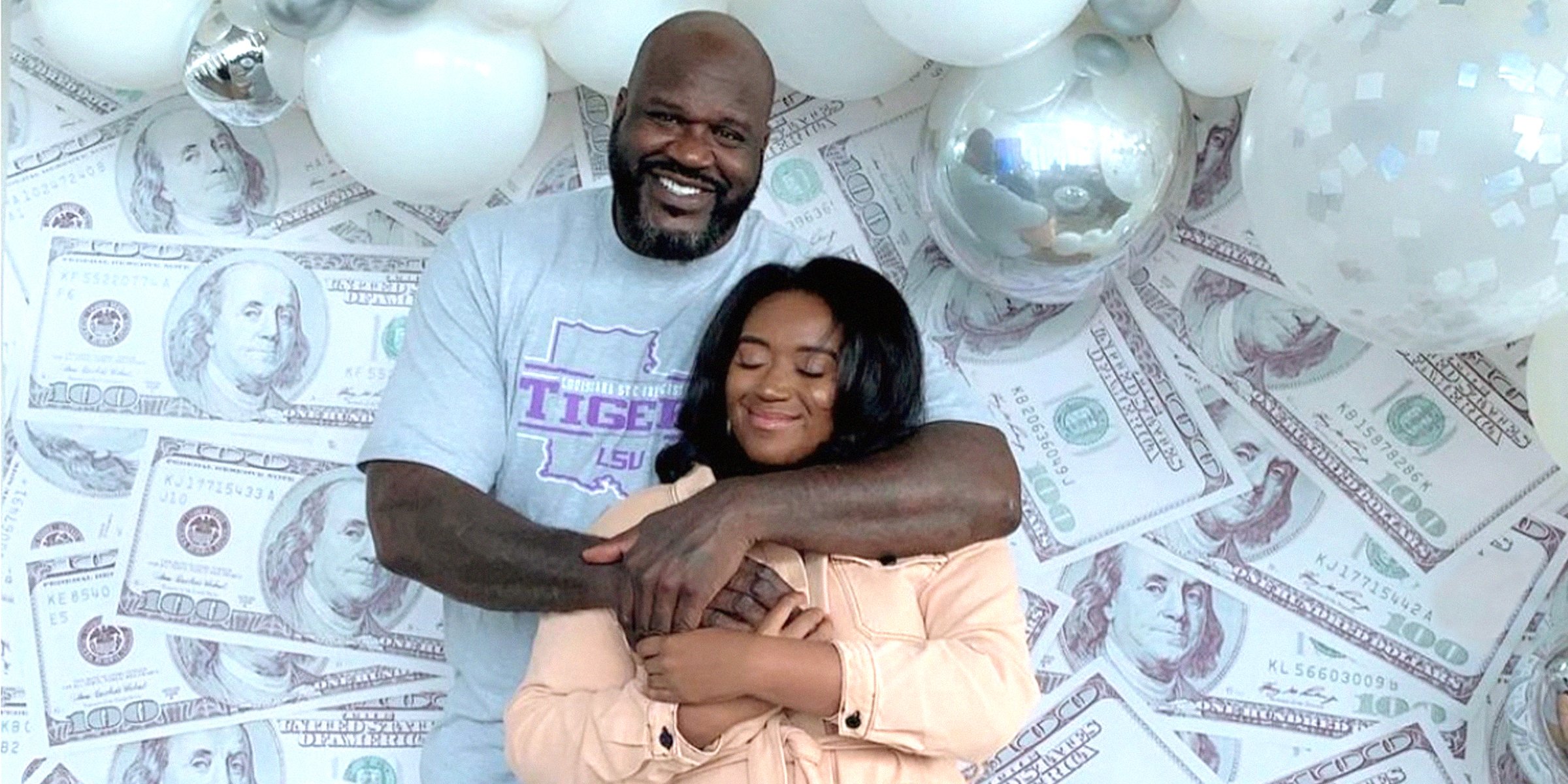 Instagram/taahirahoneal
Taahirah O'Neal Wants to Be Known for Her Talent above Being Shaquille O'Neal's Daughter - Facts about Her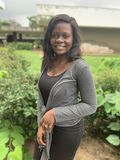 Shaquille O'Neal's daughter, Taahirah O'Neal, is the legendary basketball player's oldest of six children, and she's ready to show the world her unique talents.
Taahirah O'Neal is the daughter of the famous NBA champion Shaquille O'Neal. She has grown into a beautiful young woman, full of confidence and finesse. Taahirah has set out to find her own success while honoring her roots and background.
The younger O'Neal chose a career away from the spotlight, so let's catch a glimpse of her wonderful personality and other intriguing facts about her family.
MAIN FACTS ABOUT TAAHIRAH
Taahirah came into the world on July 19, 1996, making the basketball legend a first-time dad that same year. This must have been a proud moment for Shaquille, who had only concluded a $121 million contract with the Los Angeles Lakers 24 hours before her birth.
Now a 26-year-old adult, Taahirah's personality is true to her zodiac sign. Her horoscope places her under cancer. She is quiet, hard to read, possesses a charming temperament, and is deeply loved by her own.
Interestingly, and in line with her zodiac, Shaquille's mini-me shies away from the spotlight, even though she might have been nudged into it unwillingly. Taahirah is also charting a course different from her dad's.
Per the details obtained from her LinkedIn profile, she serves as a communications analyst at PepsiCo., a multicultural business and equity development organization. While building her resumé, Taahirah is on the fast lane to acquiring other lifetime achievements, including a house. At the beginning of the year, she purchased her first home!
The communications analyst shared a sneak peek of her spacious home via Instagram. It boasts a brightly colored space, wooden floor, and a balcony overseeing a serene environment laced with tall green trees.
The post earned over a thousand likes and about two hundred comments, and well-wishers gushed on Taahirah's home while adding their congratulatory messages.
Even though she sometimes updates her followers on Instagram about some of her wins and routines, as well as engaging with them, Taahirah prefers a non-celebrity lifestyle.
She once revealed her reason for avoiding the spotlight during a Q & A section with her online audience. Shaquille's firstborn admitted that she chose the private way of life because of the trauma.
While disclosing this detail, she shared a clip of her father trying to make his way through the fleet of paparazzi and fans during a public appearance. This picture emphasized what Taahirah would love to avoid.
MEET TAAHIRAH'S PARENTS
Almost everyone interested in celebrity gossip, sports, or anything about record breakers knows Shaquille. He is a mega-celebrity and an NBA star who remains relevant to the basketball world after many years of retirement.
Taahirah was born to him and his high school sweetheart, who became his lover. Rumors had it that they were going to get married, but the former lovers never made it down the aisle.
A few months after his daughter's birth, Shaquille addressed the gossip that he may not be present to care for his child. The former Lakers player said, "It was different. I'll never take off."
Like Taahirah, her mother, Arnetta Yardbourgh, stays out of the limelight. However, she is a professional life coach and has a master's degree.
With these two in her life, Taahirah feels blessed. She admitted that she would never change her childhood and is grateful for her parents, who gave her a decent upbringing and instilled exceptional values in her.
Nevertheless, it was not easy to have successful parents because people expected her to be perfect and have an impressive resume like them.
TAAHIRAH'S RELATIONSHIP WITH HER FAMOUS FATHER
Although Shaquille never married her mother, he kept in touch with his daughter and never took off as promised. Today, father and daughter have an inseparable bond, and Taahirah refers to him as her "partner in crime."
She also has a great connection with her mother. Yardbourgh runs a private Instagram account, sharing her updates with only about two thousand followers. However, fans can catch a glimpse of the life coach on her daughter's instagram page, as Taahirah proudly celebrates her mom now and then.
Despite her closeness to her parents, Taahirah did not follow in their footsteps in choosing her career. Instead, the 26-year-old is her own woman. She once confessed that she tried to play basketball but never fit in. Taahirah mentioned that she felt comfortable with theater and often hung out with like-minded kids.
Her time with other theater-interested children influenced her passion for demanding acceptance of the LGBTQ community. Thankfully, her parents never question her choices; they only guide and support her. In 2020, Shaquille was present for his daughter's graduation in Atlanta, Georgia.
The basketball legend acknowledged that when he was younger, he missed many memories, including graduations and birthdays. But, as an older parent, he is hell-bent on making things right and securing his relationship with his daughter.
Following the official graduation ceremony of his eldest child, Shaquille hosted a reception in a local cafe dedicated to his daughter. There, he rendered a tear-jerking speech while looking seemingly proud of the latest graduate.
TAAHIRAH HAS A BUNCH OF SIBLINGS
As mentioned earlier, Taahirah is not the only child of Shaquille but the only child between him and Yardbrough. The 26-year-old is a big sister to five other siblings, all of whom her father loves and has a great relationship with.
More than once, Shaquille has explained his intentionality towards parenting; the father-of-six stated that he is ever ready to guide his clan. In his words:
"The world is at our fingertips," he continued. "As adults, we have to help kids realize that."
His youngest daughter from him and his ex-spouse, Me'arah,16, is already a basketball star for her high school team; she plays for Crossroads School in Santa Monica.
The teenager already has offers to play basketball in some prestigious colleges, including Oklahoma State, the University of Virginia, and UCLA.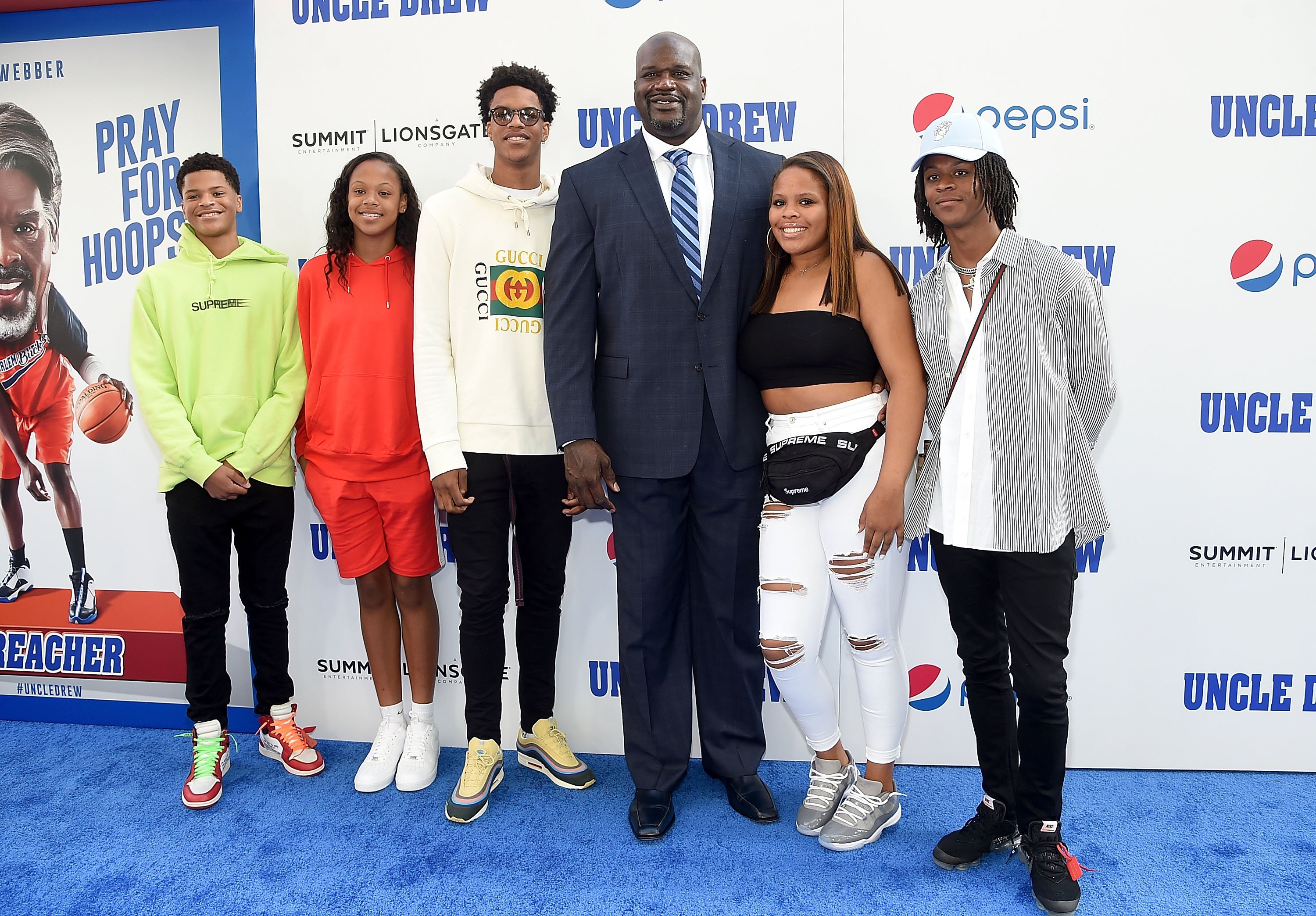 Shaquille O'Neal with his children at the "Uncle Drew" New York Premiere on June 26, 2018, in New York City. | Source: Getty Images
Next in line is Shaqir, 19, his youngest son with his ex-wife, Shaunie. Like his dad, Shaqir is already ready to break records. The young adult who played for Crossroads School, and will attend Texas Southern University, has already hinted to the public that he is gearing up for the league.
Taahirah's other half-sister from her father's marriage to Shaunie is Amirah O'Neal, 20. She also plays basketball, and a year ago, it was reported that she would join her younger brother, Shaqir, in the same university.
Shareef, 22, the eldest child between Shaquille and his former spouse, is already filling his dad's shoes. First, Shareef played basketball at UCLA before moving to Louisiana State University Tigers, one of his dad's alma maters.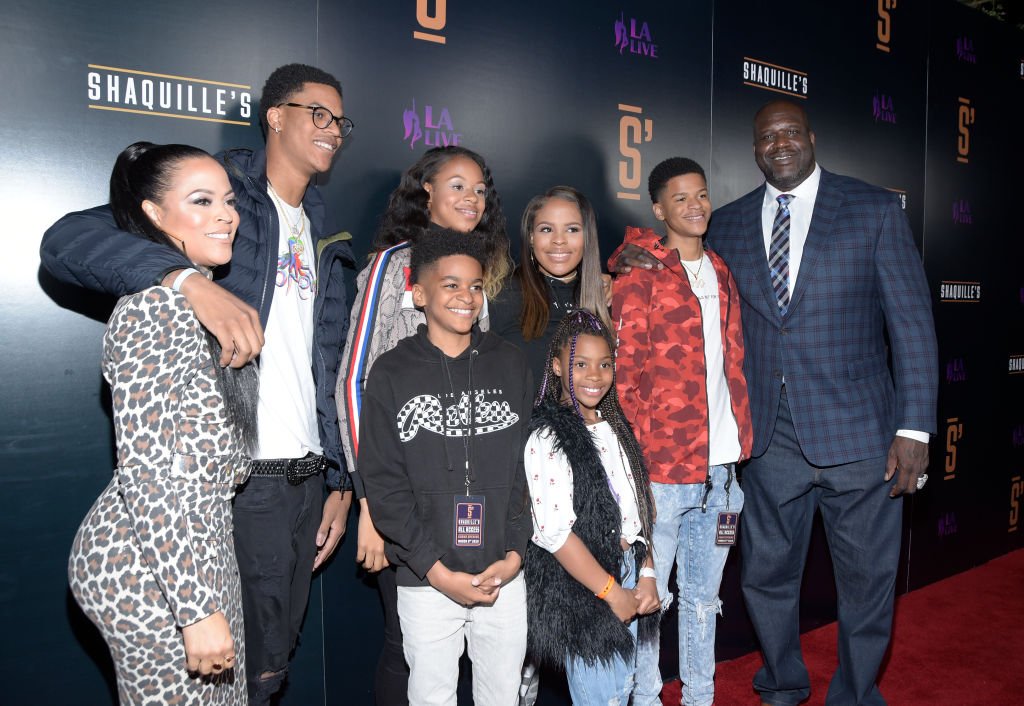 Shaunie O'Neal, Shaquille O'Neal and family at the grand opening of Shaquille's At L.A. Live on March 09, 2019, in Los Angeles, California | Source: Getty Images
Indeed, Shaquille's eldest son is exerting himself as the first son. He once had heart surgery but challenged himself to a speedy recovery and has continued to play basketball. According to him:
"The recovery was hard. It was hard to sit around and do nothing for almost a year. So the mental side I had crazy thoughts in my head [and] people telling me this and that. I had to overcome. Every time I play, I still think about it."
The last on the list is Myles, 25. Although Myles is not really Taahirah's half-sibling, as her dad is his stepfather, he is very much part of the family and shares a close relationship with his half-siblings and stepdad.
Please fill in your e-mail so we can share with you our top stories!