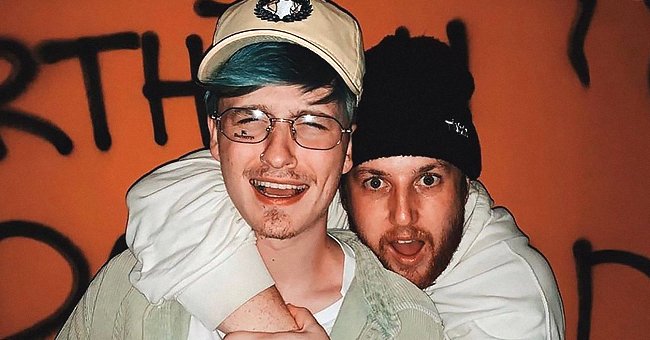 instagram.com/crawfordcollins
Corey La Barrie's YouTube Partner Crawford Collins Mourns His Death

Corey La Barrie left behind both joy and sadness in his departure from earth. Friend Crawford Collins wrote a heartwrenching tribute on Instagram following the death.
On Tuesday, YouTuber Crawford Collins took to Instagram to honor his late friend, Corey La Barrie, who passed away this weekend from a car crash. He shared a photo of him and his buddy.
The pair worked together on the media platform but were very close in real life, too. Collins called La Barrie his "brother, best friend, [and] channel partner in the post which is found below.
CRAWFORD BIDS FAREWELL
In the sweet caption, Collins credited La Barrie for pushing him to be a better person and for always helping him out when he needed it. That includes giving him a place to stay and calling Ubers.
He wrote, "You are the perfect example of a supportive friend and what everyone is saying about you supports that 1000x over." He added that he'll always remember the memories they made together.
A SMALL COMFORT
He continued: "I'm gonna miss you yelling at me to 'edit the video!' or you asking me, 'did you send in the footage?' "The pair had lots of plans together for the future.
However, Collins takes comfort in knowing just how big of an impact La Barrie made and the legacy he leaves behind. He ended the message by calling his late friend a legend and sending love.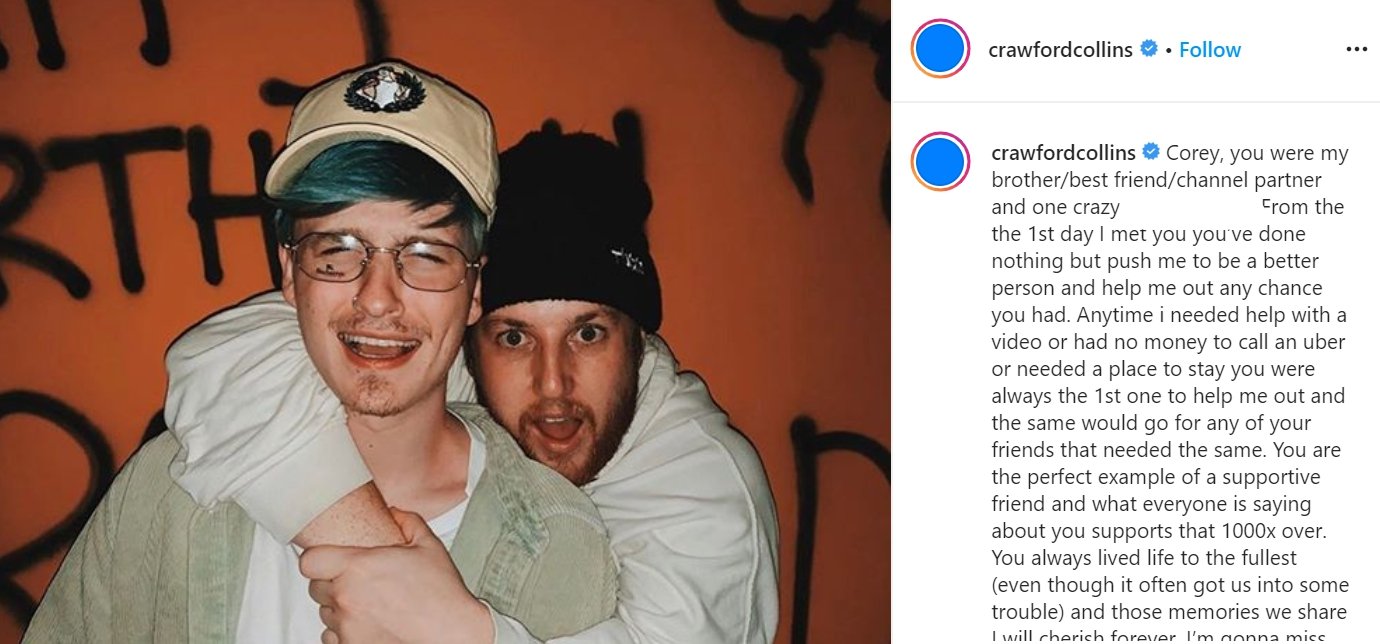 Crawford Collins pays tribute to Corey La Barrie in Instagram post | Photo: Instagram/ crawfordcollins
KIAN REMEMBERS LA BARRIE
Another YouTuber, Kian Lawley, also took to Instagram to say his farewell to La Barrie. He included five slides of a letter to the deceased, saying at one point he didn't want to stop typing and let things settle in.
He also wrote: "I can't go a second without thinking about [you] and tearing up over you brother." The first slide showed Lawly and La Barrie enjoying a laugh with their arms around each other.
DETAILS OF THE CRASH
La Barrie passed away on Sunday, May 10 — on his 25 birthday. The car crash took place at around 9:30 p.m at the corner of Huston St. and Carpenter Ave. in Los Angeles.
La Barrie was reportedly in the passenger seat next to a drunk driver who lost control of the car and crashed into a stop sign and a tree. The YouTuber died instantly.
MOM AND FRIENDS LEFT TO MOURN
Before the crash, La Barrie had been documenting his birthday celebration online. His mom later shared an Instagram post expressing her grief at the loss.
La Barrie's YouTube page had racked up over 330k subscribers, and his Instagram boasted 200k followers. He left behind numerous close friends and family. Our condolences go out to all of them.
Please fill in your e-mail so we can share with you our top stories!