Viola Davis Shares Sweet Memories with HTGAWM Cast in Throwback Photos
Viola Davis praised the cast of 'How to Get Away with Murder' and reflected on some of her favorite memories during her time on the show.
"How to Get Away with Murder," drew viewers in from when it first aired in 2014. After six seasons, the show has come to an end.
On the season finale, which aired on May 14, 2020, many fans took to social media to share their sadness over its conclusion. It also allowed viewers to reflect on the show's success.
Ahead of the finale, Viola Davis, along with the rest of the cast featured in a video shared exclusively by PEOPLE, in which they each took the opportunity to thank fans for their support over the years.
Davis, who played the lead role as professor Annalise Keating thanked fans for inviting them into their lives and being part of what she called "a hell of a ride." She also admitted that parting with the show's creator, Shona Rhimes was going to be difficult.
The leading lady also took the time to celebrate her co-stars. In a heartfelt tribute, which she shared photos from some of the industry events attended by the cast. In her caption, she gushed:
"Look at my beautiful co-stars! In every way!! Love, love, love them ALL!!!! ❤❤❤ #SweetMemories #TBT #HTGAWM."
One fan said, "incredible cast and writers, love this show!" Another fan couldn't hide their emotions and admitted, "I'm crying, I'm going to miss you guys so much. Thank you for everything."
Other fans praised Viola for her award-winning performances throughout the show's six seasons. Another fan also shared their admiration for the cast as a whole.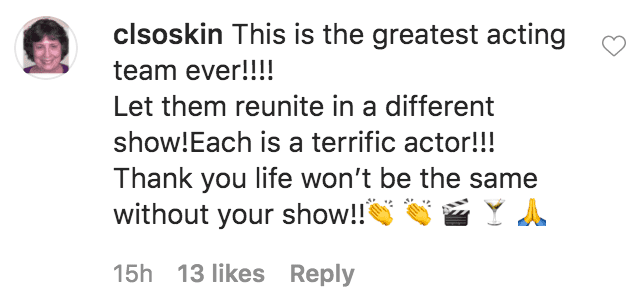 Jack Falahee, who starred as Connor Walsh revealed that he plans on keeping in touch with his fans, he 
explained:
"I have recently started posting on the How to Get Away with Murder subreddit, but no one knows it's me."
Only looking forward. #HTGAWMFinale pic.twitter.com/XUN91QuOTn

— How To Get Away ABC (@HowToGetAwayABC) May 15, 2020
Viola has won four Emmy Awards and an NAACP award for her gripping performance as Annalise. She told PEOPLE that the role has forever changed her career.
She admitted that saying goodbye to the cast and crew was bittersweet because she feels that the show "shifted the face of television."