Prince Harry and Meghan Markle's Wedding – Look into Most Memorable Moments of Their Big Day
Prince Harry and Meghan Markle's wedding will always be a highlight in the minds of royal fans. But the big day for the pair wasn't always all about them. 
In May 2018, Prince Harry and Meghan Markle made history — and the tabloids — for many reasons. Markle being of American citizenship and becoming a princess was one of them. 
Her being a woman of color was another. Either way, the love story between her and Queen Elizabeth II's grandson was one that would be both celebrated and criticized heavily in the coming months. 
It all began with the royal wedding that saw a slew of celebrities in attendance. The outfits that made their debuts and the faces behind them are a story in itself. 
BRIAN'S TOOTHLESS GRIN
Elsewhere, memorable happenings were in no shortage. Jessica Mulroney's twin boys were the pageboys for the event. Not only were they adorable, but Brian's toothless smile became a notable viral-worthy moment. 
Page Boys John and Brian Mulroney Grin From Ear-to-Ear at Royal Wedding @InsideEdition https://t.co/aQ3V78TfEn

— Mara Montalbano (@MaraMontalbano) May 19, 2018
PRINCE HARRY'S EX ARRIVES
It speaks to Harry's good nature that both his exes were invited and showed up at his wedding. Chelsy Davy and Cressida Bonas dressed the part for an event that might have been focused on them in another world.
PRINCESS CHARLOTTE'S TONGUE 
Children can get away with a lot of things just for being kids, and that applies to royal tots as well. Princess Charlotte poking her tongue out while in the back of a car is only one example. 
Princess Charlotte Stuck Her Tongue Out at the Royal Wedding Because She Can't Stop, Won't Stop https://t.co/3gMbliElce pic.twitter.com/lzWzbGahuq

— Cosmopolitan (@Cosmopolitan) May 19, 2018
KATE MIDDLETON'S MATERNITY BREAK
Kate Middleton decided she would attend the wedding despite still being on maternity leave after giving birth to Prince Louis in late April 2018. The Duchess of Cambridge stunned in a yellow coatdress and matching hat. 
PRINCE CHARLES GIVES MEGHAN AWAY
The drama surrounding Markle's father being absent from the wedding was something media outlets grabbed and ran with. Luckily, the former duchess had Prince Charles, Harry's dad, to step in. 
ZARA TINDALL'S PREGNANCY WOES 
Royal attendee Zara Tindall was also dealing with maternal woes and chose to attend the wedding anyway. Perhaps she regretted it as she later confessed her unborn child was "kicking the hell out of her."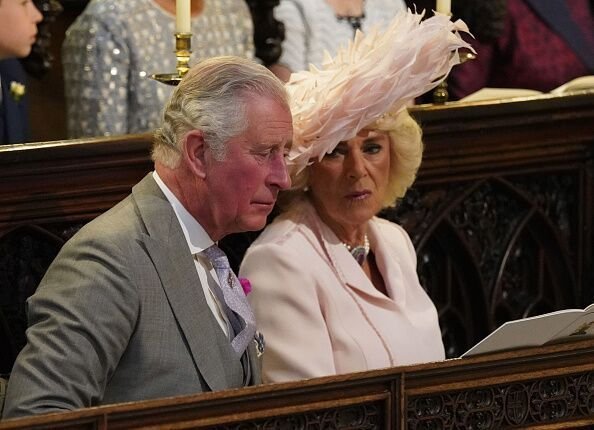 THE OFF-TRACK WEDDING CAKE
Markle and Harry are known for dodging royal tradition now and then. On their very first day as a married couple, they did just that by having a lemon elderflower cake made instead of the typical fruit cake. 
ICYMI: Royal wedding baker Claire Ptak chats to @julieetchitv about running a market stall and *that* cake she baked for Harry and Meghan https://t.co/DOrdjHM3WG

— Chris Ship (@chrisshipitv) November 26, 2018
THE DREAMY CARRIAGE RIDE 
In contrast, Markle and Harry did take the expected carriage ride through Windsor after the ceremony. Family members and admirers looked on as the pair passed on High Street then returned through the Long Walk. 
The Duke and Duchess of Sussex are delighted to share a new photograph from their Wedding Reception at Frogmore House on 19th May.

The photograph, which features on Their Royal Highnesses' Christmas card, was taken by photographer Chris Allerton. pic.twitter.com/PQPUuRwnIj

— The Duke and Duchess of Cambridge (@KensingtonRoyal) December 14, 2018
A TWO-PART RECEPTION
The lucky guests who attended the couple's ceremony were also allowed to go to the reception — at least the first one. It was held at St. George's Hall after a lunch which the Queen hosted. 
Later on, Markle and Harry held an evening reception at Frogmore House. Only 200 guests (out of 600) were allowed to be at that event, which the Prince of Wales hosted. 
THE STAR-STUDDED GUESTS 
This list would not be complete without mentioning some of the big names who attended the royal wedding. Amal Clooney and her husband George Clooney were among the best-dressed and biggest stars.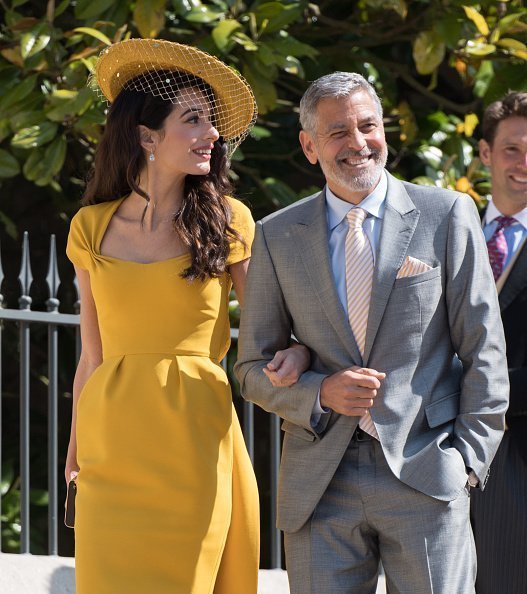 Oprah Winfrey, Victoria and David Beckham, Serena Williams, Priyanka Chopra, Idris Elba, Abigail Spencer, Elton John, and Tom Hardy were also present and showed out for the event. None of them beat the gorgeous bride, though.