Getty images
Mark O'Meara Met Wife Meredith on His First Date in 30 Years — Inside Their Marriage
Veteran professional golf player Mark O'Meara had not been on a date in over three decades and was sorely out of practice, but he struck it off with his wife on their first date, and they have been together ever since.
In the world of golf, the name Mark O'Meara resonates with success and is well respected amongst his colleagues. The legendary golfer has enjoyed an illustrious career spanning nearly four decades, winning several tournaments around the world from the mid-1980s to the late 1990s.
O'Meara made his professional debut in 1980. After winning almost all championships that he has played during his career, the 63-year-old Hall of Famer is now settling down to a new phase in his life with his second wife, Meredith O'Meara.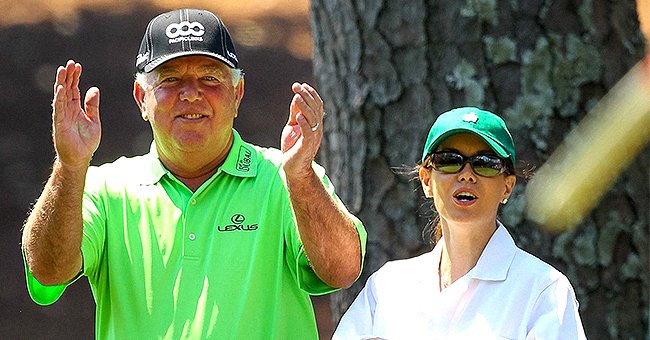 Mark O'Meara, and his wife, Meredith, at Augusta National Golf Club in Augusta, Ga., on Wednesday, April 9, 2014 | Photo: Getty Images
MARK O'MEARA GETS SECOND CHANCE AT LOVE
In 2008, O'Meara was going through a bad divorce, and it was having a crippling effect on his game as he finished 62nd on earnings that year, even though history and experience meant he was supposed to be cashing out in every champions tour.
During an interview at the Cap Cana Championship in the Dominican Republic, O'Meara was very candid about his harrowing divorce experience and how it affected his game. In his words:
"I didn't even want to hit a shot. It was like a car when the red light comes on. You'd better get over and get some gas. But I had no gas, and there was no gas station that could've filled my tank at the time."
But what was supposed to be a rebound love affair, helped put the spring back in the legendary golfer's footsteps and ultimately brought about a turnaround in his game as he made a strong comeback in 2009 with two runner-up finishes in four starts.
The ink was barely dry on his divorce papers when a mutual friend who lived in Houston introduced him to Meredith Berkman, who was a single mom with a 7-year-old son. The two talked over the phone for three weeks, before O'Meara made the trip down to Houston for their first date.
During their first meeting, O'Meara and Meredith connected, and when the relationship began to get serious, Meredith made it clear to the pro golfer that she wouldn't want to uproot her son from Texas. By this time, O'Meara was very much in love with the 38-year-old single mom, so he decided to relocate to Houston, and the rest is history.
In 2018, while competing in the PURE Insurance Championship, Mark, along with his wife Meredith O'Meara, welcomed PURE's cameras to their home and gave them a private tour.
Mark O'Meara's wife, Meredith, also recalled an incident that got them to become PURE members. Throughout the clip, the couple displayed special chemistry, and it's clear that O'Meara has found his rhythm again, thanks to his wife.
MARK O'MEARA'S FIRST MARRIAGE AND KIDS
Before meeting Meredith, Mark O'Meara was married to his first wife, Alicia Lauria O'Meara, since 1980, and together they share two children, daughter Michelle and son Shaun O'Meara.
O'Meara having to compete in different tours both home and abroad regularly meant he wasn't always at home, which eventually put a strain on his marriage. In 2008, his world came crashing down when Alicia told him she wanted out of the marriage.
The serial winner tried to convince his ex-wife to stay in the marriage, even promising to quit golf for a year and take her anywhere around the world, but she refused, insisting on a divorce. O'Meara filed for divorce in 2008 and eventually finalized the divorce in March 2009.
Meanwhile, O'Meara's son Shaun, 30, with his first wife, has followed in his father's footsteps with a career as a professional golf player. Mark O'Meara didn't let his sad split with his first wife and mother of his two children affect his relationship with his son Shaun, and the duo continues to bond over their love for the game.
The father and son regularly compete together at the PNC Father/Son Challenge. The duo has never won the competition, but they relish the opportunity to play alongside each other.
MARK O'MEARA'S CAREER
Mark O'Meara's career began professionally in 1980. In a career that has spanned nearly 40 years, he has competed in several tournaments, including PGA Tour, Masters tournament, PGA Championships, US Open, The Open Championship, and many more.
During his career, O'Meara earned 24 wins in different tournaments around the world. He also won two major championships, including the Master Tournament and The Open Championship, both in 1998.
O'Meara is one of the longest-serving players in golf and even mentored a young Tiger Woods while living in Florida. His contribution to the game over the last few decades has been immense and is appreciated by lovers of the sport, despite being overlooked for major honors for many years.
The 63-year-old golfer is not looking to retire anytime soon, and in 2015 he was inducted into the World Golf Hall of Fame.
Please fill in your e-mail so we can share with you our top stories!